Professors Go After Colleague in Flyer for Advising Turning Point USA, Face Ethics Probe
Two Tennessee Tech University professors are facing potential disciplinary action for calling one of their colleagues racist in a flyer.
"This racist college professor thought it would be a great idea to help start a Tennessee Tech chapter for this national hate group, where racist students can unite to harass, threaten, intimidate and terrorize persons of color, feminists, liberals and the like, especially their teachers," the flyer reads, according to a photo posted by Fox 17 Nashville.
The flyer accused nursing professor and local county commissioner Andrew Donadio of being a racist for serving as the faculty advisor for Tennessee Tech University's Turning Point USA (TPUSA) chapter, in addition to his campaign for Algood Middle School in Cookeville, Tennessee, to keep its mascot as the Redskins.
Tennessee Tech faculty member Julia Gruber, who advocated to replace Algood Middle School's mascot, said to Newsweek that she encountered Donadio at a school board meeting the day before she put out the flyer, and that he "stood up, shouted a loud whoop, and clapped excessively" when the school board announced the mascot wouldn't be changed.
"I found Mr. Donadio's behavior at the school board meeting disrespectful, unprofessional, given his position as county commissioner, and hostile, chilling, actually, considering that my Native American friend, his wife and two minor children, were in the room as well," Gruber said, adding that the flyer was then created by her colleague, Tennessee Tech English department instructor Andrew Smith.
"As my Facebook feed filled with our local neighbors gloating that the R-word would be retained as a school mascot, something broke inside my already hurting heart," Smith said in an email to Newsweek. "I made the flyer as an act of rhetorical defiance, of purposeful parody, to hold a mirror to the hateful tactics of Turning Point."
He added: "Merriam Webster is succinct that the R-word is a 'insulting and contemptuous term.' ...That there would be any debate at all about the horrific racism of white Americans claiming this term as their own, this simply reveals the catastrophic collective denial that our country has about...a country built on the blood of slaves and indigenous graves."
Smith shared the flyer with Gruber, who put them on tables "facedown," but she said she did not distribute the flyer on social media or hand it to any students. The university's Compliance Office became involved after Donadio spotted and reported the flyer to the campus police, and the police pulled surveillance footage of Gruber and Smith with the flyers.
An ensuing investigation found the two professors had violated the school's code of conduct through their actions, according to a copy of the report seen by Newsweek.
Founded in 2012, TPUSA is a nonprofit organization which strives to "educate students about the importance of fiscal responsibility, free markets, and limited government" and build young "activists [who] are the community organizers of the right," according to the website. TPUSA has garnered attention from Trump himself and raised millions of dollars from conservative donors since its founding, according to the Anti-Defamation League's (ADL) website.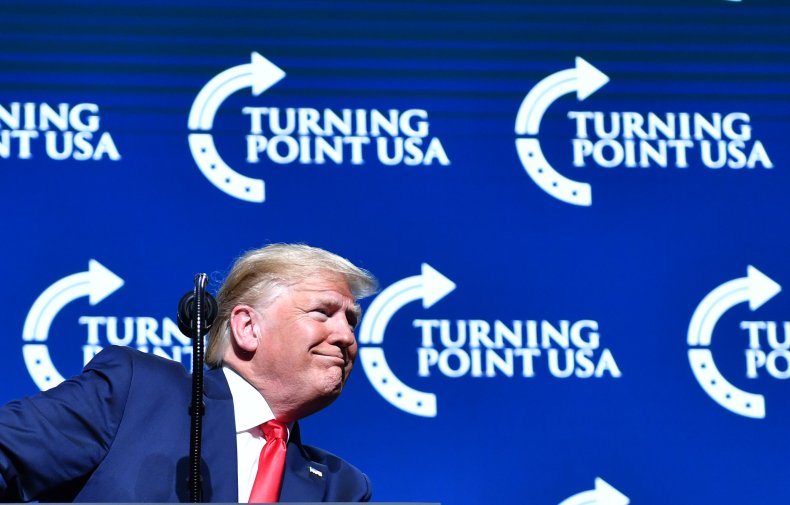 Turning Point USA has been controversial, with the ADL accusing it of being linked to "a variety of extremists."
"A quick Google search reveals TPUSA hateful, intolerant, and yes, racist, stances. They keep a watchlist for liberal professors," Gruber said to Newsweek. "By saying that Mr. Donadio is 'on our list', we did not threaten him, but we imitated TPUSA's style. I will continue standing up for my students, colleagues, and friends in the community whenever I feel they are under attack. I am not afraid of conflict."
She cited that Turning Point USA maintains a "Professor Watchlist" tab on their website "mostly comprised of Black and brown people and mostly women." The watchlist on the site says it aims to be a "carefully aggregated list sourced by published news stories detailing instances of radical behavior among college professors."
In response to Gruber and Smith's actions, a Turning Point USA spokesperson told Newsweek "the smearing and threatening of Professor Donadio by his fellow professors is truly reprehensible and a sad day for the American academy. Professor Donadio and all of the amazing TPUSA chapter members at Tech have been targeted because of the scourge of Critical Race Theory and the lie of 'anti-racism' which scapegoats all conservatives and all white Americans regardless of their character, their actions, and their motives."
The spokesperson added: "These lies now so permeate higher education that these two professors think they are actually doing a noble thing by terrorizing a colleague. They should be ashamed and we hope that the university goes the whole way and terminates their employment to protect future students from being subjected to their sick indoctrination inside the classroom."
Gruber told Newsweek that "a number of faculty" tried to express concerns about TPUSA becoming a student group, but that concerns were "shut down by the university attorney."
"I believe that both Andrew and I are not only participating in the 'marketplace of free ideas' at a public university, but we are sharing our professional expertise. Both of us have been active in raising awareness in the community and on campus," Gruber told Newsweek. "We regularly invite diversity speakers. We organized billboards, we take students abroad and travel with them to important historical places. My current research deals with the revolutionary anger of women. One of the policies that we allegedly violated cites professional standards. I think that thriving to be an anti-racist academic and pointing out racist practices, ideas, groups on campus should be added to the professional standards. Especially tenured professors should be clearly rejecting racist views and groups."
Donadio told Fox 17 he viewed the flyer as a threat.
"In no way can you see that as anything, but a threat," Donadio said. "That's a chilling statement."
No disciplinary action has been taken against Gruber and Smith as of Thursday afternoon, according to a statement to Newsweek from a Tennessee Tech spokesperson. Gruber said she had been waiting to hear back regarding disciplinary action for 50 days.
"The university is currently following its personnel policy and procedures," the spokesperson told Newsweek. "The university will maintain the confidentiality of the complaint, and the privacy of the persons involved, to the greatest extent possible, consistent with its goal of conducting a thorough and complete investigation and to the extent permitted by the law. By university policy, the parties are not obligated to maintain the confidentiality of a complaint and investigation. It is also university practice not to comment on internal employment matters, so the university will not issue a public statement at the conclusion of the matter."
Donadio maintained to Fox 17 that "all groups should have a right, as long as they're following the rules, to have a group," adding, "I don't care who they are."
Updated 04/23/21, 3:05 p.m. ET: This story has been updated to include additional comment from Smith and Gruber.