Progressive Jewish Groups Condemn Trump Administration's Softened Stance on Israeli Settlements
Progressive American Jewish groups strongly criticized an announcement by the Trump administration that the U.S. will no longer view controversially Israeli settlements in the West Bank as violating international law.
Secretary of State Mike Pompeo made the declaration on Monday, in a decision that was first reported by the Associated Press. The announcement goes against more than four decades of U.S. policy and is counter to international consensus.
"Calling the establishment of civilian settlements inconsistent with international law has not advanced the cause of peace," Pompeo argued. "The hard truth is that there will never be a judicial resolution to the conflict, and arguments about who is right and who is wrong as a matter of international law will not bring peace."
Rabbi Alissa Wise, acting co-executive director of Jewish Voice for Peace, condemned the Trump administration's announcement in a statement emailed to Newsweek.
"Pompeo couldn't be more wrong," Wise said. "Holding ourselves and each other to principles, like those within international law, is essential to bring not just peace, but freedom, equality and justice." The rabbi also called the move "the latest atrocity in the Trump administration's farcical [Middle East] peace plan."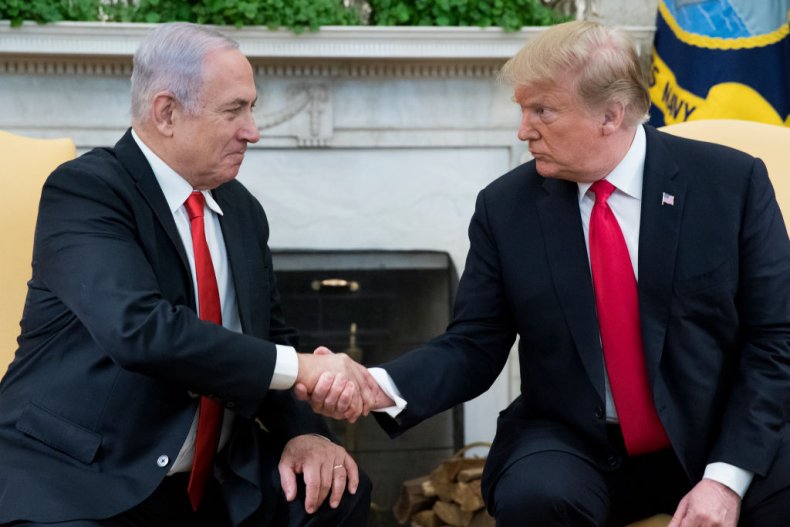 Emily Mayer, the co-founder of the progressive Jewish-American group IfNotNow, shared similar concerns.
"Trump and his representatives are working in lockstep with the Israeli right, who have for decades disregarded the principles of international law to advance their illegal project of settling the West Bank and dispossessing the Palestinian people," she said in a statement.
Trump has long promised to unveil a Middle East Peace plan, which his son-in-law and adviser Jared Kushner, has been spearheading. But the administration's actions have been widely seen as propping up the right-wing government of embattled Israeli Prime Minister Benjamin Netanyahu, while disregarding the concerns and the rights of the Palestinians.
Last year, Trump formally moved the U.S. embassy in Israel from Tel Aviv to Jerusalem, officially recognizing the disputed historic city as the Mediterranean nation's capital. Palestinians protested the move, as they also claim the divided city as their historic capital. The Trump administration has also cut funding for the United Nations Reliefs and Works Agency (UNRWA), which works to support Palestinian refugees in the Middle East.
Palestinian leaders have cut communications with the Trump administration, as they do not see the president as a neutral broker in peace negotiations with Israel. In June, Palestinian National Authority President Mahmoud Abbas said, "There is nothing left to talk about."
"The Trump administration was never focused on promoting peace, but instead on propping up Netanyahu's and Trump's careers and perpetuating Israeli control and dominance over Palestinian land and lives at all costs," Wise said.
Jeremy Ben-Ami, the president of the liberal pro-Israel advocacy group J Street, described Pompeo's announcement as "inconsistent with international law" and another gift for Netanyahu.
"This announcement is just the latest in a long series of actions by the Trump administration designed to aid the Israeli settlement movement, prevent a two-state solution and provide political gifts to Prime Minister Netanyahu," he said in a statement.
Democratic presidential candidate Senator Bernie Sanders of Vermont, who is Jewish, strongly criticized the Trump administration's new position on settlements as well.
"Israeli settlements in occupied territory are illegal. This is clear from international law and multiple United Nations resolutions," Sanders tweeted. "Once again, Mr. Trump is isolating the United States and undermining diplomacy by pandering to his extremist base."
The announcement came as Netanyahu is set to face formal indictments for fraud, bribery and breach of trust in multiple cases. The right-wing prime minister has also failed in two elections this year to form a new government. After his second failure last month, Netanyahu's political rival, Benny Gantz, was given the mandate by Israeli President Reuven Rivlin to attempt to form a new government instead, but that process has also been unsuccessful until now.
"It's hardly a surprise that on the eve of Netanyahu's indictment and Trump's impeachment proceedings we suddenly have the Trump administration throwing the Geneva Convention and international consensus out the window and shamelessly pandering to the right-wing and evangelical base," Wise said.