Progressive Prosecutors Win in Midterms Despite GOP's Attacks on Crime
A number of progressive prosecutors saw victories in their elections on Tuesday, despite some past pushback from Republicans.
In Minnesota's Hennepin County, Mary Moriarty defeated her opponent Martha Holton Dimick with 57.59 percent of the vote, according to the state's election results;
in Vermont's Chittenden County, Sarah George ran unopposed and won her race for the county's attorney;
in Texas' Dallas County, Democrat John Creuzot defeated his Republican challenger Faith Johnson, with 61 percent of votes, according to the county's results;
in Texas' Bexar County, Joe Gonzalez defeated Republican Marc LaHood with 56 percent of votes;
in North Carolina's Durham County, Satana Deberry ran unopposed and won her race;
and, in Iowa's Polk County, Kimberly Graham won the race for the county's attorney by defeating Republican Allan Richards.
Following her win on Tuesday night, Moriarty, who is the first new prosecutor in the county since the murder of George Floyd, told voters, "We now have a historic opportunity for change and justice in Hennepin County," the Minnesota Star Tribune reported.
Gonzalez also celebrated his win on Wednesday morning and said in a Facebook post, "I will continue to work hard to keep our community safe and further expand my focus on transparency and accountability in the Bexar County Criminal District Attorney's Office. Thank you for all of your support and hard work! I am honored and proud to be your District Attorney."
In a series of tweets, Graham also celebrated her victory and said, "I'm proud of what we accomplished, moving the conversation forward in Polk County on criminal justice reform...The challenging and worthy work ahead is that of bringing meaningful positive change to Polk County. I've had months of conversations, some of them lasting many hours, with many stakeholders: from immigrant groups to activists to victim advocates to folks in law enforcement."
In a statement sent to Newsweek, Graham made similar comments and said, "I know it's possible to create substantial improvements to our justice system and that people want to see these improvements.…The work will be difficult. It will take time. It will take the entire community's participation, not just mine. Voters in Polk County have placed their trust in me, to keep us as safe as possible and to simultaneously create an equitable justice system. That's what we're going to do."
The results of these elections come after some pushback against progressive prosecutors, such as the recall of former San Francisco District Attorney Chesa Boudin. Following that recall, many discussed criticism of other progressive prosecutors like Manhattan DA Alvin Bragg in New York and Cook County State's Attorney Kim Foxx in Illinois.
"One major reason Boudin's recall is seen as a national referendum on progressive prosecution is that San Francisco is seen as one of the most progressive cities in the U.S. So if a progressive can't win there, where can a progressive succeed?" John Pfaff, a law professor at Fordham University, wrote in a Slate article earlier this year.
In addition to the recall of Boudin, Philadelphia Democratic District Attorney Larry Krasner is currently facing an impeachment by members of the Pennsylvania Republican Party.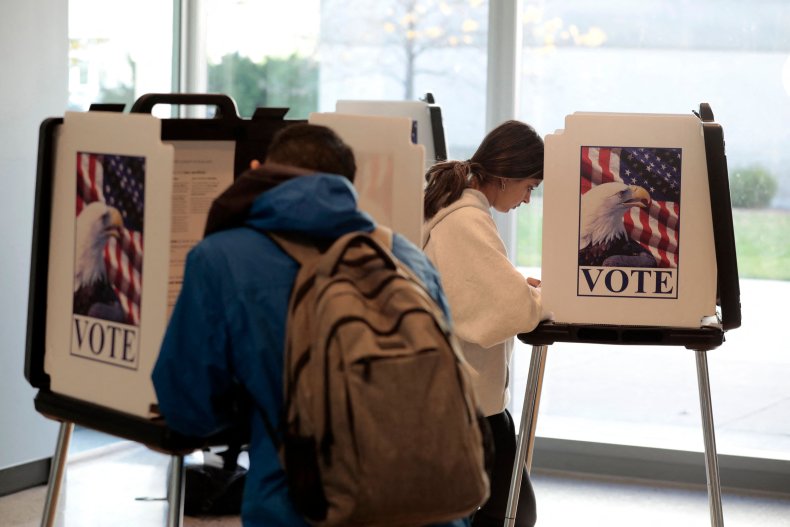 Prior to their victories on Tuesday, Jessica Brand, a criminal justice expert at the Wren Collective, told Newsweek that she expected many of the progressive prosecutors on the ballot to win.
"I suspect you're going to see, most of the progressives win...who are up," Brand told Newsweek. "People realize that actually it's the Republican strategies that are causing crime and that the same old tired solutions aren't going to solve it."
Pfaff further spoke to Newsweek about some pushback against progressive prosecutors and said, "Progressive prosecutors face political pushback right now largely because they are convenient targets for Republican politicians who want to use crime as an election issue, not due to any evidence that they have in fact made crime worse. Multiple studies have shown that reform policies do not lead to more crime (and often lead to better social outcomes more broadly), and the homicide spike of 2020 hit cities with and without reform prosecutors equally."
"Perhaps most important, even in the wake of the 2020 rise in homicide, reform prosecutors have consistently done the best, electorally, in the areas with the highest levels of gun violence. Those most exposed to violence repeatedly show the most support for reforms—the attacks on them are primarily aimed at voters who rarely are exposed to either crime or punishment," Pfaff told Newsweek.
Following widespread victories for progressive prosecutors in this election cycle, Brand said that it could result in some "efforts at the city level to push for a lot of violence-prevention funding."
"I think you're going to see a push that looks a lot alike in a lot of these places, because those are policies that crime research shows reduces crime," Brand said.
Newsweek reached out to the campaigns for Moriarty, George, Creuzot, Gonzalez and Deberry for comment.
Update: 11/9/22 10:54 a.m. ET. This story has been updated to include further comments from Graham.