Progressives Change Balance of Power, Weaken Joe Manchin and Kyrsten Sinema
Progressive Democrats in Congress showed they were willing to exercise their power on Thursday as Speaker of the House Nancy Pelosi delayed a scheduled vote on the $1.2 trillion bipartisan infrastructure bill.
Members of the Congressional Progressive Caucus (CPC) welcomed the postponement and stressed that they wanted to link the bipartisan bill with a $3.5 trillion infrastructure package to be passed using the budget reconciliation process.
Some social media commentators celebrated what they viewed as a long-overdue use of progressives' power but it could prove a headache for the Democratic Party when combined with the significant influence of Senators Joe Manchin and Kyrsten Sinema, who oppose the $3.5 trillion package.
Manchin, a moderate West Virginia Democrat who has become a powerful figure in the evenly divided Senate, wants a $1.5 trillion version of the reconciliation but this has been rejected by Representative Pramila Jayapal, chair of the CPC.
Progressives' apparent success in delaying a vote on Thursday and their willingness to exercise power in the House could act as a counterweight to Manchin, who is frequently supported by Sinema.
If they choose to vote against a slimmed-down reconciliation bill, progressives could prevent it from passing in the House where the Democratic majority is relatively small.
Eugene Robinson, associate editor of The Washington Post, told MSNBC on Thursday that "progressives in the House have numbers and they have power. And they know they have power."
Democratic strategist Max Burns suggested on Twitter that progressives may have saved the party from Manchin's compromise proposal in another indication that battle lines are being drawn between the West Virginia senator and House progressives.
"@USProgressives ,@RepJayapal and CPC Whip@IlhanMN effectively saved Democrats from their catastrophic habit of compromising themselves into oblivion," Burns wrote. "This may well have saved the American people from getting shafted out of $1.5 trillion in critical investments."
Conor Sen, a columnist with Bloomberg Opinion, suggested that a deal could be struck, writing: "Manchin (and Sinema, sorta) showed their cards a bit, House progressives held the line, feels like we're getting closer. Finally past the posturing phase."
However, it remains unclear if a deal can be reached and to what extent both sides are willing to compromise.
Thomas Gift, founding director of University College London's Centre on U.S. Politics, told Newsweek on Friday that there were risks to the current brinksmanship.
"Progressives haven't grown or lessened in strength on Capitol Hill - it's just that they seem more willing to leverage the power they already had, even if that means derailing President Biden's agenda," he said.
The graphic below, provided by Statista, provides a breakdown of the human infrastructure package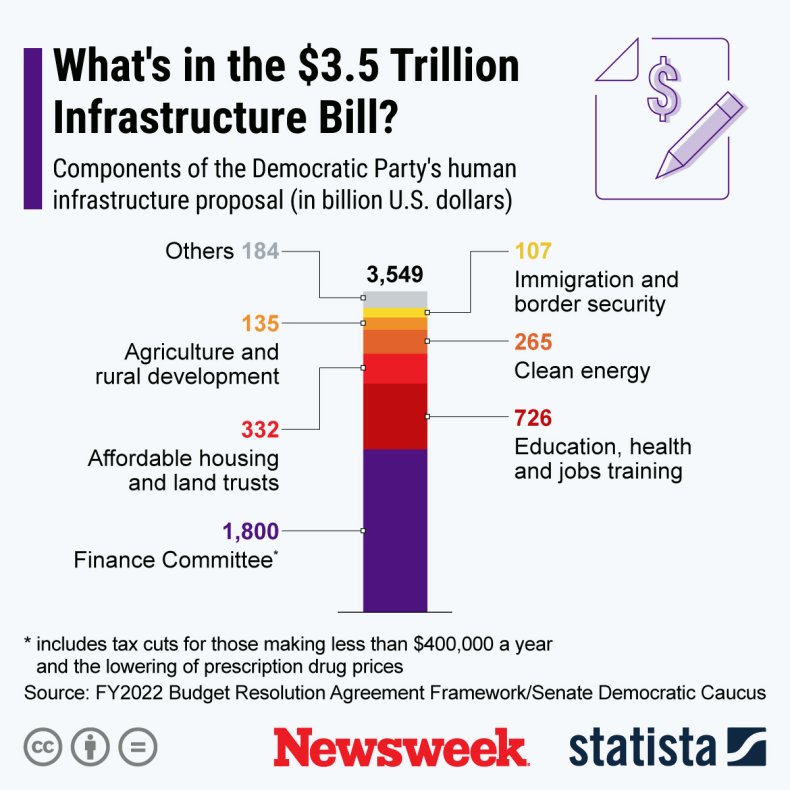 "That's certainly their prerogative, but the costs could prove significant: If Democrats can't pass any major spending bill this session, despite control of both congressional chambers, it's hard to interpret that as anything but a huge failure of the governing majority.
"Democrats are used to pointing fingers across the aisle for why legislation can't get done. But if infrastructure gets held hostage over internal politics, they won't be able to blame Mitch McConnell or an obstructionist GOP. Instead, Democrats will be looking in the mirror for a scapegoat," Gift said.
"Moderates will blame progressives, and progressives will blame moderates. But in the end, it won't yield any consolation: Both sides will pay in the midterms for failing to get a deal done.
"Ultimately, what we're seeing is a high-stakes game of chicken - with potentially enormous consequences for the American people, not to mention the future trajectory of the Democratic Party and its prospects for maintaining control of Congress beyond 2022," he added.