Over the past two years, Black American life has been sold to the American people as a state of constant oppression. We are portrayed as living in constant fear, living with permanently unfair treatment and an inability to excel in a white majority society that hates us because of the color of our skin. Open the New York Times or the Washington Post or turn on CNN or NPR or MSNBC and you will see Black Americans almost exclusively portrayed as entrapped by "systemic racism."
The only problem with it is that it's wrong.
Of course, it would be foolish to deny that racism still exists, or that people are sometimes treated unfairly due to their race; racism is unfortunately part of the human condition. But the rhetoric coming out of the elite sectors of the liberal establishment about the inescapability of racism for Black Americans is in reality an elitist projection. It's not how the vast majority of Black Americans experience our lives.
This is something people living in the Black community know. But for all the liberals seeking to project their ideology about the inescapable nature of systemic racism onto us, a new study out of the Pew Research Center has some data to disabuse them.
Among the studies interesting findings was one about priorities. Pew posed Black American respondents with an open-ended question: What is the most important issue is that your community is facing? And when it came to their answers, racism didn't crack the top five.
Chief among Black Americans' concerns were violence and crime, the economy, and housing. More Black Americans said they had no issues than listed racism as their top issue. And when asked who they believe should address these issues, respondents overwhelmingly said that these are matters that local leaders within their communities should address.
This study helps highlight what people like myself have been complaining about for years, namely, that the actual concerns of Black Americans are ignored and even erased because progressives have fallen in love with the Black victim narrative. And because progressives are in love with that narrative, there is a perverse need to sustain the fiction of the prevalence of racism.
Why discuss real solutions when you can hope for the fantasy of ending racism?
So while Leftists have made Black lives the focus of their attention, they have simultaneously stopped asking what Black Americans want; instead, they talk endlessly about how the white public should become the savior of Black America.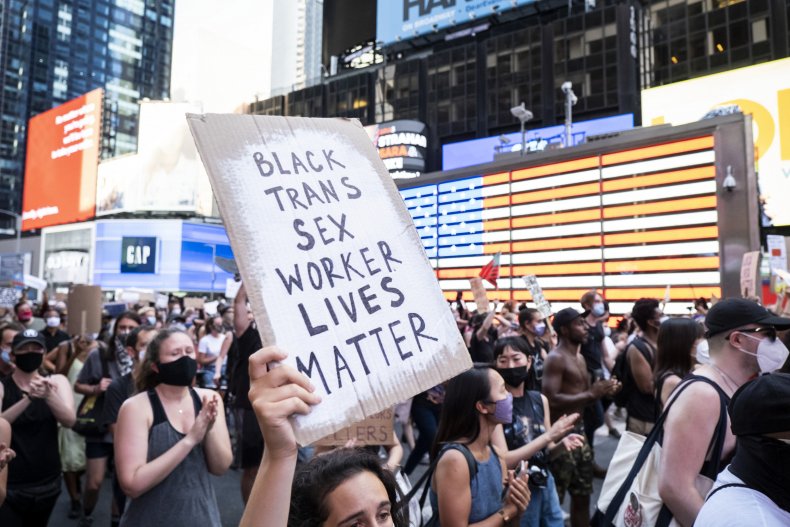 After the tragic death of George Floyd, this tendency went on steroids. The media portrayed Black life as synonymous with Floyd's death. And it portrayed police officers across the country as public enemy number one. The New York Times, the Washington Post, Vox, and others ran article after article with headlines like "Yes, We Mean Literally Abolish the Police." And as calls to Defund the Police grew, efforts to ask the average Black American what they actually wanted decreased.
It was deeply ironic. Gallup polling showed that over 60 percent of Black Americans wanted to keep the status quo in policing and 20 percent wanted more police presence, making the Defund the Police movement an unpopular fringe. But publications like the New York Times didn't publicize this information; instead they made the case for defunding the police over and over, and went so far as publicizing the concept of abolishing the police in its entirety.
In so doing, they were harming the very communities they pretend to be representing; ignoring what Black Americans want from policing has contributed to a 32 percent murder rate increase from 2019 to 2020.
It's not just crime. Safety and economics go hand in hand because businesses do not want to invest money in an area that puts their employees and business in harm's way. So when Black Americans are saying that crime and economics are their top two important issues, those things are deeply connected.
The presence of police, especially when presented with the alternative of criminality, makes people feel safer and businesses feel welcomed.
Yet this fundamental truth is the opposite of what organizations like Black Lives Matter were promoting during the height of the nationwide riots of 2020. It was far too easy for activists to roll into a city, place themselves as the recipients of donations for a cause and leave unscathed and unaccountable.
Thankfully, more people are now questioning the legitimacy of this multi-million dollar organization as multi-million-dollar real estate purchases have come to light. But still, in elite progressive circles, the narrative doesn't change. Corporations continue to donate to so-called non-profits that focus on the rarity and are unaccountable for presenting any measurable change. The progressive media promotes ideologically driven activists from the bourgeoisie as being the spokespersons for Black Americans. Everyone appears to be "doing their part" while doing nothing but profiting off their manufactured Black underclass.
At the end of the day, Black Americans want what everyone else wants: safety and the opportunity to prosper. Yet we've allowed the upper-class establishment media, academics, and activists of all races to paint the average Black American as being more interested in feeling racially represented in TV commercials than being safe and economically prosperous within their own communities.
And it's safety and security that progressives seem determined to deny Black Americans—in the name of their anti-racism.
Adam B. Coleman is the author of "Black Victim To Black Victor" and the Founder of Wrong Speak Publishing. Follow him on Twitter @wrong_speak.
The views in this article are the writer's own.