Progressives Still Pushing for Student Loan Relief, Despite Poll Showing Its Unpopularity
As progressive Democrats continue to push President Joe Biden to cancel $50,000 worth of federal student loan debt, a new poll shows that doing so is widely unsupported.
Conducted by Business Insider/Survey Monkey, the study found just 13 percent of Americans saying they support forgiving $50,000 in federal student loans. Meanwhile, 19 percent said they support forgiving $10,000 in loans; 25 percent said they are behind forgiving all student loans; and 22 percent said they don't support any amount of student loan forgiveness.
The poll's findings come shortly after the president faced criticism from progressives after he said he was not prepared to forgive $50,000 in federal student loans.
During a recent CNN town hall event, Biden was asked if he will write off $50,000 in student loans, to which he responded by saying that he would "not make that happen."
"I do think that in this moment of economic pain and strain, we should be eliminating interest on the debts that are accumulated," Biden said at the time. "I'm prepared to write off $10,000 debt, but not 50, because I don't think I have the authority to do it by signing."
Biden also said that he would not "forgive the debt, the billions of dollars of debt, for people who have gone to Harvard and Yale and Penn."
Not long after his comments, Biden faced backlash from progressive lawmakers, such as Representatives Alexandria Ocasio-Cortez and Ayanna Pressley, as well as Senators Elizabeth Warren and Chuck Schumer.
One of the main arguments from progressives in their support of forgiving $50,000 in federal student loans is that it will help reduce the racial wealth gap across the nation.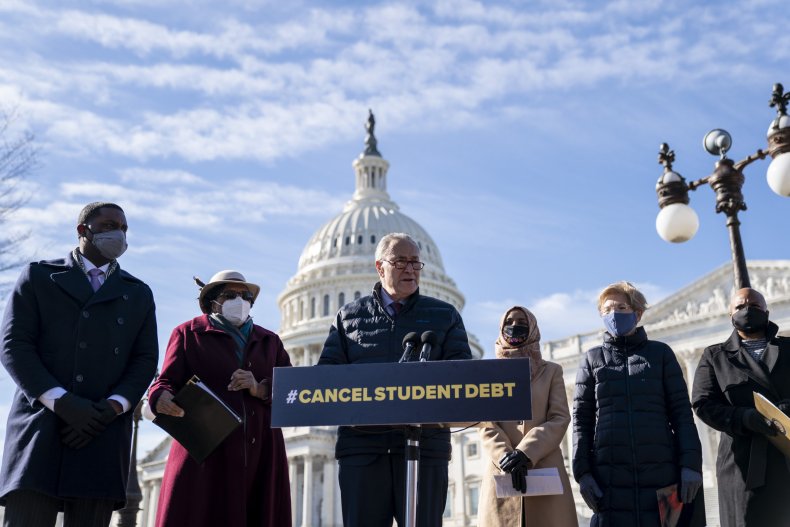 In a letter to The Washington Post responding to comments made by one of the paper's columnists, Schumer and Warren wrote: "This is also a matter of racial equity: Students of color are also far more likely to take on student loans than White students, in higher amounts, and upon graduation they frequently earn less than White graduates do."
"A study from Brandeis University found that after 20 years of student loan payments, the median Black borrower had $18,500 left in debt; the median White borrower had $1,000," the senators added in their letter.
In addition to the comments made by Warren and Schumer, data from the National Center for Education Statistics showed that Black and African-American college graduates "owe an average of $25,000 more in student loan debt than White college graduates."
While progressives have continued to push Biden to forgive $50,000 in student loan debt, those who are opposed to it argue that anything more than $10,000 in student loan forgiveness will benefit individuals that don't need financial assistance.
Earlier this month, NPR reported that federal data showed more than a third of borrowers owed less than $10,000 in student loans.
Additionally, a 2019 report from the Brookings Institution found that more than a third of student debt is owed by the top 20 percent of income holders, while 15 percent is owed by taxpayers in the bottom 20 percent.
Thomas Gift, director of the Centre on US Politics at University College London, explained to Newsweek that "in large part, progressives continue to push federal student loan forgiveness for a simple reason: it may not be popular with the majority of Americans, but it plays well with one of their core demographics: educated, middle- to upper-class Millennials, many of whom have racked up considerable student loan debt themselves."
"Progressive also suggest that student loan forgiveness would give a much-needed shot in the arm to the U.S, economy—unsaddling millions of young people from debt that prevent them from making big purchases, including buying homes, that help to stimulate economic growth," Gift explained. "What progressives seem willing to overlook, however, is that it's hard to find a policy that's more regressive than student loan forgiveness. It's a large government transfer that disproportionately benefits individuals who are either already close to the top of the income distribution or are poised to be so in the future."
Despite the Business Insider/Survey Monkey poll showing the $50,000 student loan relief receiving little support, a separate study found different results.
According to a poll conducted by Morning Consult, 46 percent said they support progressive lawmakers plan to cancel up to $50,000 in federal student loan debt, while 39 percent opposed.