Progressives Urge Build Back Better Vote to Put Manchin, GOP on Record: 'This Fight Is Not Over'
After Senator Joe Manchin said Sunday that he won't support the "Build Back Better" Act, progressive lawmakers are pushing the Senate to vote on the legislation so that the West Virginia Democrat, and Republicans who oppose the bill, will be forced to formally oppose it.
"The Senate must return to session immediately and bring this historic and transformational bill to a vote so Senator Manchin—and every Republican who has opposed it from the very beginning—can demonstrate, on the record, the contempt they have for their constituents and for everyone who calls America home," Representative Ayanna Pressley, a Democrat from Massachusetts, said in a statement on Sunday.
"This fight is not over and I will not stop pushing until we have secured President Biden's full Build Back Better agenda," she added.
Representative Alexandria Ocasio-Cortez, a Democrat from New York, tweeted out Pressley's statement and said she agrees.
"The Senate must reconvene immediately and bring BBB to a vote regardless of Manchin's statement," Ocasio-Cortez said, referring to the Build Back Better legislation. "If they forced folks to go on record with BIF, they can force the Senate to go on record with BBB. We can take it up again next year too."
"BIF" refers to the bipartisan infrastructure bill, which six Democrats, including Ocasio-Cortez, voted against in November. A handful of progressives opposed the infrastructure bill on the House floor because they had wanted to link it with—and vote for it at the same time as—the Build Back Better legislation, a sweeping $1.75 trillion social spending bill that contains a variety of measures to, among other things, address climate change and lower the cost of child care and health care.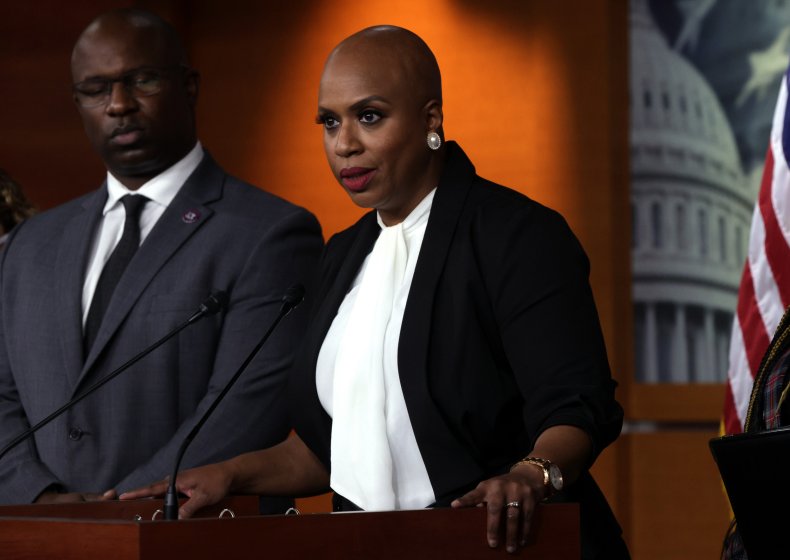 The House passed the Build Back Better Act last month, but with Democrats maintaining a razor thin majority in the Senate—holding onto only 50 of the chamber's 100 seats—the bill appears dead without Manchin's support.
Senator Bernie Sanders, an Independent from Vermont and the chair of the Senate Budget Committee, is among the legislators who blasted Manchin Sunday, and he too called for a vote on the legislation.
"If Sen. Joe Manchin wants to vote against the Build Back Better Act, he should have the opportunity to do so with a floor vote as soon as the Senate returns," Sanders said in a statement. "He should have to explain to West Virginians and the American people why he doesn't have the courage to stand up to powerful special interests and lower prescription drug costs; expand Medicare to cover dental, hearing and eyeglasses; continue the $300 per child direct monthly payment which has cut childhood poverty by over 40%."
Manchin has said his concerns with the legislation include its impact on inflation and the overall cost of the package.
"If I can't go home and explain it to the people of West Virginia, I can't vote for it. And I cannot vote to continue with this piece of legislation," Manchin said on Fox News Sunday. "I just can't. I've tried everything humanly possible. I can't get there."