Progressives Want Biden to Tell Police 'Stop Killing Us' and to Implement Reparations
In looking to "rebuild our nation with a new foundation," progressives are pushing Congress to move forward with reparations for African Americans and for President Joe Biden to tell police in no uncertain terms to "stop killing us."
Biden has faced criticism from Republicans and progressives within his own party. On the eve of his 100th day as president, Democratic Representative Jamaal Bowman of New York advised Biden to "think bigger." Delivering the progressive response on behalf of the Working Families Party to Biden's joint address of Congress, Bowman outlined the progressive agenda to address structural racism, climate change, police brutality, and inequality in America.
Bowman highlighted six specific pieces of legislation that Congress must pass, including H.R. 40. The bill was introduced by Democratic Representative Sheila Jackson Lee of Texas, and if signed into law, would establish a commission to study reparations for African Americans. After studying slavery and discrimination that African Americans faced from 1619 to the present day, the commission would make recommendations about the appropriate remedies.
"More than anything, America needs a process of truth and collective healing. We have to be honest with ourselves about the ugliness of our history and the discrimination that persists. Only then will we meet the ideals of our democracy and get one step closer to realizing the American experiment," Bowman said.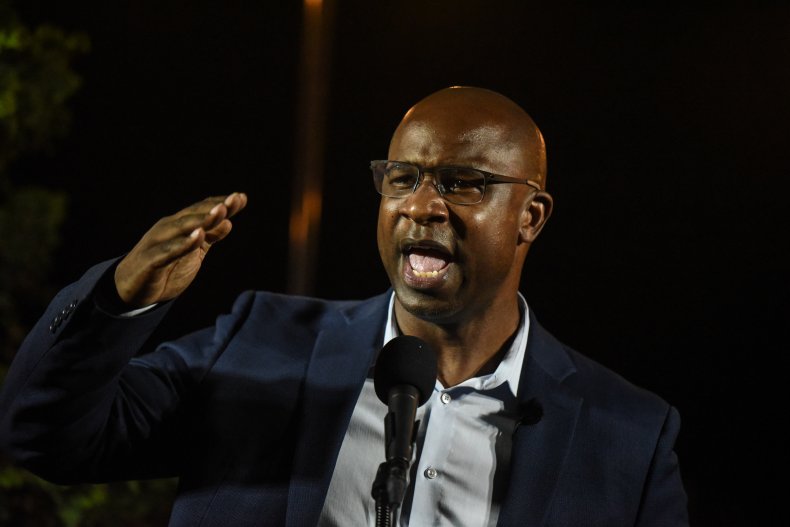 Jackson, who also brought up the measure in 2019, reintroduced it in January in the House where it's been making its way through the Judiciary Committee. The call for reparations, she said in a 2019 statement, represents a commitment to entering a "constructive dialogue" on the role slavery and racism played in shaping modern society.
The proposal was first introduced in 1989 by the late Representative John Conyers. In April, the House Judiciary Committee voted to advance the bill for the first time. However, it faces an uphill battle. No House Republicans signed on to co-sponsor the legislation, and the GOP could block the measure in the Senate because Democrats don't have the votes needed to overcome the filibuster.
The measure had gained momentum after George Floyd's murder last May. Bowman said now is the time to "address the burning crisis of structural racism in our country." The representative said a "little piece of me dies," when he watches a video of a Black or Brown person "die at the hands of police violence."
"I have one message for law enforcement, stop killing us!" Bowman said. "I need for President Biden to say the same thing. Black people are not for target practice. We are simply trying to survive in a world stacked against us."
Former Minneapolis police officer Derek Chauvin was convicted in Floyd's death on April 20. Following the verdict, Biden quickly condemned Chauvin's actions as "murder in the full light of day."
"Most men and women who wear the badge serve their communities honorably," Biden said. "Those few [officers] who fail to meet that standard must be held accountable. And they were today; one was. No one should be above the law. And today's verdict sends that message. But it is not enough. We can't stop here."
With Biden's support, House Democrats passed the George Floyd Justice in Policing Act in March. The bill would ban chokeholds and qualified immunity for law enforcement, a measure Bowman called on the Senate to pass.
Regardless of a person's profession, Bowman said people need to be held accountable for their actions and that "police cannot be above the law."
"We need to rebuild our nation with a new foundation ... We need to seize this moment ... We are capable of big, powerful, transformative change," Bowman said.