Project Veritas CEO Removal Sparks Questions, Concerns From GOP
The sudden removal of Project Veritas CEO James O'Keefe has sparked concerns from Republicans, but others are questioning if O'Keefe was right for the group.
O'Keefe, who founded the controversial right-wing organization in 2010, began taking paid leave from the company this month. Newsweek previously reported that a leaked memo showed the company's employees were concerned about his behavior and management style. His exit is eliciting responses from big names in the GOP.
After O'Keefe addressed staff in a video announcing his removal from the company, Project Veritas lost thousands of followers on Twitter. Donald Trump Jr. is among Republicans voicing their concerns.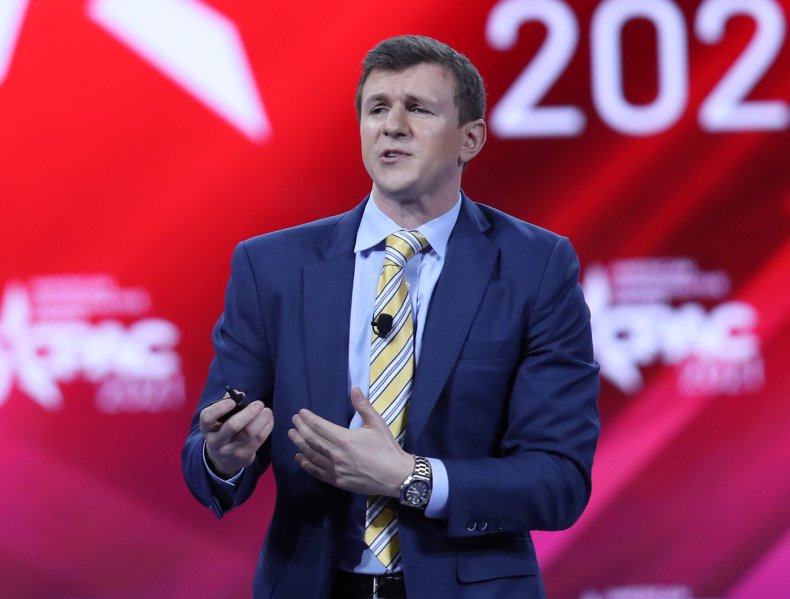 "Breaking: James O'Keefe out at Projrct [sic] Veritas and I'm told he didn't resign! Not sure what PV does without James," Trump Jr. tweeted. "We need to continue the mission of exposing the left. The radicle [sic] left has entire trillion dollar enterprises running cover for them. We had James."
However, conservative lawyer Jenna Ellis, who served as adviser to former President Donald Trump, compared O'Keefe to a "cult personality" and seemed to be backing Project Veritas in its decision.
"Don't do this," Ellis wrote on Twitter while retweeting someone who said they were unfollowing Project Veritas because of the decision. "Wait for the facts. There is a lot more to this, I guarantee you. Do you care about facts and truth or do you care more about cult personality?"
When a user asked Ellis if she knew something the general public didn't, she responded: "Yes, and the truth will come out. I'm for the facts here, not blind trust," she tweeted.
"Trust, but verify, and ask questions. Isn't that what journalism is all about anyway?
"Proverbs 18:17 'The person who tells one side of a story seems right, until someone else comes and asks questions,'" Ellis added.
A company spokesperson told Newsweek in a statement that "the Project Veritas board is in charge now."
In O'Keefe's video to staff members issued moments before he left the company, he cited disagreements with board members over the company's fundraising methods. He said that a few days after the release of a Project Veritas video that purportedly showed a senior Pfizer employee saying the company was considering research to mutate the COVID-19 virus, a Project Veritas employee told O'Keefe that he would go to the board to ask for an emergency vote to restructure the company.
O'Keefe was allegedly on a plane when the emergency vote was called.
"It became clear to me in that moment I would be removed from my position at Project Veritas by the time I landed at my destination," O'Keefe said in the video.
He added that the mission of the company—which is to "investigate and expose corruption," according to the company's LinkedIn page—would continue but possibly under a different name.
"I'll make sure you know how to find me," he ended in the video, in an apparent hint for some staffers to accompany him in a new venture. "So, with that, I'm going to collect my things, I'm going to load them into my car and I hope to see some of you soon."