Prominent Republican Endorses Democrat Against Trump Candidate in Oklahoma
A prominent Oklahoma Republican has formally endorsed a Democrat running for the state's open U.S. Senate seat against her GOP opponent backed by former President Donald Trump.
Kendra Horn, a former member of the U.S. House of Representatives, revealed the endorsement from Kris Steele on Twitter on Wednesday, sharing a video of the Republican expressing his support for her.
Steele served in the Oklahoma House of Representatives from 2001 to 2013 and was its speaker from 2011 to 2013, as well as speaker pro tempore from 2009 to 2011.
"I'm honored to receive the endorsement of Kris Steele, former Republican Speaker of the Oklahoma House," Horn wrote on Twitter.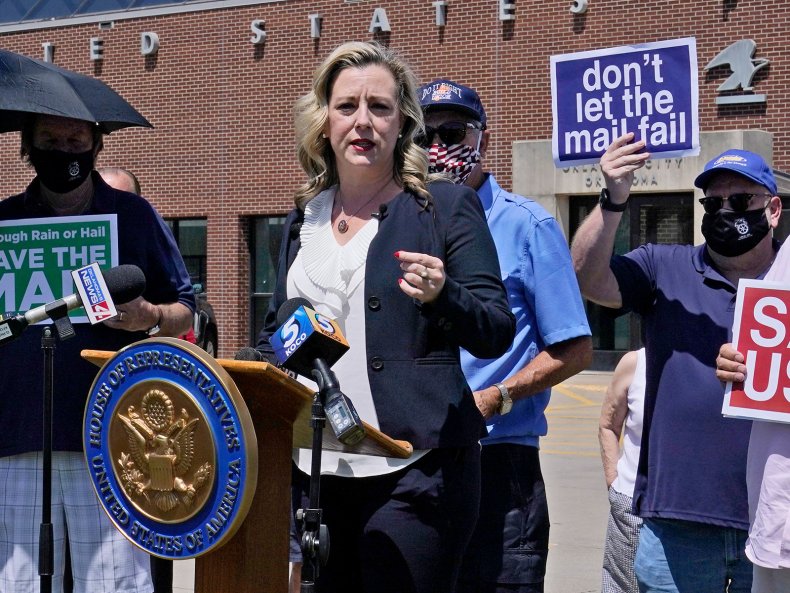 Horn is facing an uphill struggle against Republican candidate, U.S. Representative Markwayne Mullin, whom Trump endorsed in July and has had a substantial lead in a slew of recent polling.
In his video, Steele described himself as a "lifelong Republican" who was "supporting Kendra Horn for United States Senate because Kendra treats all people with respect, dignity and value."
"She is not partisan, but she is focused on issues that truly matter," Steele went on, saying that as a father of daughters, he considered Horn "the kind of leader that we need to move our state forward in a positive, productive and healthy direction."
Newsweek has asked the Mullin campaign for comment.
Steele's endorsement may have a limited impact on the race however, as recent polls and analysis from poll tracker FiveThirtyEight show Mullin is highly favored to win a state that's usually seen as deep red.
FiveThirtyEight gives Mullin 99 chances in 100 of winning the race to succeed retiring Republican Senator Jim Inhofe and an Amber Integrated poll conducted from September 19 to 21 gave Mullin an 11-point lead over Horn.
Trump has endorsed Mullin, a former mixed martial arts fighter who has served in the House of Representatives for Oklahoma's 2nd congressional district since 2013. Mullin has also echoed Trump's unfounded claims that the 2020 presidential election was stolen from the latter.
"Markwayne Mullin is an America First Warrior, and has my Complete and Total Endorsement!" Trump said in a statement issued by his Save America PAC in July.
Mullin will face Horn in one of two U.S. Senate races in Oklahoma. In the other race, Republican Senator James Lankford is also strongly favored to win over his Democratic challenger Madison Horn. The two Democrats are not related.
The Democratic Party remains slightly favored to keep control of the Senate after the crucial November midterm elections, based on FiveThirtyEight's analysis, but Kendra and Madison Horn may be headed for defeat in strongly Republican Oklahoma.