Michigan Couple Copies Racist 'Picking Cotton' 'Promposal' That Got Florida Teen Banned from Dance
A Vermontville, Michigan, high school couple's "promposal" was criticized as racist by their fellow students as a smiling teen posted photos to social media holding a sign about black people picking cotton. A nearly identical phrase was used just last week by a Florida teen who was then banned from prom.
Maple Valley High School student Grace Guernsey told WILX-TV in Lansing, Michigan, that she scrolled by the photo this weekend of two classmates on Instagram, who she did not identify because they are minors. The controversial couple were seen holding a prom-date proposal on poster board with the following phrase: "If I was black id be picking cotton...but im white so im picking you for PROM?"
Guernsey said she felt bad for the couple when she saw the image.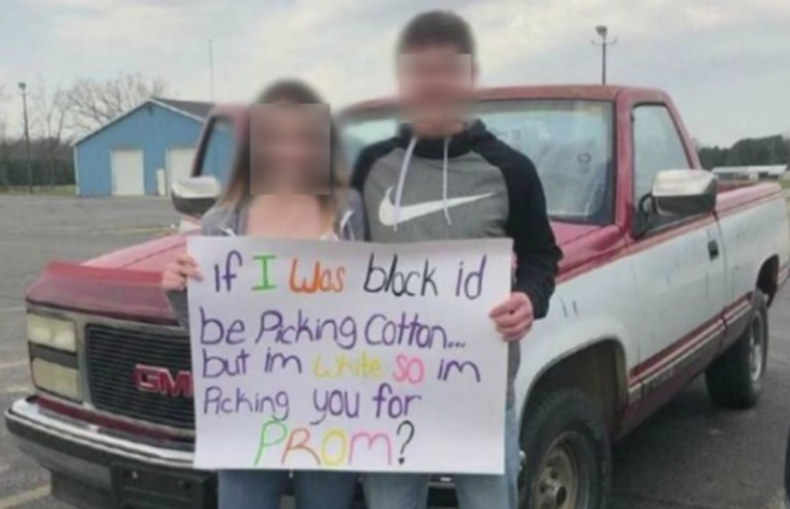 "I hope that people think before they do things like this. Things like this can really hurt people. When I saw it, I was hurt by it because I'm black. And I'm not picking cotton," Guernsey told WILX-TV on Sunday. "It's kind of sad. I don't think they meant offense by it, but they are just uneducated about what really was going on at that time. Yes, it's not happening now, but we don't need reminders of what happened in the past...we know."
This is not even the first time this month that the same denigrating slavery-era reference was used in a poster board "promposal" on social media.
Just last week, 18-year-old Florida senior Noah Crowley was banned from attending his high school prom after posting a photo of him holding nearly the exact same words on a sign. "If I was black, I'd be picking cotton, but I'm white so I'm picking u 4 prom?" read the Riverview High School student's stenciled poster board.
Crowley's parents worked out a deal with administrators that will keep him from attending any more school functions.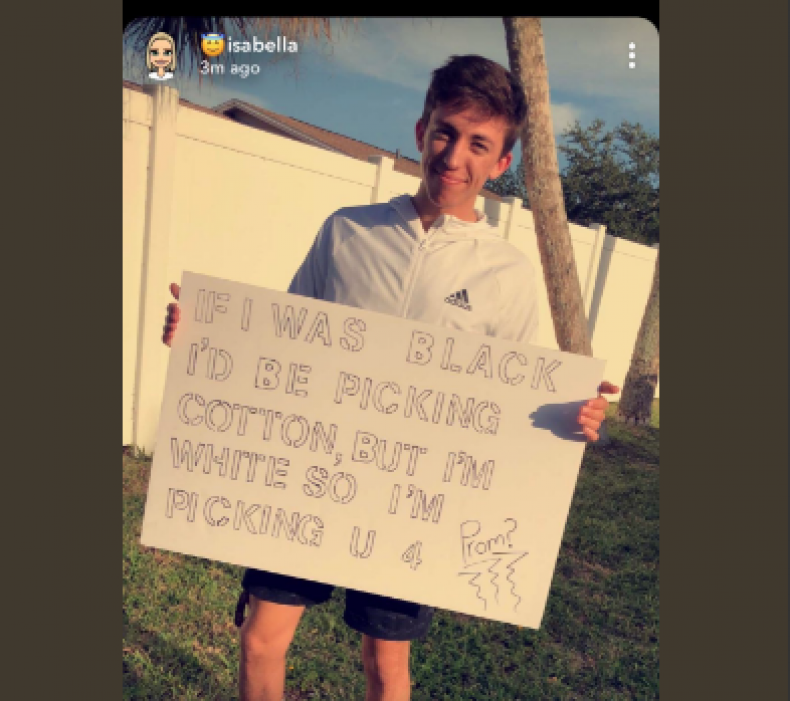 "After numerous familial conversations and lengthy discussions with Riverview High School administrators, we have jointly agreed that our son will not be attending any further school activities or functions, including the Prom or graduation ceremony," the statement said.
Back in Michigan, the school district's superintendent, Michelle Falcon, responded to the couple's racial backlash in a brief statement provided to WILX-TV.
"The district was made aware of the social media postings late yesterday," Falcon said. "We are currently investigating the situation and at this time we don't have any additional information to share. "