Proposed 'Stand Your Ground Bill' Called Racist, 'Make Murder Legal Act'
Supporters and opponents of a Missouri bill that would expand the state's "stand your ground" laws testified in a state Senate committee hearing Tuesday during which one county prosecutor dubbed the bill the "Make Murder Legal Act."
"Stand your ground" laws and alleged "self-defense" incidents have garnered significant public attention in recent months after the three men convicted of murdering Ahmaud Arbery in Georgia claimed they were acting in self-defense, while the "stand your ground" law in Kansas is likely to be re-evaluated after a district attorney said it would prevent him from charging employees of a juvenile intake center in the September death of 17-year-old Cedric Lofton. Self-defense cases citing "stand your ground" laws began to rise in national profile about 10 years ago following the February 2012 killing of 17-year-old Trayvon Martin.
This proposal, Senate Bill 666, sponsored by Republican Sen. Eric Burlison, would remove the burden from defendants who are required under current law to prove in court that they acted in self-defense, instead of providing them with a "presumption of reasonableness," preventing charges from being filed until investigators can confirm that an individual acted unlawfully, the bill states.
Current Missouri law allows for the use of force, including deadly force if they "reasonably believe" it is necessary to protect themselves or others from serious injury or death — for instance in a home invasion — in what is commonly referred to as "castle doctrine," The Kansas City Star reported.
The bill faced opposition Tuesday from representatives of the Missouri Association of Prosecuting Attorneys, Missouri Sheriffs United, the Missouri Fraternal Order of Police, police unions from St. Louis and Kansas City, and the NAACP.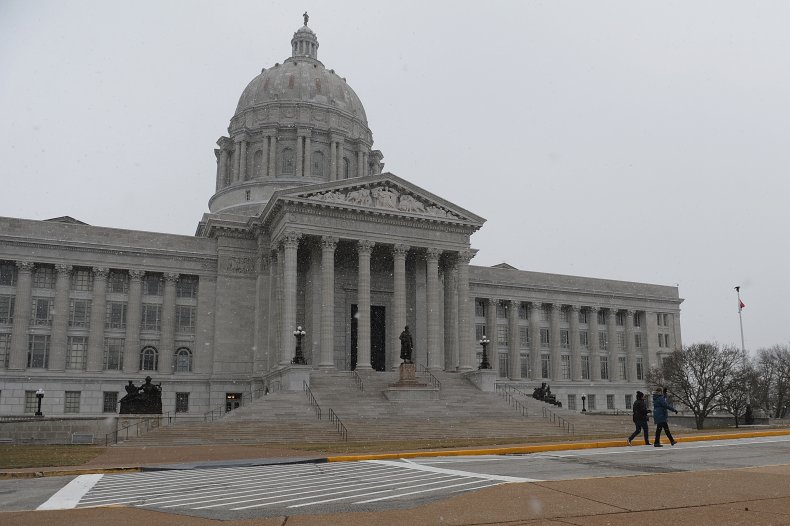 "I refer to it as the 'Make Murder Legal Act,'" Stoddard County Prosecuting Attorney Russ Oliver said while representing the prosecutors association at the hearing, according to the St. Louis Post-Dispatch.
"What we are doing with this bill is ... basically saying the 6,500 assaults that are committed every single year in Missouri — that every single one of those are automatically presumed to be self-defense," Oliver said, the Post-Dispatch reported.
Democratic Sen. Brian Williams, the only Black member on the Senate committee that held the hearing, said the bill was racist because under a law like the current proposal, the men who killed Arbery could have claimed self-defense and may not have received any criminal charges, according to The Associated Press.
"I was the first Black man in two decades to be elected to this body," he said, according to The Kansas City Star. "This is one of the most offensive pieces of legislation I have ever seen in my life. It's a personal attack on me. It's a personal attack on people who look like me."
One of the supporters of the bill at the hearing was Mark McCloskey, a St. Louis lawyer and current U.S. Senate candidate who gained notoriety in 2020 for pointing guns along with his wife at protestors walking down the street of their gated community. The couple later pleaded guilty to misdemeanor assault charges and were pardoned by Missouri Gov. Mike Parsons.
McCloskey criticized that current law requires defendants to prove they were acting in self-defense, as he said he learned when it was required of him to prove that he felt threatened by the protestors near his home.
"You have to have the jury decide the issue of whether or not you committed a crime, and then whether or not the Castle Doctrine provides you with a defense," McCloskey said. "That's backwards."
Martin's death raised these laws into a national discussion a decade ago. George Zimmerman, 28 at the time, saw Martin walking the streets of a Florida neighborhood the night of February 26, 2012. Concerned that he looked "suspicious," Zimmerman called 911 and was told by a dispatcher that he should not follow or interact with the teenager.
Shortly after, a physical altercation took place that ended with Martin shot and killed by Zimmerman, who alleged that he acted in self-defense. He was later charged with second-degree murder and found not guilty by a jury in July 2013, with many in the public, including Martin's family, claiming that Martin was only "suspicious" to Zimmerman because he was Black.