Donald Trump must be prosecuted and banned from running for another term as president for inciting the insurrection on January 6 in order to "preserve the republic," according to a legal expert.
Laurence Tribe, professor emeritus of constitutional law at Harvard University, suggested that it will not be enough if the former president is criminally charged over his role in the Capitol attack while citing testimony from Judge J. Michael Luttig at the House Select Committee's hearing describing Trump as a "clear and present danger" to democracy.
Writing in the Los Angeles Times, Tribe also suggested that Trump should also be banned from trying to become president again as there is enough evidence he violated Section 3 of the 14th Amendment.
The section states that any person who "engaged in insurrection or rebellion" after taking a congressional oath should be prevented from running for office, which Tribe said he believed Trump did before, after and during the January 6 attack.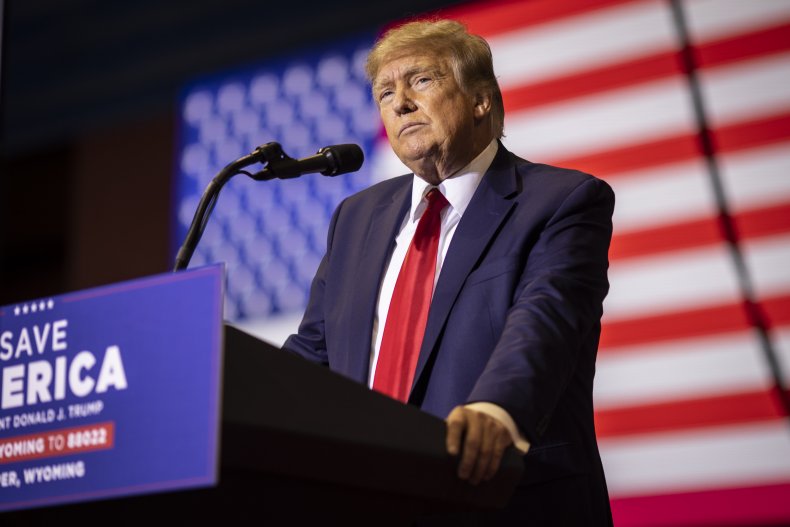 "Even without a direct charge of insurrection, allegations of such insurrectionist activities in an indictment for conspiring to defraud the United States or to obstruct an official proceeding or for seditious conspiracy might suffice for 14th Amendment disqualification if Trump were convicted," Tribe wrote.
"Holding Trump accountable — and disqualifying him from future office — would not be a partisan act, but one needed to preserve the republic."
Trump has repeatedly denied any wrongdoing with regards to his actions in and around the January 6 attack and still falsely claims the 2020 election was rigged. In a lengthy statement ahead of the second day of hearings, the former president described the January 6 House Select Committee as a "kangaroo court."
Tribe also gave a number of examples that he said showed how Trump wanted the insurrection to succeed, including waiting three hours before telling his supporters to go home on January 6, and his "vengeful tweet" about former Vice President Mike Pence as the riot was unfolding.
After allegedly being told that Pence was being removed from the chamber floor for his safety on January 6, Trump tweeted shortly afterward that Pence "didn't have the courage to do what should have been done" and stop the results from being certified during his purely ceremonial role as presiding officer of the Senate.
The January 6 House committee suggested that Pence's life was in danger on January 6 as the rioters, who were chanting "hang Mike Pence," carried out the attack while supporting Trump's false claims about election fraud and the incorrect belief Pence could have stopped the certification of the election results.
Tribe also detailed three authoritarian scenarios of what may happen if Trump is not prosecuted over January 6.
This includes the "end of elections in which a majority of voters choose their leaders and that Trump would be prepared to use the military against U.S. citizens if returned to the White House.
Tribe also suggested that Trump would install people at the Justice Department who would "turn the machinery of prosecution against his enemies," as well as offer pardons to those who took part in the January 6 attack, which Trump himself has suggested he would be willing to do.
"Should Trump get an encore, look to pre-World War II Germany for a mirror. A failed coup in 1923 taught Hitler a better route to dictatorship nine years later," Tribe said in reference to the Beer Hall Putsch led by the Nazi Party leader
"Those who repeat history are doomed to learn it. The hard way."
Newsweek reached out to Trump for comment.
Update 06/21/2022, 4:52 a.m. ET: This article has been updated with additional information about Trump.