Trump's Jan. 6 Pardon Comments 'an Attempt at Witness Tampering': Conway
Conservative attorney George Conway said Saturday that former President Donald Trump's statement during a Friday speech that he would consider pardons for January 6 defendants if he was reelected president are "an attempt at witness tampering."
Conway's comments came after Trump delivered a speech at a Faith & Freedom Coalition event in Tennessee on Friday. Speaking about the January 6 defendants during his address, the former president said that if he becomes president again he'll be "looking at them very very seriously for pardons."
Trump said that the defendants are "being treated worse than terrorists and murderers despite most being charged with parading through the Capitol. Most people should not be treated the way they're being treated."
When MSNBC host Katie Phang mentioned his remarks about the potential pardons, Conway said during his interview: "I mean he's not president, I don't think he's ever going to get elected president again. But it's kind of like, it's an attempt at witness tampering frankly a little bit."
"Yeah, he's dangling the opportunity to people to not cooperate and not testify to be able to get a pardon," Phang responded.
"And it just kills me, he's doing this in front of a Faith and Freedom conference, the guy who paid $130,000 to Stormy Daniels and tried to end American democracy is at the Faith and Freedom Conference getting a standing ovation," Conway added.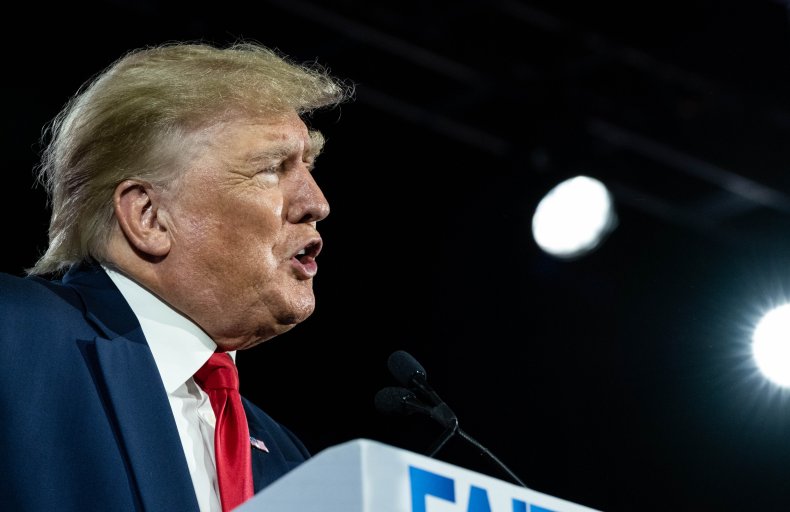 In a separate interview on MSNBC on Saturday, Trump's ex-attorney Michael Cohen criticized his former boss for "dangling pardons."
"He's done this before. Because what he's really saying here is that he doesn't want these people to cooperate, and if you don't cooperate, then I'll pardon you. And here's where the grift comes in, right. First and foremost, he's not going to become president again. And second, he doesn't know you, and more importantly, he doesn't care about you," Cohen said.
Trump's comments on Friday don't mark the first time he has floated the idea of pardons for the rioters. During a rally in Texas in January, he said if he runs for president again and wins "we will treat those people from January 6 fairly."
"And if it requires pardons, we will give them pardons. Because they are being treated so unfairly," he added. "What that unselect committee is doing and what the people are doing that are running those prisons is a disgrace."
Newsweek has reached out to Trump's press office for comment.