Protesters Burn American Flag on Steps of Colorado Capitol as Inauguration Underway
Protesters burned an American flag outside the Colorado State Capitol building in Denver Wednesday as inaugural proceedings were underway in Washington, D.C., to commemorate the swearing-in of President Joe Biden and Vice President Kamala Harris.
A public information officer with the Colorado State Patrol told Newsweek they were unaware of any arrests made in connection with the protest. Between 40 and 50 protesters were estimated to be present at the time of the flag burning, the official said.
City officials enhanced security around several government buildings in Denver ahead of the inauguration in anticipation of the day's protests. The FBI also warned about plans for armed protests in "all 50 state capitols" this week, according to documents obtained by the Associated Press. The protests were expected to last through Wednesday, which marked two weeks since rioters broke into the U.S. Capitol as congressional legislators were certifying the Electoral College results of the 2020 presidential election.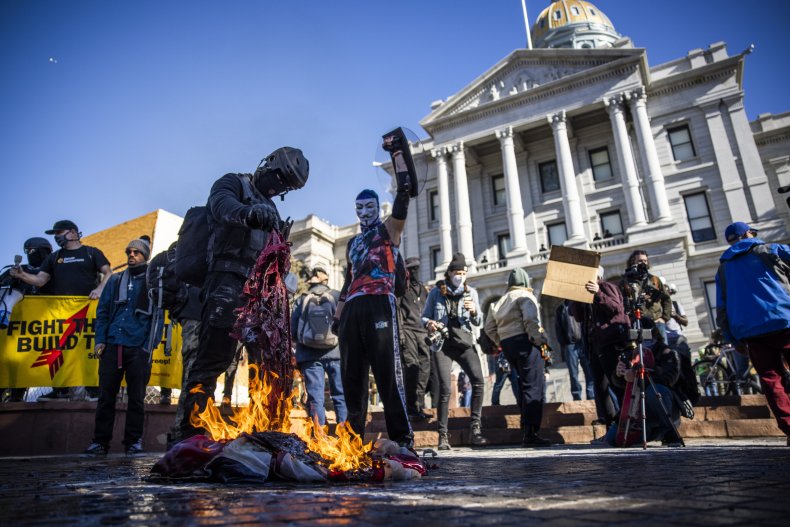 Multiple media outlets declared Biden the winner of the election on November 7, but former President Donald Trump did not concede the race. Instead, the legal team for his campaign posed challenges to the election results in several battleground states and continued to allege widespread voter fraud without evidence into the new year. Congressional lawmakers on both sides of the aisle have accused Trump of spurring on his supporters during a speech he delivered at a rally in Washington, D.C., the morning of the deadly January 6 riot.
On Wednesday, reporters in Denver began sharing photos and videos on social media of protesters gathering outside the Colorado State Capitol building around noon local time. Law enforcement officials could also be seen monitoring the proceedings nearby.
According to the Colorado State Patrol, protesters began burning a flag at about 12:45 p.m. local time, and the flames were extinguished about 15 minutes later. There were nearly as many members of the media in attendance as there were protesters, the public information officer said.
The official told Newsweek the Colorado State Patrol was collaborating with other agencies to respond to protest-related incidents as they occurred.
In Washington, D.C., there was a strong law enforcement presence throughout the day due in part to the riots from two weeks earlier. Thousands of National Guard troops were on guard, as were hundreds of law enforcement officials representing departments across the U.S., the Associated Press reported.
Biden was sworn in by Supreme Court Chief Justice John Roberts shortly before noon on Wednesday, after which the new president delivered an inaugural address that called for unity and said he would represent all Americans regardless of which candidate they voted for last November.
Law enforcement officials in Washington, D.C., did not encounter any major security problems during the inauguration, according to the AP.