Protesters Chanting 'Death to America' Storm U.S. Embassy in Baghdad
The U.S. embassy in Baghdad has been stormed by protesters reportedly shouting "death to America" following airstrikes by American forces in Iraq, it has been reported.
Iraqi officials told Sky News and Reuters that the U.S. Ambassador to Iraq had been evacuated from the compound along with other staff after protesters angered by the airstrikes on an Iran-backed militia broke into the embassy's grounds.
A State Department spokesperson said U.S. Ambassador to Iraq Matt Tueller had been on "previously scheduled travel for a week" and claimed reports of his evacuation were false.
The New York Times further reported that some protesters were shouting "Death to America!" as they stormed the compound. There have been no casualties reported following the incident thus far.
A fire was started in the embassy's reception area, the Associated Press reported, adding that its reporter saw flames inside the diplomatic building's grounds.
Reuters and Sky News also reported the main entrance to the embassy compound was broken down, with Associated Press reporting the presence of tear gas and sounds of gunfire.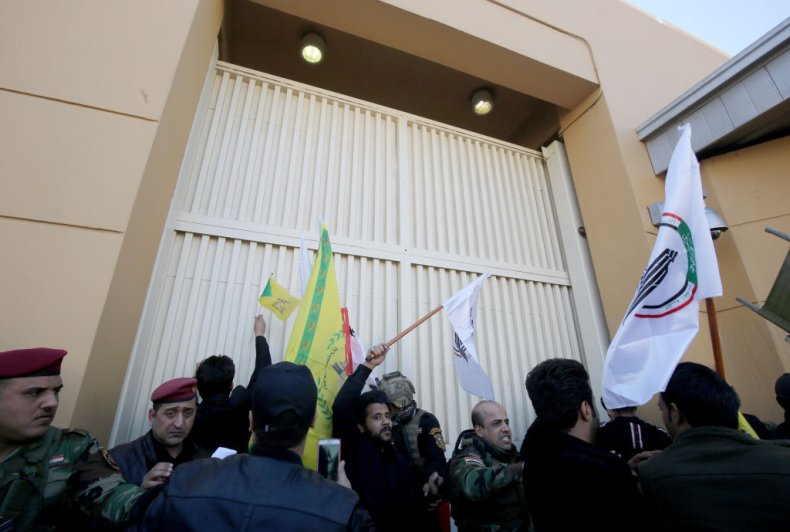 The Washington Post Beirut Bureau Chief Liz Sly tweeted that "hundreds of Kataib Hezbollah supporters" were surrounding the embassy, reporting that Iraqi forces guarding the area made "no attempt to stop them."
A State Department spokesperson said in a statement that Ambassador Tueller is returning to the Baghdad embassy following his scheduled travel, and added a call for Iraqi authorities to protect American diplomatic facilities.
In a tweet on Tuesday morning, President Donald Trump said: "Iran killed an American contractor, wounding many. We strongly responded, and always will. Now Iran is orchestrating an attack on the U.S. Embassy in Iraq. They will be held fully responsible. In addition, we expect Iraq to use its forces to protect the Embassy, and so notified!"
Secretary of State Mike Pompeo also released a statement on Twitter about the storming of the embassy in Iraq. He said: "We responded defensively to the Iranian proxy attack that killed an American citizen and wounded American and Iraqi soldiers. Now, Iranian backed groups are threatening our Embassy in Baghdad. I spoke with Prime Minister Mahdi and President Salih to reiterate their obligation to protect our U.S. personnel and property."
The airstrikes on Sunday morning killed 25 people. The strikes followed the death of an American defense contractor in a rocket attack in Iraq.
Iran's state-run news agency reported that Foreign Ministry spokesperson Abbas Mosavi said the U.S. "must accept responsibility of the consequences of the illegal attacks."
American airstrikes in Syria and Iraq targeting the Kataib Hezbollah Shia militia group on Sunday were approved by President Donald Trump and levied against five facilities, the Pentagon said.
The Agence France-Presse news agency reported on Tuesday that the Iraqi government warned the airstrikes had put relations with the United States at risk.
The State Department ordered a partial-evacuation of Iraq embassy staff amid mounting tensions with Iran in May this year. It announced that the evacuation covered "non-emergency U.S. Government employees" stationed in the Baghdad embassy and Erbil consulate.
American citizens were also urged to leave the country as the U.S. "temporarily suspended" visa services.
Around 5,200 U.S. troops are currently stationed in Iraq, following the American invasion of the country in 2003.