Protesters Gather at Pennsylvania State Capitol in Opposition to Coronavirus Lockdown Measures
Crowds of demonstrators gathered outside Pennsylvania's state capitol building in Harrisburg for an anti-lockdown protest on Monday morning.
The event officially began at 12 p.m. local time and could draw thousands to the state's legislative center throughout the early afternoon, based on user participation in Facebook forums titled Pennsylvanians Against Excessive Quarantine and ReOpen PA.
Pennsylvanians Against Excessive Quarantine, a private group created last Tuesday in response to the state's ongoing coronavirus lockdown, has accumulated more than 67,000 members on Facebook and refers to Monday's protest as "Operation Gridlock Pennsylvania". It is one of three identifiable activist cohorts behind Monday's Harrisburg rally, alongside ReOpen PA and End The Lockdown PA. The former's Facebook group has gained 57,000 members since its creation early last week.
All three groups advocate for a hastier approach to restoring the state's business sector than government officials have offered in recent weeks. Joel Underwood, one of the rally's organizers and a spokesperson for ReOpen PA and End the Lockdown PA, told Newsweek the groups were declining interviews on Monday. Representatives from Pennsylvanians Against Excessive Quarantine did not reply to requests for comment by the time of publication.
In its social media description, Pennsylvanians Against Excessive Quarantine asked members to email reopening requests to Governor Tom Wolf through a submission forum at ReOpenPA.com, a webpage associated with the state's Firearms Association. The group's administrators are siblings Ben, Christopher and Matthew Dorr, who are directors and board members of several gun rights coalitions across the Midwest. The brothers have created a handful of anti-lockdown groups on Facebook over the past several days, including Wisconsinites Against Excessive Quarantine and Ohioans Against Excessive Quarantine. More than 100,000 users have joined the Wisconsin group.
"It's time to OPEN UP PENNSYLVANIA and STOP Gov Wolf's Excessive Quarantine!" Pennsylvanians Against Excessive Quarantine wrote on Facebook. "Politicians are on a power trip, controlling our lives, destroying our businesses, passing laws behind the cover of darkness and forcing us to hand over our freedoms and our livelihood! ENOUGH!"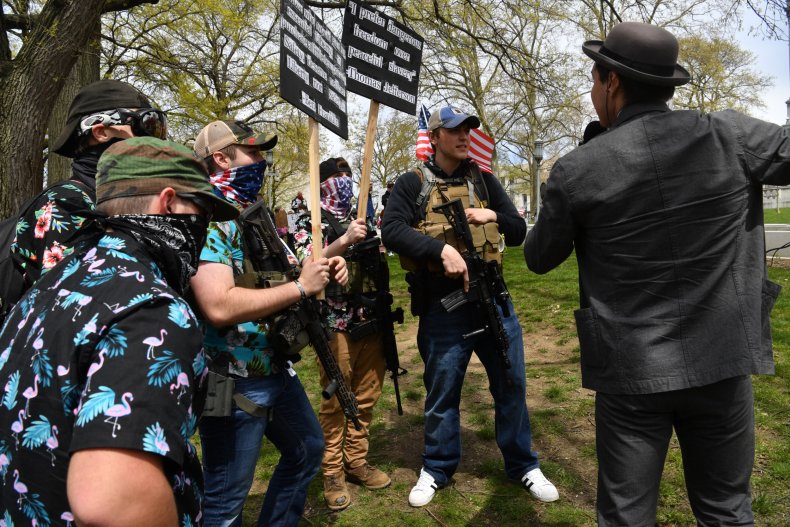 Pennsylvania has confirmed 33,232 cases and 1,204 deaths from the new coronavirus, according to the Department of Health's most recent update Monday afternoon. It has now reported the fourth-highest incidence of the virus in the United States, behind New York, New Jersey and Massachusetts, surpassing Michigan, California and Louisiana's numbers in less than two weeks.
Coronavirus case counts in Pennsylvania have risen dramatically since the beginning of the month, prompting Governor Wolf to extend Pennsylvania's lockdown order mandating nonessential business closures and social gathering restrictions through at least April 30. He also ordered school closures through the end of the academic year.
Last week, Wolf's office confirmed his plans to veto a state Senate bill that called for a wider definition of businesses deemed "life-sustaining," in accordance with guidelines issued by the federal Cybersecurity and Infrastructure Security Agency (CISA) in March. On Friday, Wolf outlined his administration's Plan for Pennsylvania, a strategy aimed at restoring the state's economic activity while still protecting the health of its population, particularly those demographics most vulnerable to the virus. The plan did not specify a timeline for its proposed developments.
"For weeks, my administration has been at work on a plan to reopen Pennsylvania, and we're going to make sure we have a plan that respects the reality of the situation on the ground and works with our local, regional and federal partners," said Wolf in a statement Friday. "All of us are anxious to reopen the commonwealth. As a former business owner, I deeply share the concerns of some in the legislature, but we cannot exacerbate the pandemic's damage on Pennsylvania."