Protesters in Guatemala Meet Kamala Harris With 'Trump Won' Signs
U.S. Vice President Kamala Harris was met by protesters holding signs reading messages such as "Trump won" and "Go home" in Guatemala on Monday, the New York Post reported, as the country's president blames the Biden administration for this year's migrant crisis.
The posters were visible from Harris' motorcade on her way to meet with Guatemalan President Alejandro Giammattei. Some of the signs were posted on Twitter, including one that reads, "Kamala, mind your own business."
Another sign featured an edited image of Harris depicting her as pregnant with the words "Guatemala is pro-life #momalahelpme," despite the fact that Harris does not have biological children.
Harris is on her first foreign visit to Guatemala and Mexico as vice president this week, and spoke with Giammattei on deterring immigration from Central America into the United States.
Her visit came one day after Giammattei accused the U.S. of luring Guatemalan citizens north during the COVID-19 pandemic. In a CBS interview on Sunday, Giammattei spoke about the migration crisis.
"We asked the United States government to send more of a clear message to prevent more people from leaving," Giammattei said.
During the interview on Sunday, Giammattei said he and Harris "are not on the same side of the coin" with regards to migration.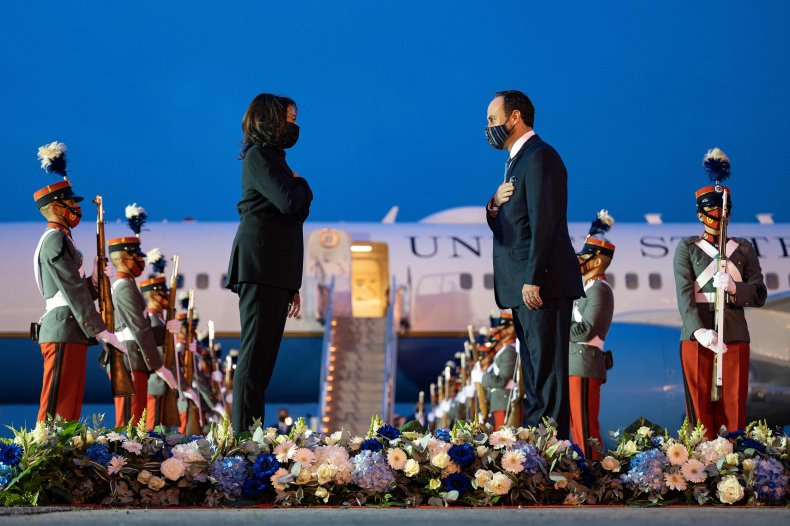 During a news conference with Giammattei on Monday, Harris said the two had a "robust" conversation on migration, Reuters reported. Harris also delivered a message to potential immigrants from Central America, saying: "Do not come."
"The president and I discussed that fundamentally, most people do not want to leave home, they don't want to leave the place where the language they know is spoken," Harris said.
The number of undocumented immigrants apprehended at the U.S.-Mexico border reached over 178,000 people in April, according to statistics released by U.S. Customs and Border Protection. The increase in illegal immigration has been attributed to President Joe Biden's policies by critics, the New York Post reported.
Among those policies include an end to Trump's "remain in Mexico" policy that required asylum-seekers to remain in Mexico while waiting for decisions in their cases. The move was applauded by Democrats and groups like Amnesty International, but criticized by Republicans, according to the Border Report.
Biden also implemented a plan to fast-track cases of families stuck at the U.S.-Mexico border in immigration court.
Many immigrants come from the three countries that comprise the Northern Triangle, of Central America, which includes Guatemala, Honduras and El Salvador, and the U.S. government has pressing those countries to do more to tackle corruption and dissuade citizens from emigrating, Reuters reported.
Harris will depart from Guatemala on Monday evening to travel to Mexico. She will then hold meetings on immigration with President Andrés Manuel López Obrador on Tuesday.