Seattle Protesters Set up Barricades, Prepare to Defend CHOP From Police
Protesters in Seattle's Capitol Hill Occupied Protest (CHOP) zone are preparing to defend the area from police after the city's mayor announced plans to dismantle it in the wake of back-to-back shootings.
Seattle Mayor Jenny Durkan said in a news conference on Monday that the city is working with the community to bring the occupation by protesters of several blocks in the Capitol Hill neighborhood to an end.
She said police would soon move back into a precinct building that had been abandoned and taken over by protesters who formed the police-free zone, originally dubbed the Capitol Hill Autonomous Zone (CHAZ), earlier this month.
Durkan didn't provide a timeline for clearing out the area, but said "additional steps" would be looked at if protesters do not leave voluntarily.
Shortly after the announcement, videos and images posted on social media suggested protesters had no plans to voluntarily surrender the area back to authorities.
Pictures posted by one Twitter user showed barricades that have been put up around the East Precinct building. "People are waiting for cops to show up," the user noted.
"We're not leaving until our demands are met," a sign posted outside the precinct building says. The three demands listed on the banner are: defund the Seattle Police Department by 50 percent, fund Black communities and free all protesters.
Journalist Jake Goldstein-Street tweeted several videos on Monday evening, showing protesters preparing in case police arrived to clear out protesters that night.
One video shows protesters moving fencing and barricades in the zone in a bid to block police from entering the East Precinct station.
In another tweet, Goldstein-Street shared a video showing protesters outside the precinct practicing a human chain which he said was "to protect the building from police."
Ash Shah shared a video showing protesters were moving concrete barricades placed around the CHOP by the Seattle Department of Transportation using cars.
Durkan on Monday said the violence in the police-free zone was undermining the changes sought by protesters.
A shooting on Sunday night was the second in the area in less than 48 hours. A 17-year-old sustained a gunshot wound to the arm near Cal Anderson Park, Seattle police said, but he declined to speak with detectives.
Early on Saturday, a 19-year-old—identified by friends as Lorenzo Anderson, according to WFSA—was killed and another man was left critically injured in a shooting. Both were taken to hospital in private vehicles, with police saying they had been met with a "violent crowd" that stopped them getting to the victims.
Durkan said that peaceful protests could continue, but the nighttime violence had to end.
"The cumulative impacts of the gatherings and protests and the nighttime atmosphere and violence has led to increasingly difficult circumstances for our businesses and residents," she said.
"Most of them supported protesters' right to gather at the outset. They stand with them in solidarity, but the impacts have increased and the safety has decreased."
Durkan noted that organizers in the protest zone had themselves "concluded that they should not gather overnight" after the weekend shootings.
The mayor stressed that efforts to dismantle the area would be led by community organizers rather than police.
She added: "In recent days, we have deployed community resources to both de-escalate the area and to move people to services. We will continue to working with and deploying these community organizations to change the circumstances on Capitol Hill."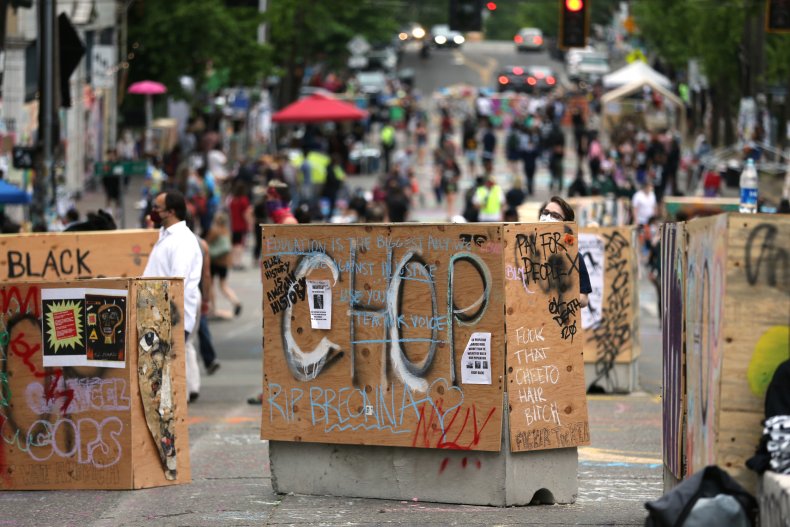 Durkan also promised to address some of the protesters' demands, including investing more in Black communities, "rethinking and reimagining" policing and statewide reforms of police unions.
Protesters cordoned off an area spanning several blocks near Seattle police's East Precinct after riot police fired tear gas, pepper spray and flash-bangs on large crowds of mostly peaceful demonstrators on June 8.
Protests against police brutality and racism have taken place in Seattle and around the country since the death of George Floyd, a Black man, in Minneapolis police custody last month.