Some of the Signs Held By Protesters Calling for End to Coronavirus Lockdown Raise Eyebrows: 'I Need a Haircut'
Protesters around the U.S. waved signs that have been branded "dumb" and "ignorant" as they clamored for states to reopen immediately despite the coronavirus continuing to claim lives at an alarming rate.
Hundreds gathered outside Colorado's state capitol in Denver on Sunday demanding an end to the shutdown. They joined demonstrators in other states, including Arizona and Washington, demanding governors lift lockdowns and open nonessential businesses that have been shuttered to slow the spread of the virus.
Thousands defied a ban on gatherings of 50 people or more to protest Washington Governor Jay Inslee's stay-at-home order at the state capitol in Olympia
Many protesters also defied social distancing guidelines and indicated their support for President Donald Trump, who appeared to endorse demonstrations against lockdown measures by saying some governors had gone "too far" with measures during his media briefing on Sunday.
Rallies calling for restrictions to be eased also broke out in numerous other states, including Wisconsin, Michigan, Ohio, Minnesota, Kentucky and Tennessee last week.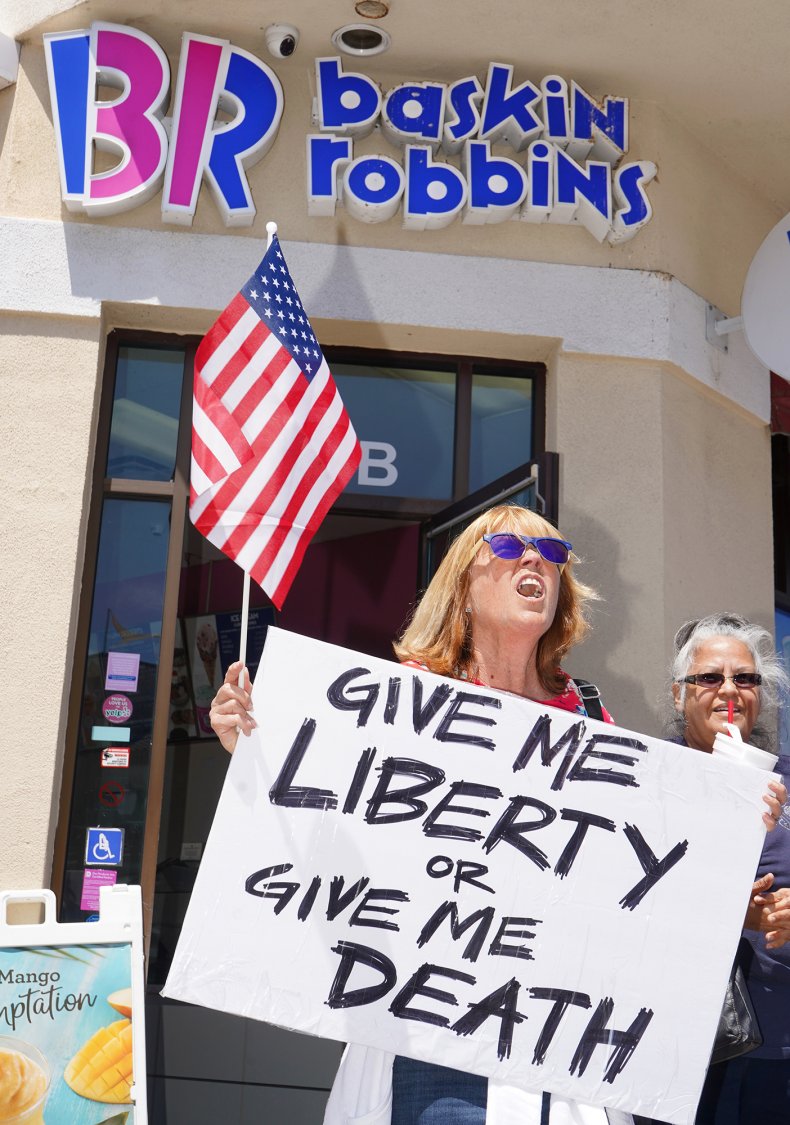 A number of people carried signs that suggested they would prefer to become ill with COVID-19, the disease caused by the novel coronavirus, than have limits on their freedom. "tProtesters in Olympia brandished signs that said "Freedom over illusion of safety" and "Freedom is essential."
Critics took to social media to blast protesters as "Covidiots"—a term that's become used for people who act in selfish manner during the coronavirus pandemic, such as by defying social distancing guidelines.
One woman at a protest in Wisconsin sparked fury after waving a sign that said: "I want a haircut!"
"If you get infected with #Coronavirus & you die, I doubt you or anyone else will care what your hair looks like. This is a woman from today's protest in WI. Just dumb," Khary Penebaker tweeted.
Liz Lincoln added: "This woman's sign perfectly encapsulates this f***ing 'freedom' movement. What are a few million deaths when Karen needs a haircut?"
Photographer David Poller said a protest in San Diego, California, was a "thinly-veiled Trump rally." He shared a photo on Twitter of a man wielding a sign that said: "Let my people GO-LF!"
Sam Ghali, an ER doctor, noted that a man holding a sign at a protest on Saturday saying "COVID-19 IS A LIE" was wearing a significant amount of personal protective equipment (PPE).
"All you have to know about this Huntington Beach protest is that the guy holding the sign that says 'COVID-19 IS A LIE' is wearing more PPE than most US frontline healthcare workers," he said on Twitter.
Meanwhile, a Trump-supporting protester who wielded a sign against the use of face masks saying "My body, my choice" in Austin, Texas on Saturday was called out for appearing to be using a bandana as a face covering herself.
"So 'my body, my choice' only applies to viruses? And she's holding a sign canceling face masks but she's wearing a scarf used as a face mask?" one person tweeted. "These people are ignorant and unreasonable."
Others noted the irony of the slogan being used by Trump supporters as the president has been criticized for his pro-life stance on abortion.
It was also pointed out that some protesters misspelled important words on their banners.
"Anyone know what a 'constition' is? Where can I get a copy?" wrote one Twitter user about a sign waved at a protest in Tennessee that said, "The constition [sic] exists for times like this!"
Another sign at the same protest said "Fauci is not our president," referring to Dr. Anthony Fauci. Trump recently retweeted a call to fire Fauci, who is an expert on infectious diseases, but the White House later said he would not be removed from the White House coronavirus task force and remains a "trusted advisor" to the president.
The protests come as the death toll from COVID-19 in the U.S. topped 40,000, according to Johns Hopkins University.
The country is the worst hit by the pandemic by far with more than 750,000 confirmed cases. More than 70,000 people have recovered from the disease so far.
This article has been updated to add an image.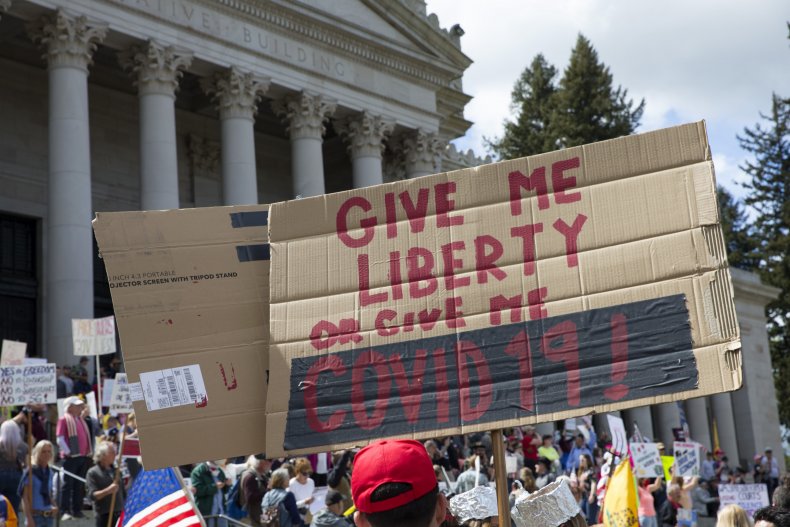 Centers for Disease Control and Prevention Advice on Using Face Coverings to Slow Spread of COVID-19
CDC recommends wearing a cloth face covering in public where social distancing measures are difficult to maintain.
A simple cloth face covering can help slow the spread of the virus by those infected and by those who do not exhibit symptoms.
Cloth face coverings can be fashioned from household items. Guides are offered by the CDC. (https://www.cdc.gov/coronavirus/2019-ncov/prevent-getting-sick/diy-cloth-face-coverings.html)
Cloth face coverings should be washed regularly. A washing machine will suffice.
Practice safe removal of face coverings by not touching eyes, nose, and mouth, and wash hands immediately after removing the covering.
World Health Organization advice for avoiding spread of coronavirus disease (COVID-19)
Hygiene advice
Clean hands frequently with soap and water, or alcohol-based hand rub.
Wash hands after coughing or sneezing; when caring for the sick; before, during and after food preparation; before eating; after using the toilet; when hands are visibly dirty; and after handling animals or waste.
Maintain at least 1 meter (3 feet) distance from anyone who is coughing or sneezing.
Avoid touching your hands, nose and mouth. Do not spit in public.
Cover your mouth and nose with a tissue or bent elbow when coughing or sneezing. Discard the tissue immediately and clean your hands.
Medical advice
Avoid close contact with others if you have any symptoms.
Stay at home if you feel unwell, even with mild symptoms such as headache and runny nose, to avoid potential spread of the disease to medical facilities and other people.
If you develop serious symptoms (fever, cough, difficulty breathing) seek medical care early and contact local health authorities in advance.
Note any recent contact with others and travel details to provide to authorities who can trace and prevent spread of the disease.
Stay up to date on COVID-19 developments issued by health authorities and follow their guidance.
Mask and glove usage
Healthy individuals only need to wear a mask if taking care of a sick person.
Wear a mask if you are coughing or sneezing.
Masks are effective when used in combination with frequent hand cleaning.
Do not touch the mask while wearing it. Clean hands if you touch the mask.
Learn how to properly put on, remove and dispose of masks. Clean hands after disposing of the mask.
Do not reuse single-use masks.
Regularly washing bare hands is more effective against catching COVID-19 than wearing rubber gloves.
The COVID-19 virus can still be picked up on rubber gloves and transmitted by touching your face.