Less than 24 hours after the People's Convoy embarked on their 11-day protest journey to Washington, D.C., Russian troops began their invasion on Ukraine. However, the latest developments in Europe aren't stopping the trucker protesters from demanding an end to COVID mandates and restrictions.
After spending the night in Kingman, Arizona, protesters got back on the road Thursday after some weather delays to continue their journey to the U.S. Capitol, driving east on I-40 towards the city of Lupton, Arizona, where the convoy is expected to stay overnight.
While national media attention has largely shifted onto the conflict in Ukraine beginning late Wednesday—when the Russian invasion began—photos and videos of the convoy, which is mimicking the Canadian Freedom Convoy, show that the group is still on track to reach the nation's capital by March 5.
On Wednesday night, a local pizza shop in Kingman hosted the demonstrators upon their arrival. Protesters also gathered there early Thursday before continuing on the second day of their cross-country road trip.
In a Facebook group post, members of the convoy thanked local truck stops for allegedly donating 25,000 gallons of fuel. The estimated number of vehicles and trucks currently traveling with the convoy is reportedly somewhere around 100.
Law enforcement officials in D.C. have begun preparing for the convoy's arrival.
The Department of Defense has approved the request from the U.S. Capitol Police and local government agencies to deploy 700 unarmed National Guards troops and 50 tactical vehicles—which will arrive this weekend—through March 7.
Capitol Police expect some of the convoy to arrive ahead of their expected timeline, potentially coinciding with President Joe Biden's State of the Union Address to Congress next Tuesday.
In a Sunday statement, the People's Convoy said while they plan to reach the D.C. area, the group "will NOT be going into DC proper" and that protesters "will abide by agreements with local authorities."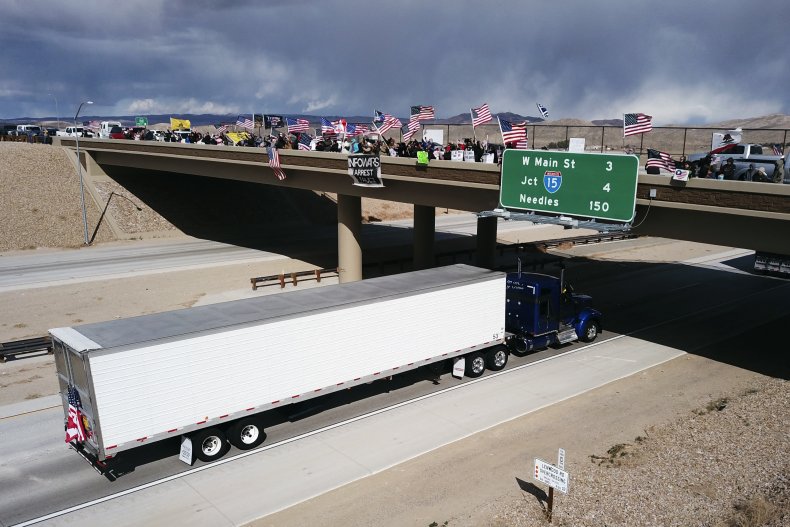 Early Thursday, Russia began the attack on Ukraine that it has mounted for months and ramped up in recent weeks, despite sanctions imposed by NATO allies.
At 4:30 a.m. Ukraine time, explosions were heard in major cities, including the capital of Kyiv, where the U.S. Embassy was once located. It has since been moved west to Lviv.
Oleksii Arestovich, an adviser to Ukrainian President Volodymyr Zelenskyy, said at least 40 people have been killed so far.
Many fear that the conflict on Ukraine's eastern border could become another world war. Stocks went tumbling early Thursday as oil prices soared following the invasion, putting many on edge and emphasizing the uncertainty ahead.
Biden met with his national security team and other world leaders on Thursday morning. He is expected to deliver a speech on Russia's attack later in the day.