Hotel CEO's Book Denying Nanjing Massacre Sparks Tokyo Protests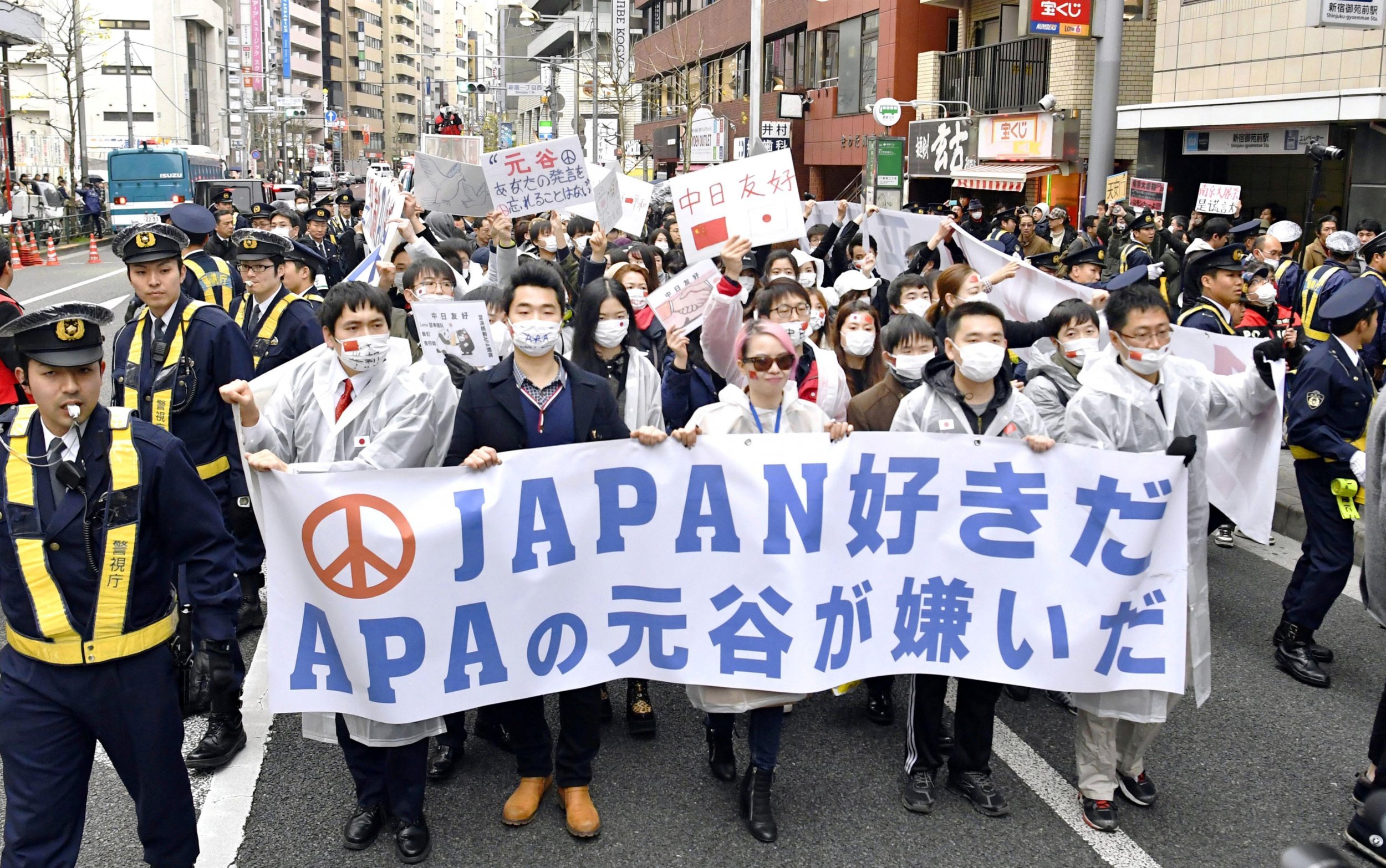 Two hundred expat Chinese protesters peacefully marched on the APA hotel chain in Tokyo on Sunday after the chain provided guests with a book denying the Nanjing Massacre took place, reported Reuters. Marchers were met by nationalist counter-protesters who waved the Rising Sun imperial flag and carried banners critical of China.
The Tokyo-based hotel chain APA (Always Pleasant Amenity) presented guests with copies of the book written by its CEO Toshio Motoya under his pen name Seiji Fuji, which denied that Japan used "comfort women" during the war, and said the 1937 Nanjing massacre of Chinese citizens by Japanese troops was a fabrication.
In December 1937 soldiers of the Japanese Imperial Army killed between 40,000 and 300,000 Chinese citizens—historians vary on the estimated number—and raped women across the province of Nanjing (then called Nanking). Japanese nationalists deny that a massacre took place. The event has been a source of tension between the two countries since, and Motoya has written a book denying it ever happened.
The right-wing businessman ordered books to be placed in all 400 of his hotels across eastern and southeastern Asia. His stunt triggered a peaceful protest by expat Chinese and local Japanese, who carried signs offering friendship. Signs included messages such as, "Peace shall be treasured." Counter-protesters, described as "ultra right wing nationalists" by China's state news agency Xinhua news, met the march. According to Reuters they were carrying banners which read: "Japan is a country with freedom of speech, and you should change China into the country that has the right of free speech as well."
One of the organizers of the parade told Xinhua news: "The parade is aimed at upholding friendship between the Chinese and Japanese people," and said that the clashes at APA only "embodies the distorted views of a small number of ultra-right wing forces in Japan but not the majority of Japanese people. As peace-loving Chinese, we shall hold in check such ultra-right voices in Japan that hurt friendship between the peoples of China and Japan."
Motoya has placed the books in hotel rooms for years, and has no plans to remove them. According to the BBC, the Chinese government has expressed its disapproval of the book and Chinese tour operators have threatened to sever ties with Motoya's hotel chain.
South Korea has threatened to pull national athletes' reservations for the winter Olympics in Sapporo if the book is not removed from the hotel, according to The Japan Times. The Korean Olympic Committee currently has 230 athletes booked in at the APA hotel in Hokkaido.