Climate Change Activists Target Amazon Warehouses in Europe on Black Friday
Climate change activists have staged blockage protests at Amazon warehouses across Europe to confront the company's "environmentally destructive" business practices.
Extinction Rebellion protesters have blocked 15 Amazon fulfilment centers in the U.K, Germany and the Netherlands on the morning on Black Friday, the busiest shopping day of the year for Amazon.
Bamboo structures, placards and "lock-ons" are being used to prevent lorries from entering the sites.
The group has targeted 13 Amazon warehouses in the U.K. claiming that these sites account for just over 50 percent of Amazon deliveries there.
The protesters said they planned to stage the protests on Black Friday as the discount day "epitomizes an obsession with overconsumption that is not consistent with a liveable planet."
Extinction Rebellion also criticized Amazon for its treatment of workers, not paying their fair share of tax, and for the wealth accumulated by its billionaire founder, Jeff Bezos.
Clarissa Carlyon, one of those taking part in the protests in Dartford, South East England, said that action is needed to "address the toxic consumerism that is driving the ecological crisis."
Carlyon added: "If we don't talk about what consumerism is doing to our planet and our society then we will not address the planetary emergency that's happening now.
Chris, a former Amazon employee from Newcastle, North East England, added: "Working at Amazon gave me first hand experience of how little the company cares about anything other than making money, and how poorly workers are treated.
"We can no longer live under a system that pushes deadly infinite growth at a time of crisis, manipulating consumers, exploiting workers and destroying the planet. Amazon's business model has enabled massive growth. As its empire grows, so does its exploitation."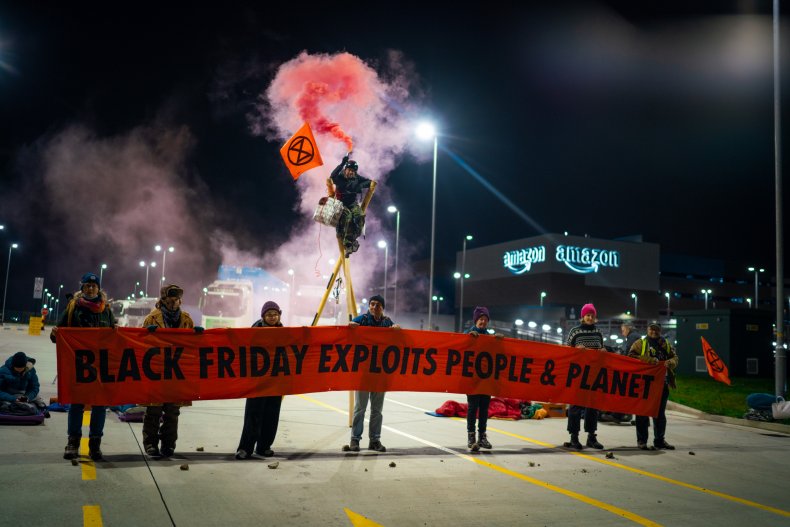 The group claims that activities tied to Amazon's business emitted 60.64 million metric tons of carbon dioxide in 2020, more than was emitted by the entirety of Denmark and the equivalent of burning through 140 million barrels of oil.
Amazon has pledged to reach so-called net zero carbon emissions by 2040, but the protesters said there is no evidence as to how it will achieve this.
In a statement to Newsweek, a spokesperson for Amazon said: "At Amazon, we take our responsibilities very seriously. That includes our commitment to be net zero carbon by 2040—10 years ahead of the Paris Agreement—providing excellent pay and benefits in a safe and modern work environment, and supporting the tens of thousands of British small businesses who sell on our store.
"We know there is always more to do, and we'll continue to invent and invest on behalf of our employees, customers, small businesses and communities in the U.K."
The group said they intend to stay at the sites for at least 48 hours.
Police in Essex, South East England confirmed that they are dealing with an incident at the Amazon warehouse in Tilbury and are "engaging with people at the scene" to ensure it remains safe.
"However, we expect the disruption to run into the morning rush hours and we're asking motorists to take some delays into account," Essex Police tweeted.