'No Evidence' Black Lives Matter Protests Caused COVID-19 Spike: Study
A study using data from Black Lives Matters protests across 315 of America's largest cities found "no evidence" in the following two and a half weeks that they caused a spike in the number of new COVID-19 cases.
The paper, titled "Black Lives Matter Protests, Social Distancing, and COVID-19," also found "strong evidence" that the protests actually increased stay-at-home overall, likely because non-protesters chose to leave their homes less amid the demonstrations.
"This effect was not fully explained by the imposition of city curfews. Estimated effects were generally larger for persistent protests and those accompanied by media reports of violence," said the paper, published by the National Bureau of Economic Research.
As days of protest raged over police brutality against black people, sparked by the death in police custody of George Floyd, some public health experts expressed concern that the events could accelerate the spread of infection during the pandemic.
Though many protesters wore masks, and were outside, both factors that help to reduce the risk, social distancing was not widely adhered to, leading to warnings by health experts that the behavior may mean a spike in new cases over the following days.
But authors of the study, which is the first to examine the links between the Black Lives Matter protests and COVID-19, said: "We find no evidence that urban protests reignited COVID-19 case growth during the more than two and a half weeks following protest onset.
"We conclude that predictions of broad negative public health consequences of Black Lives Matter protests were far too narrowly conceived."
Researchers used anonymous cell phone tracking data from SafeGraph, Inc. and local CDC data on COVID-19 to assess the impact of protests on social distancing, finding no evidence that they contributed to a net increase in new cases.
"These results make an important contribution not only to the current discussion around policies for controlling the spread of disease, but also to the understanding of human behavior of the general population during periods of civil unrest," the paper said.
The academics acknowledge a potential criticism that more time may be needed for cases related to the protests to emerge given the incubation period of COVID-19.
But they cited research showing the median incubation period is 5.1 days, with 97.5 percent of individuals experiencing symptoms within 11.5 days.
They wrote that "our sample includes at least 18 days of data following the early protests that took place in 66 cities (during the first four days following George Floyd's death), 16 days of data following protests in 202 cities, and at least 14 days of data for 240 cities that experienced protests (during the first week following George Floyd's death)."
"Science is never 100 percent conclusive," Andrew Friedson, assistant professor at the University of Colorado Denver's Department of Economics, and one of the study's authors, told Newsweek.
"I think that we've put forward a solid piece of evidence on the topic, but there are always improvements that can be made over time. There are a few things that I think are important to point out.
"This one is really important, and I think vital to interpreting the study: Our results are for the total population in the location of the protests.
"It is possible that there was more spread of COVID-19 amongst protesters, but that it was washed out by the population-level result which we believe to be driven by the non-protesters.
"That said, if there was an enormous amount of spread among protesters, we would have been more likely to notice it.
"The trend of results could change over time as more data is added, although we think that's unlikely. We're past the point in time where community spread would start to show up in the new cases data."
The study is a working paper for discussion and has not been peer-reviewed. As well as Friedson, it was authored by Dhaval M. Dave of Bentley University's Department of Economics; and Kyutaro Matsuzawa, Joseph J. Sabia, and Samuel Safford all of the Center for Health Economics and Policy Studies at San Diego State University.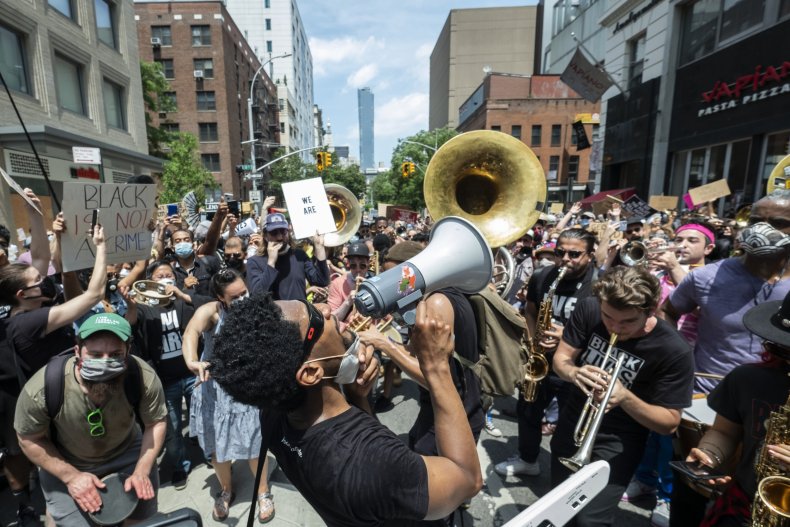 This article was updated with a comment by Andrew Friedson.