As Protests at Portland Courthouse Continue, a New York Court Rules in Favor of Protesters
As protests continue at the Mark O. Hatfield U.S. Courthouse in Portland, Oregon, a New York court ruled in favor of courthouse protesters' constitutional rights on Tuesday.
The United States District Court for the Southern District of New York ruled in favor of Michael Picard, who was arrested in 2017 for handing out flyers about jury nullification in front of the Bronx Hall of Justice.
Represented by the American Civil Liberties Union (ACLU), Picard was charged with criminal contempt under a New York law that prohibited protests within 200 feet of the courthouse.
While the law intended to protect the integrity of judicial proceedings, the 200 feet requirement included surrounding public sidewalks and streets, which are the most traditional public forums under the First Amendment doctrine.
"There was some concern that if you had a large mob outside the courthouse, jurors or judges or lawyers would feel intimidated and that would actually prevent the prosecution from going forward under the due process of law," Picard's lawyer and staff attorney for the ACLU Brian Hauss said.
"But there are a lot of ways to protect the integrity of the judicial process without making it a crime to engage in any sort of speech relating to a trial within 200 feet of a courthouse," he added.
The law was passed in response to protests in the 1950s against the prosecutions of several prominent leaders of the Communist Party in the U.S., including Eugene Dennis.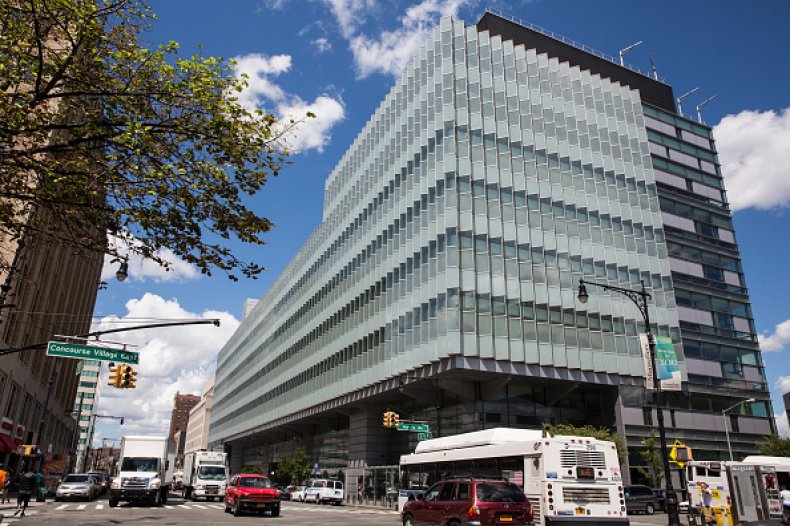 Picard was advocating for jury nullification, the power jurors have to vote not guilty because they believe the laws being applied are unjust, which Picard described as "the most powerful tools" citizens have to disagree with their government.
"I was just there to raise awareness about jury nullification and the fact that juries have this power even though it's not well-known because the judicial system discourages it," Picard said.
He was approached by officers who told him, due to the nature of his speech, he would have to hand out his flyers at a distance of 200 feet from the courthouse. When an officer told Picard he would be arrested for violating the law, Picard asked, "For free speech on a public space?"
Picard was then arrested and detained at the New York Police Department's Central Booking in the Bronx for 10 hours.
On Tuesday, District Judge Denise Cote struck down the law, declaring it unconstitutional.
In her decision, Cote said the law violated the First Amendment "because it is a content-based restriction on speech in a public forum that fails strict scrutiny" and wrote that "continued enforcement, however common, of a constitutionally impermissible law would not serve the public interest."
Hauss said the ruling was especially important because courthouses are among the "most important and salient" places to protest the criminal justice system in America.
"They're incredibly symbolic and important places. If you're trying to get a message out about the dangers and the problems of the criminal justice system, you want to do it in front of a courthouse," Hauss said.
This notion is not new to protesters in Portland, who have demonstrated nightly for over two months in response to George Floyd's death.
The Mark O. Hatfield U.S. Courthouse has become the scene of their efforts, so much so, that the Department of Homeland Security (DHS) has built a fence around the building.
Federal agents were deployed to the city earlier this month to defend "protect federal functions and federal buildings" and have operated aggressively against protesters with tear gas for much of July.
In the latest battle between the DHS and local government, Portland city officials announced they are assessing legal action against the federal government, including a fine of $500 for every 15 minutes the fence remains.
The same day that Cote ruled in favor of Picard, Portland Commissioner Chloe Eudaly said, "As of yesterday, the federal government owes us $192,000 and counting. We intend to collect."
"Typically, we would send a maintenance crew or contractor to remove such an obstruction, but I will not send workers into harm's way," Eudaly wrote on Twitter. "Yes, I am afraid to direct workers to do their job and enforce our laws against the federal government—I hope that gives everyone reading this pause."
"People absolutely should have the right to protest at courthouses since that's where much government action takes place," Picard said.
Picard has been involved on other protests, most recently he crashed a pro-police rally in Connecticut over the weekend with an "All Pigs Matter" sign, which he says was to expose intolerance.