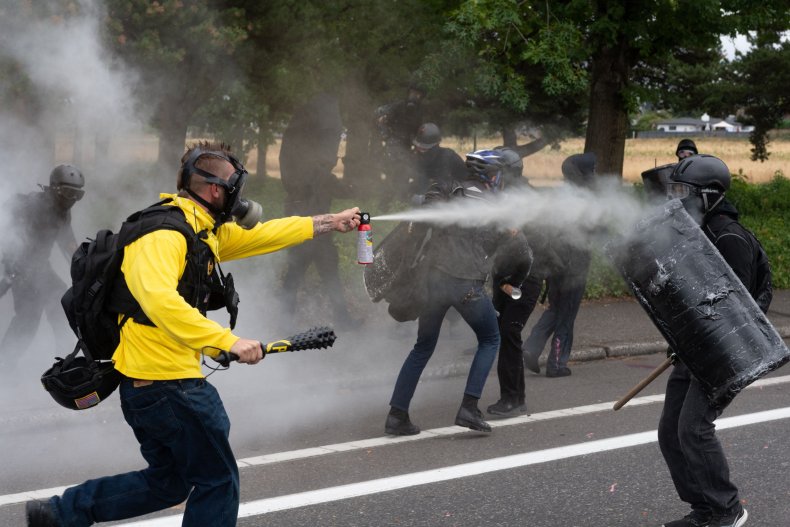 A self-declared member of the right-wing extremist group Proud Boys has been found guilty on multiple criminal charges after firing paintballs and bear mace at a group of left-wing protesters.
A jury on Monday convicted Proud Boy Alan Swinney of second-degree assault, attempted second-degree assault, fourth-degree assault, attempted fourth-degree assault, pointing a firearm at another person, menacing and multiple counts of unlawful use of weapons and mace, according to The Oregonian.
Swinney, who hails from Texas, traveled to Portland in the summer of 2020 and confronted protesters at demonstrations against police brutality and racial injustice that erupted following the murder of George Floyd. The Proud Boys have claimed that Swinney is not a member, although he has a large tattoo reading "Proud Boy" on his arm.
Photographs and videos taken at the protests, which occurred on August 15 and August 22 of last year, appear to show Swinney confronting the crowd outside the Multnomah County Justice Center while wearing a helmet, face shield and body armor with the word "Texas" written on it.
Swinney was also captured holding a paintball gun resembling a rifle, as well as what was reportedly a loaded Ruger .357 Magnum revolver that he pointed at protesters. Swinney insisted that he was acting in self-defense and pleaded not guilty to all of the charges against him.
In closing arguments to the jury, Deputy District Attorney Reid C. Schweitzer reportedly said that Swinney traveled to attend the protests due to his "hatred for the left, for antifa" and had declared his hope of sparking a "civil war" on social media.
Multnomah County Senior Deputy District Attorney Nathan Vasquez argued that Swinney came to Portland "with a six shooter so he could terrorize our social justice movement," while noting that he was not a "sheriff" or "law man" and had "no authority over the streets here in Portland." The jury took less than three hours to return the guilty verdicts.
On Friday, Swinney took the stand and testified he had worn the riot gear to protect himself against left-wing "agitators" over concerns that he could be pelted with object like bottles or rocks. His lawyer insisted that he had acted in self-defense and shot the "aggressors" with the paintballs to "mark" them for police.
Swinney also reportedly testified that he traveled to Portland out of concerns that Black Lives Matter protesters were causing property damage and "destroying the city." He confronted the protesters alongside a pro-police group that held signs identifying themselves as "Patriots," supporters of former President Donald Trump and supporters of the pro-Trump conspiracy theory QAnon.
A date has not yet been set for Swinney's sentencing hearing, where he could be given a lengthy prison sentence. Swinney is also facing a civil lawsuit from a protester who alleges that he shot her in the chest with a paintball and sprayed her face with chemicals without provocation.
Newsweek reached out to Swinney's attorney for comment.