Proud Boy Enrique Tarrio 'Danger to Community' for Jan. 6 Riot, Judge Says
A judge in Miami, Florida, is ordering the leader of far-right extremist group the Proud Boys to remain behind bars while he awaits trial for allegedly plotting a "storm" on the U.S. Capitol during the January 6, 2021, riots.
Prosecutors say Enrique Tarrio, 38, created a "militant strategy" for the riots along with five other Proud Boys members calling themselves "the Ministry of Self Defense." The strategy was meant to disrupt the congressional certification of Biden's 2020 election victory. Tarrio also allegedly conspired with the Oath Keepers, a militia whose members have been charged with sedition in connection to the events of January 6.
Tarrio's plot, referred to as "1776 Returns" in an alleged text exchange between himself and the aforementioned Proud Boys, reportedly involved occupying "crucial buildings" in Washington, D.C., during January 6, including the U.S. Senate and House. Tarrio and his suspected co-conspirators also allegedly used the internet to strategize, recruit members and raise funds for paramilitary gear, the Department of Justice's (DOJ) indictment against Tarrio said.
In a January 4, 2021, text exchange, Tarrio allegedly wrote to his colleagues, "you want to storm the Capitol." Tarrio's defense lawyer, Nayib Hassan, said the message was a question rather than a command, the Miami Herald reported.
On January 5, Tarrio reportedly met in an underground parking garage with Oath Keepers founder Elmer Stewart Rhodes III and others to coordinate efforts to "Stop the Steal." The phrase referred to then-President Donald Trump's pre-riot rally as well as his baseless claim that the 2020 presidential election had been "stolen" by an unprecedented nationwide conspiracy of widespread voter fraud.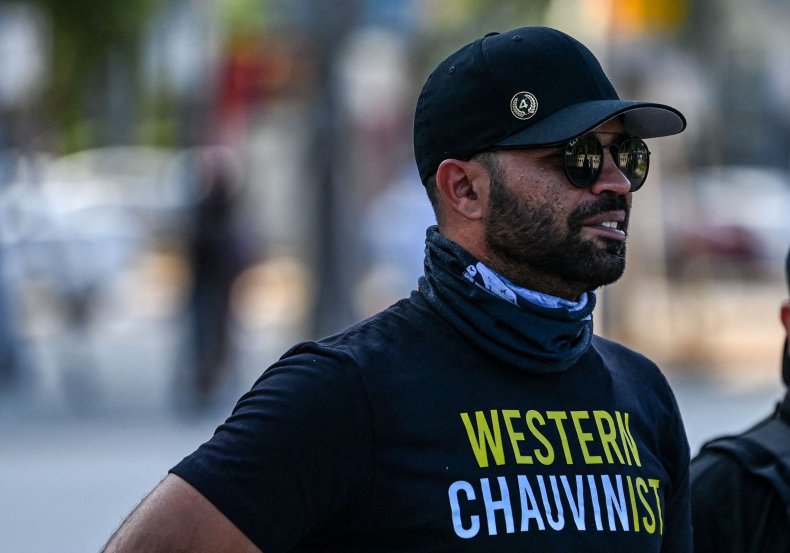 On January 13, 2022, the DOJ charged Rhodes and 10 other Oath Keepers with seditious conspiracy.
The charges alleged that Rhodes was instrumental in "organizing trainings to teach and learn paramilitary combat tactics; bringing and contributing paramilitary gear, weapons, and supplies...to the Capitol grounds" and "breaching and attempting to take control of the Capitol grounds and building on Jan. 6, 2021, in an effort to prevent, hinder and delay the certification of the Electoral College vote."
Tarrio was in Baltimore, Maryland, on the day of the riots. When the attack on the Capitol began, Tarrio allegedly wrote to fellow Proud Boys in an encrypted chat room that he was "enjoying the show" on TV.
"Do what must be done. #WeThePeople," Tarrio allegedly messaged. Minutes later, he allegedly wrote to the group at the Capitol, "Don't f***ing leave," the Herald reported. In later posts made during the riots, he allegedly wrote, "Yep ... Make no mistake ...We did this."
On Tuesday, Magistrate Judge Lauren Louis denied a request by Tarrio's lawyer to have him released on a $1.25 million bond before his trial. Prosecutors argued that Tarrio was a flight risk, and Louis added that Tarrio's defense lawyer hadn't countered evidence that Tarrio is "a danger to the community."
Tarrio was indicted on one count each of conspiracy to obstruct an official proceeding and obstruction of an official proceeding and also two counts each for assaulting, resisting or impeding certain officers and destruction of government property.
More than three-dozen supposed members or associates of the Proud Boys were charged for their roles in the riot, including charges of attacking police that helped the mob breach the Capitol building.
Tarrio's lawyer said that he never instructed people to enter the Capitol or commit destruction or violence.
Newsweek contacted the Department of Justice for comment.