Proud Boys, Counter-Protesters Clash at 1/6 Vigil Outside New York's St. Patrick's Cathedral
A video shows members of the right-wing group Proud Boys clashing with counter-protesters at a January 6 vigil outside St. Patrick's Cathedral in the Upper West Side neighborhood of Manhattan in New York City.
The video begins with women in coats and beanies singing on the cathedral's front steps, holding foil-lined bowls with candles placed inside.
The counter-protesters, standing at one side of the cathedral's entrance, start chanting, "What's that noise? F*** the Proud Boys."
One of the counter-protesters holds a sign that says, "God Hates Fash," an abbreviation for fascists. Two other counter-protesters hold a sign bearing the name of the organization United Against Racism and Fascism NYC.
Some of the Proud Boys, clothed in yellow and black, stand on the opposite side of the cathedral entrance, chanting, "USA!" back at the counter-protesters.
As one counter-protester starts approaching the Proud Boys, several Proud Boys cluster around him. They all begin shouting at one another. One of the protesters wears a "Latinos for Trump" cap.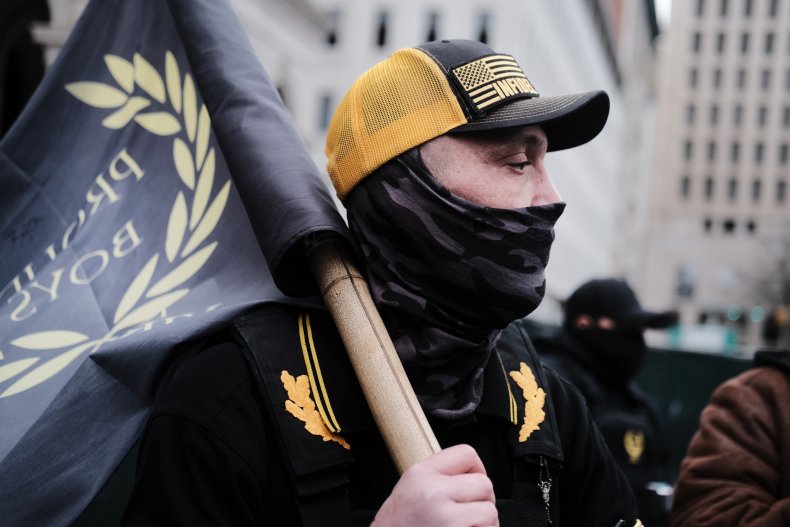 Several of the Proud Boys then grab the shouting counter-protester's arms. Another person starts yelling, "Yo, stop! Bro, bro, stop!" as the grabbed man starts swinging his arms and fists.
As the grabbed man ducks away, a police officer then steps between the protesters and counter-protesters. The grabbed man removes his hood and says, "What's up, boy?" to the Proud Boys.
The two groups then retreat toward their respective sides of the cathedral's front steps.
As a police officer talks to the grabbed man, the man raises both of his open palms and says, "I didn't put my hands on him."
"I understand," the officer replies.
In a second video, counter-protesters ask the Proud Boys, "Hating Jews doesn't make you bad?"
"Who hates Jews?" one Proud Boy responds. "We've got a Black Jew in our f***ing chapter. So, man. And he's gay."
One of the counter-protesters laughs.
"My hand to God!" the Proud Boy continues, raising his hand as if testifying in court. "A Black gay Jew in our f***ing chapter."
When a counter-protester begins asking for the member's name, the Proud Boy responds, "Mark." When the counter-protester asks for the member's name again, the Proud Boy replies, "Mark," once more.
"You f***ing thought I was going to trip up?" the Proud Boy asks. "There's no tripping up with us."
Another Proud Boy member further back yells, "My lawyer's a Jew."
The counter-protester responds, "I wasn't trying to trip you up ... I was just trying to ask you for more. I mean I don't think you're that dumb. I think you're pretty f***ing dumb though."
Several Proud Boys were arrested and charged in connection to the January 6, 2021, Capitol riots. The arrested Proud Boys include Ethan Nordean, Joseph Biggs, Zachary Rehl, Charles Donohoe, Isaiah Giddings, Brian Healion and Freedom Vy.
The Proud Boys touts itself as an anti-feminist men's group. Although Proud Boys leader Enrique Tarrio has claimed it's not a white supremacist organization, a former member, Jason Kessler, helped organize the 2017 Unite the Right rally in Charlottesville, Virginia, which was attended by neo-Nazis and white supremacists.
Tarrio himself was arrested on January 4, 2021, for tearing down and burning a Black Lives Matter (BLM) banner at a historic Black church in the nation's Capitol during a rally in support of then-President Donald Trump.
Tarrio publicly admitted to destroying the banner, stating, "So let me make this simple. I did it," and adding, "I'll f****** do it again ... Ayo ... Pass me the lighter."
Before the January 6, 2021, riots, Tarrio told fellow Proud Boys to dress incognito for the day's rallies and to join "smaller teams" across the nation's Capitol.