Proud Boys Leader Invokes Rittenhouse Case to Argue 1/6 Charges Against Him Should Be Dropped
In the wake of the Kyle Rittenhouse trial, a Proud Boys leader is invoking the verdict in an effort to get his charges for participating in the January 6 Capitol riot dropped.
Zachary Rehl, leader of the Philadelphia chapter of the Proud Boys organization, faces charges of conspiracy, disorderly conduct and obstruction of an official proceeding in relation to his alleged participation in the riot. On Saturday, Rehl's defense attorney, Jonathon Moseley, wrote in a brief:
"Actually, the Proud Boys primarily came to Washington, D.C. on January 6, 2021, to patrol the perimeter of the crowds and the places where crowds were gathered to defend vulnerable demonstrators against violent attacks from ANTIFA, not unlike what Kyle Rittenhouse did in Kenosha, Wisconsin," he wrote.
"What they actually planned to do and did was to make sure that the defenseless Trump supporters in the gun free zone of D.C. did not get jumped and stabbed by the rioters who had run amok all during 2020."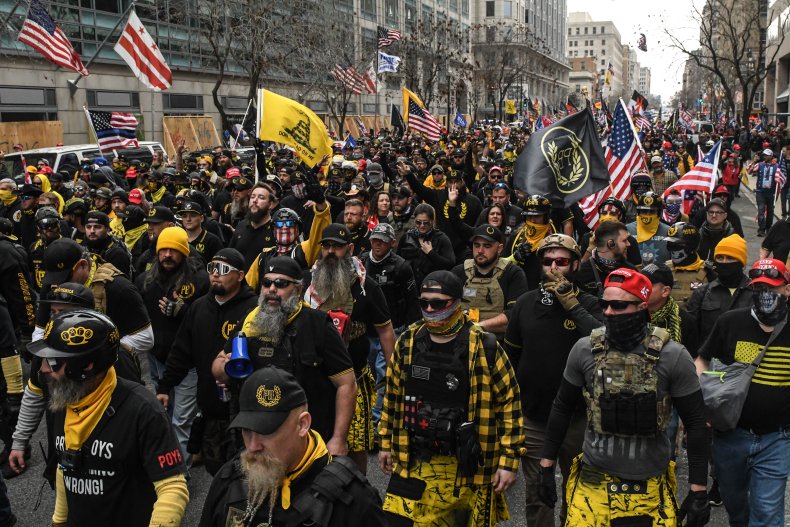 In a statement to Newsweek, Moseley said that "the Proud Boys are like Kyle Rittenhouse in many respects. ANTIFA and others have violently attacked right-wing demonstrators at least since 2014 and really before. Leftist activists have gone into university auditoriums to break up conservative speakers on campus (the origins of the name "cancel culture')."
Rehl is also among the accused 1/6 rioters currently named in a civil lawsuit from Capitol Police officers that alleges he and others engaged in "bias-motivated acts of terrorism." Filed in March, the suit claims that encrypted text messages between Proud Boys leaders showed that the group conspired to "rile up the normies" at the pro-Trump rally and foment unrest, actions that might have ultimately led to the attack on the Capitol building.
"Proud as f--k [for] what we accomplished yesterday," Rehl reportedly posted to social media following the riots.
"The prosecutors and the House January 6 committee argue that certain Proud Boys formed a conspiracy to 'attack' the U.S. Capitol," Moseley said to Newsweek. "However, the Indictment is threadbare, and what I call an 'ink blot test' relying upon people imagining that they see what is not there in the Indictment. The prosecutors and the Grand Jury offer no specifics about any such plan (conspiracy). When pressed as to what did anyone agree to, who agreed, when did they agree to this, etc., the government offers only the response that the best evidence of what conspirators agreed to do is what they actually did."
On Friday, Rittenhouse was found not guilty of all five charges brought against him, including homicide, for his actions in Kenosha in August 2020. Rittenhouse, 17 at the time, drove across state lines from Antioch, Illinois, armed with an AR-15 rifle during the protests against the killing of Jacob Blake by police officers. He ultimately shot and killed two people in Kenosha and injured a third. He claimed to have gone to the protests to protect a business in the area and provide medical help.
This is not the first time that Moseley has compared Rehl's case to other famous legal proceedings. Last month, while attempting to get Rehl a pre-trial release from jail, the attorney invoked the case of Richard Jewell, who was falsely accused of setting up a bomb at the 1996 Summer Olympics in Atlanta.
"In 1996, the FBI rushed to assume that Security Guard Richard Jewell who actually warned of finding the bomb before it went off was the bomber," Mosely wrote. "Indeed, will a mad rush to accuse Zachary Rehl as being a James Bond supervillain mastermind end up compromising the Government's prosecution of those actually responsible for violent confrontations with police officers?"
Update 11/21/21, 9:47 AM ET: with a statement from Jonathon Moseley to Newsweek.