Proud Boys Member 'Attacked' by Andrew Gillum Supporters During Campaign Rally
Supporters of Florida Democratic gubernatorial candidate Andrew Gillum "attacked" a member of the far-right Proud Boys group at a campaign rally last week, according to the Tampa Bay Times.
Jacob Engels, a contributor to conspiracy theory site InfoWars, was yelling into a megaphone about billionaire George Soros during Gillum's speech on Friday night in Tampa. Supporters of the Florida candidate approached Engels, shoved him and tried to slap the megaphone out of his grasp.
Engels, who is gay, then posted footage of the incident on Twitter, insinuating that Gillum supporters are homophobic.
"I was assaulted by @AndrewGillum supporters as a gay journalist covering his violent mob," he wrote. "Denounce this rabid attack or admit you condone violence Andrew... the world is watching!"
Engels later tweeted that he would bring legal action against the Democratic candidate.
"I will be holding @AndrewGillum accountable for the brutal assault he allowed to take place. He should identify, shame, fire the staffers who started the mob violence... or I will!" he wrote. Engels claimed that one of the people who confronted him was a member of the Gillum campaign.
Gillum denounced the actions of his supporters. "We condemn the provocation and physical confrontation that was seen at the rally in Tampa Bay, yesterday," he said. "The actions of those involved is not exemplary of the campaign we have built and, in fact, is exactly the kind of politics we are running against. Voters all across this state have supported our campaign because we are seeking to bring people together and that is what we will continue to do in the final 17 days of this election and every day in the Governor's office."
Gillum holds a 12 percent advantage over DeSantis, according to a CNN poll released Monday.
The Democratic candidate has drawn 60 percent of the vote from women, 74 percent of the non-white vote and 60 percent of the youth vote.
DeSantis has run a controversial campaign marked with racist controversies.
After Gillum won the Democratic primary, DeSantis said voters would "monkey this up" if they decided to elect Gillum, who is black.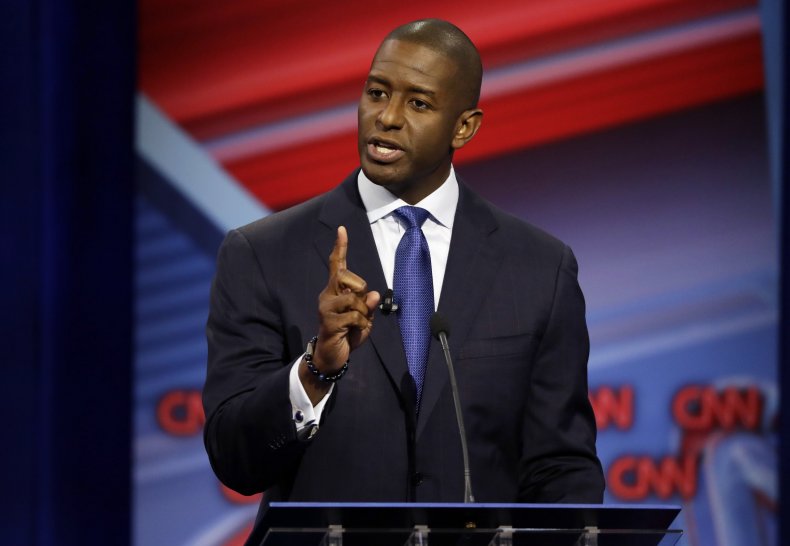 The Proud Boys have drawn increased media attention after their involvement in two violent clashes earlier this month.
Members of the alt-right and self-described "Western chauvinist" organization fought with far-left Antifa counter protesters in New York after a speech by Gavin McGinnes, the founder of the Proud Boys.
Members of the right-wing group also attended a march in Portland on October 13 that ended in violence.