Proud Boys Plan to Crash Drag Storytime on Heels of Club Q Shooting
As the outpouring of grief over the Club Q shooting continues, the Proud Boys are set to protest another drag event.
The LGBTQ community was rocked by the killing of five people and the injury of 19 others at Club Q, a gay nightclub that held drag performances, in Colorado Springs, Colorado, on Saturday night. The shooting followed a steady stream of far-right protests against LGBTQ events over the past year, coupled with anti-gay and anti-trans rhetoric pushed by prominent right-wing figures.
Days after the Club Q victims are laid to rest, the Proud Boys plan to disrupt a drag storytime event in Columbus, Ohio. The group's local chapter announced its intent on Telegram.
"The Columbus Proud Boys would like to announce that we will be attending the Holi-drag Storytime being held at the First Unitarian Universalist Church of Columbus on December 3rd," said the post, adding, "It's gonna be wild!"
The Proud Boys have seized a growing role in anti-LGBTQ mobilization over the past two years, according to nationwide data from the Armed Conflict Location and Event Data Project. The far-right extremist group has appeared at a host of LGBTQ events across various states, threatening violence outside a drag brunch in Texas, protesting a Pride event at a public library in North Carolina and disrupting a drag show in California.
Extremism experts say that these protests, which sometimes turn violent, have directly led to horrific events like the shooting at Club Q.
"If you look at the history of the way in which organized violence works, it can often start with protests, can often start with fights or fistfights, but very quickly then can become armed events," Imara Jones, CEO of TransLash Media, told Newsweek. "What we are seeing overall right now is the transition and the legitimization of increasing violence and targeting of trans people by these groups."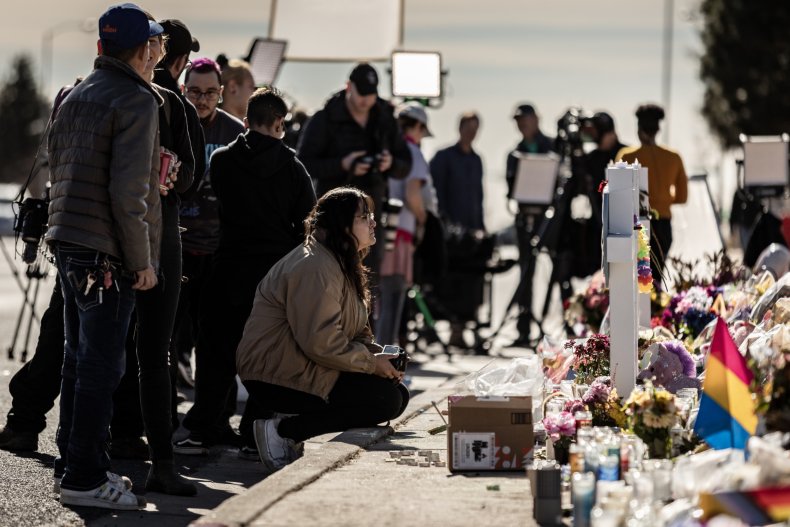 According to Eric Ward, executive vice president of Race Forward, the italicized word "wild" in the Proud Boys post was a coded reference to the January 6 siege on the U.S. Capitol.
"They're using the same word that Donald Trump used when he asked people to come to D.C. and attempt to overturn American democracy," Ward told Newsweek. "What he says in his tweet is, 'It's going to be wild.' The results of those words were over 160 law enforcement officers physically injured, people killed, bombs being discovered at the DNC and Republican headquarters."
"Proud Boys" was trending in over 21,000 tweets on Wednesday amid a flood of outrage over the planned protest.
"Just days after LGBTQ+ people were shot up at a bar that was to host a family friendly drag event, far right militant group the Proud Boys is planning on disrupting a drag event in Ohio," tweeted activist Erin Reed.
Activist Calés McGinnis urged, "Contact Ohio representatives to demand that they publicly support LGBTQ+ communities. Call on them to denounce the Proud Boys and all anti-LGBTQ+ rhetoric."