Proud Boys Unanimously Designated White Supremacist Terrorist Group by Canadian Lawmakers
Lawmakers in Canada's House of Commons voted unanimously on Monday to classify the extremist far-right group Proud Boys as a white supremacist terrorist organization.
Canadians begin considering labeling Proud Boys as a terrorist group following the riot at the U.S. Capitol in January. A member of the Florida chapter of the Proud Boys was arrested on Wednesday on charges connected to his participation in the riot. Canadian Parliament member Jagmeet Singh introduced the proposal to classify the Proud Boys as a terrorist group on Monday.
Singh said that all parties had agreed to provide unanimous consent to the motion, which called on the Canadian government to "use all of available tools to address the proliferation of white supremacists and hate groups, starting with the immediate designating Proud Boys as a terrorist entity."
The classification of Proud Boys as a terrorist group still needs to be approved by the national leadership to become law. Mary-Liz Power, a spokesperson for Canada's Minister of Public Safety William Blair, said in a statement sent to Newsweek on Tuesday that Canada's national security officials were "very mindful" of extremist groups such as the Proud Boys.
"To be clear: the decision to list any organization as a terrorist entity is based on intelligence and evidence collected by our national security agencies," Blair told CTV in January. "Terrorist designations are not just a political exercise. Such listings send a strong message that Canada will not tolerate acts of violence."
According to the Southern Poverty Law Center (SPLC), the Proud Boys describe themselves as a group of "western chauvinists" that adhere to an "anti-white guilt" philosophy. The SPLC has labeled the Proud Boys as a hate group.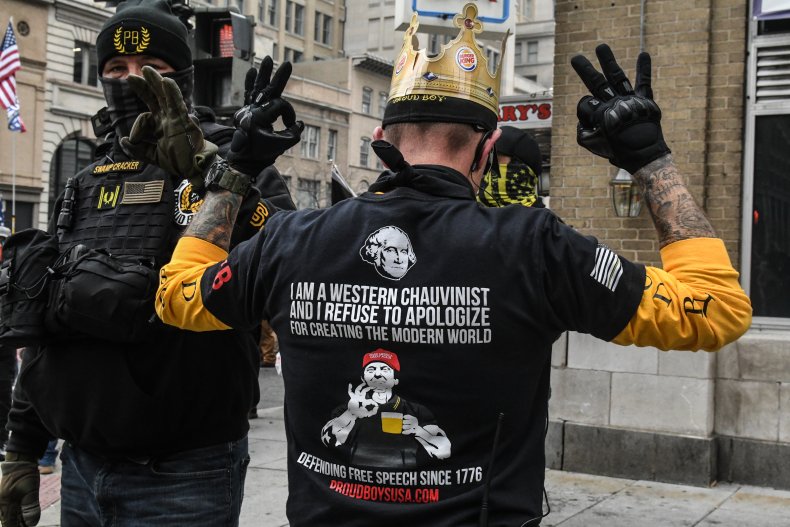 During the first presidential debate in September 2020, former President Donald Trump was offered the chance to condemn white supremacist groups, including the Proud Boys. At the time, Trump declined.
"Proud Boys, stand back and stand by," Trump said before blaming a majority of the violence committed during U.S. riots against systemic racism on members of Antifa.
Trump finally denounced the Proud Boys during a Fox News interview in October 2020. "I've said it many times," Trump said. "Let me be clear again. I condemn the KKK. I condemn all white supremacists. I condemn the Proud Boys."
"I don't know much about the Proud Boys, almost nothing, but I condemn that," Trump added.
Proud Boys member Joseph Biggs was arrested on Wednesday in Florida for his participation in the Capitol riot which left 5 people dead. Biggs was identified by federal authorities from video footage taken inside the Capitol building during the riot. Among other infractions, Biggs was charged with engaging in "disorderly or disruptive conduct" while on Capitol grounds.
Trump was widely held partially responsible for the violent riot at the U.S. Capitol. The House voted to impeach Trump for a second time in January with the article of impeachment alleging that Trump's rhetoric "incited violence against the Government of the United States."
President Joe Biden condemned white supremacy during his January inauguration speech on the Capitol steps. Biden said that the U.S. had experienced "a rise of political extremism, white supremacy, domestic terrorism that we must confront and we will defeat."
Updated 11:09 p.m. EST 01/26/2021: This story has been updated with a comment from the office of Canada's Minister of Public Safety, William Blair.