In recent days, global technology titans Bill Gates and Elon Musk argued that the world needs more technological innovation to remove huge amounts of carbon dioxide from the air to tackle the climate crisis. Gates mobilized private capital and called on world leaders to increase public funding for carbon removal. In March, Musk offered a $100 million prize to spur carbon removal innovation.
As new technologies are deployed to solve the climate crisis, let's not forget that the world already has one proven method for safely removing and storing massive amounts of carbon. It's called a forest.
Through photosynthesis, forests have been taking carbon out of the atmosphere for millions of years, and the amount they store each year is equal to third of the CO2 human activity emits from burning fossil fuels. Not only do forests work for free on behalf of the global climate, but they also regulate local and regional climates, protect against extreme weather and are home for 1.6 billion people.
Today, deforestation (mostly in the tropics) is one of the largest sources of climate pollution—on par with the entire global transportation sector. In 2020, the Brazilian Amazon alone shrank by 2.74 million acres—more than one and a half times the size of Delaware. Much of the world's tropical deforestation is illegal, with organized gangs pushing Indigenous peoples and other forest dwelling communities off their historical lands and brazenly setting fire to the forests to create farmland, with impunity from weak or corrupt law enforcement agencies.
This has to stop. Most credible scenarios for avoiding a climate catastrophe depend on ending natural forest loss this decade—beginning now. Deforestation is wiping out irreplaceable cultures, communities and biodiversity.
We are encouraged that President Joe Biden and his climate envoy, John Kerry, understand this reality. President Biden prioritized tropical forest protection in his January climate change executive order. At the recent Earth Day climate summit in Washington, D.C., the United States, the United Kingdom and Norway, together with major global companies, announced a new public-private coalition to accelerate financing for international forest protection, with the aim of mobilizing by the end of the year at least $1 billion, and the promise of catalyzing even larger investments thereafter.
Using a results-based approach, this coalition will make payments when deforestation goes down, measured across an entire country, territory or region. A results-based approach was contemplated by the 2015 Paris agreement to ensure environmental integrity and promote sustainable development. After years of talk, it's good to see this approach finally move forward, when we know that according to a new study by Rainforest Foundation Norway, in the last 10 years, less than 1 percent of total climate funding addressed Indigenous peoples and local communities' tenure and forest management.
The approach will only succeed if the United States and its coalition partners work closely with the Indigenous and forest-dependent communities on designing the announced mechanisms. Traditional cultures occupy nearly half the world's land.
Numerous studies demonstrated that Indigenous peoples truly are the guardians of the forest. In the Amazon basin, for example, Indigenous territories account for 28 percent of the region but only 2.6 percent of its deforestations. Often at great personal risk, Indigenous peoples defend their territories against invaders, and their collective contributions to climate action should also be taken into account. Immediately scaling-up support for Indigenous peoples—to formalize and enforce their land and resource rights—would deliver significant climate dividends while the world invents new carbon removal technologies.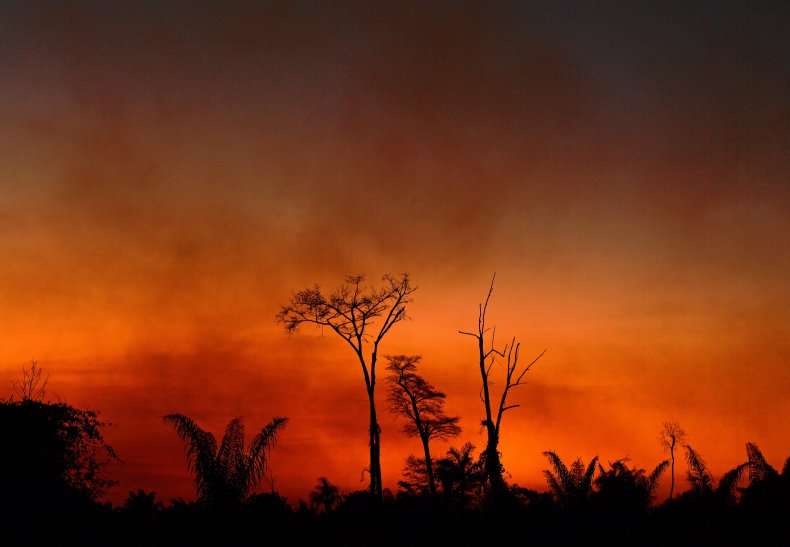 The Global Alliance of Territorial Communities is a coalition of Indigenous and local communities, more than 35 million people who occupy almost 1 billion acres of forests of the Amazon Basin, Brazil, Indonesia and Mesoamerica. Public and private finance for rainforest protection and sustainable livelihoods is welcome and overdue—provided it adheres to certain fundamental principles:
—Forest conservation programs must begin by recognizing and enforcing the legitimate territorial rights of Indigenous peoples.
—Indigenous peoples must have direct access to economic benefits from the protection of their forests.
—Companies and donor nations must fully respect the right of free, prior and informed consent in designing and funding programs.
—The international community must help put an end to violence against forest guardians, which escalated dramatically in recent years.
—The international community must work harder to incorporate Indigenous knowledge into climate and forest solutions.
The Biden administration should embrace these principles and make common cause with the people who are already on the frontlines of rainforest protection.
The U.S. Congress has an important role to play in all this too. Tropical forest conservation, happily, enjoys bipartisan support in Congress. Results-based foreign aid, public-private partnerships and safeguarding property rights—these are conservative ideas. Congress should join with the Biden administration to mobilize a global effort to protect tropical forests, working hand-in-hand with Indigenous peoples. This must become the big bipartisan climate solution that has been hiding in plain sight.
Bruce Babbitt served as U.S. secretary of the Interior from 1993 to 2001.
Tuntiak Katan is an Indigenous leader of the Shuar people of Ecuador and is the coordinator of the Global Alliance of Territorial Communities.
The views expressed in this article are the writers' own.