PS5 Games in 2021: Every Title Scheduled to Come Out Next Year
Now that Sony has released the PlayStation 5, it's time to start looking at what games you'll be able to play on your next-gen console in the new year.
With the release of both the PS5 and Microsoft's Xbox Series X/S, 2020 was one of the biggest years in gaming. Both companies will look to capitalize on this momentum moving forward—especially Sony, since it was recently reported that the PS5 had the most successful launch month of any video game console in U.S. history.
As gamers continue to scour the internet for the next PS5 restock, upcoming games will be what keeps players hunting for a console, and then coming back to boot up their system over and over again.
As we near the end of 2020, Sony has begun letting gamers know what they should expect in 2021, including some of its highly anticipated first-party titles. Whether it's the new Ratchet & Clank, or a return to the Far Cry series, here's every PS5 game that is scheduled to come out in 2021.
Note: This list is still being compiled and will be updated if there's any change to release dates.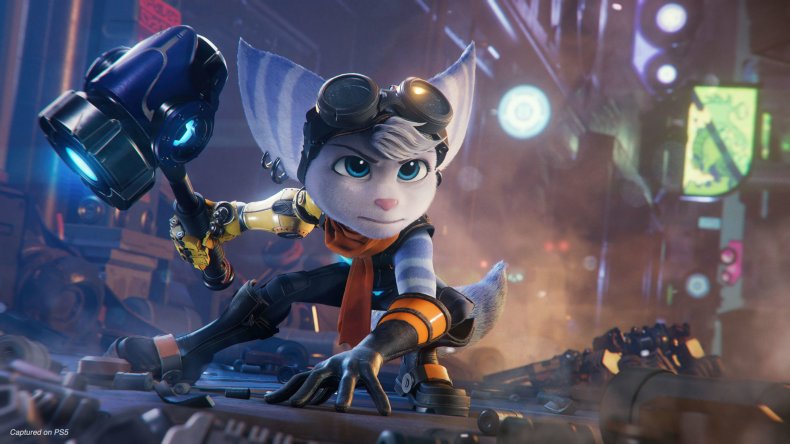 JANUARY
MXGP 2020 (January 14)
Hitman 3 (January 20)
Ride 4 (January 21)
FEBRUARY
Outriders (February 2)
Werewolf: The Apocalypse - Earthblood (February 4)
Nioh Remastered - The Complete Edition (February 5)
Nioh 2 Remastered - The Complete Edition (February 5)
The Nioh Collection (February 5)
Riders Republic (February 25)
MARCH
Yakuza: Like a Dragon (March 2)
Prince of Persia: The Sands of Time Remake (March 18)
Returnal (March 19)
Disco Elysium: The Final Cut (March 2021 release window)
Tennis World Tour 2 (March 2021 release window)
APRIL
MAY
Resident Evil Village (May 7)
Deathloop (May 21)
JUNE
JULY
AUGUST
SEPTEMBER
OCTOBER
NOVEMBER
DECEMBER
2021 PS5 VIDEO GAME RELEASES, DATES TBD
Aragami 2
Blood Bowl 3
Braid Anniversary Edition
Control Ultimate Edition
Dynasty Warriors 9 Empires
In Sound Mind
Tribes of Midgard
Black Legend
DARQ: Complete Edition
King Arthur: Knight's Tale
Mystiqa
Praey for the Gods
Hunting Simulator 2
Kena: Bridge of Spirits
Lego Star Wars: The Skywalker Saga
Oddworld: Soulstorm
The Stone of Madness
Foreclosed
Scarlet Nexus
GTA 5
GTA Online
Destiny 2: The Witch Queen
Sunshine Manor
Animal Rescue
The Amazing American Circus
Battlefield 6
Black Legend
Chernobylite
Chorus
Cris Tales
Cyberpunk 2077
The Dark Pictures Anthology: House of Ashes
Dustborn
Evil Dead: The Game
Far Cry 6
Ghostrunner
GhostWire: Tokyo
God of War 2
Goodbye Volcano High
Gotham Knights
Heavenly Bodies
Hood: Outlaws and Legends
Horizon Forbidden West
Jett: The Far Shore
Little Nightmares 2
The Lord of the Rings: Gollum
Martha is Death
Marvel's Avengers
Metal: Hellsinger
Ratchet & Clank: Rift Apart
Sherlock Holmes Chapter One
Solar Ash
Stray
Sword of the Necromancer
Vampire: The Masquerade - Swansong
The Witcher 3
What do you think of the PS5 slate for 2021? Which 2021 game are you most looking forward to? Let us know in the comments section.