PS5 Reveals UI and Shows the User Experience in Surprise Demo
With less than a month to go before launch, Sony finally released its first look at the PlayStation 5's User Interface (UI) and how the next-gen console is looking to revolutionize the user experience.
In the 12-minute video released Thursday, Sony showed off how the PS5 will look like coming out of rest mode and where you can choose which user to play as. That's standard for PlayStation consoles, albeit the PS5 has changed the way it looks, but if you've played the PS4 you'll be familiar with how the console starts up.
There's a lot that was shown in the demo, and we'll get into it after you watch the video below.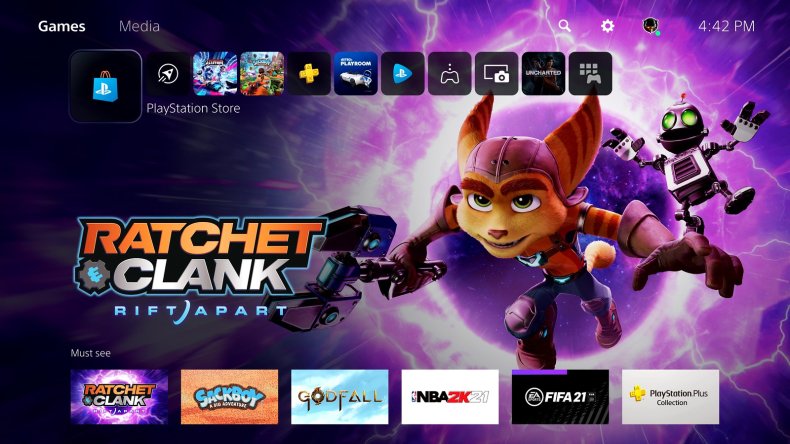 Most of the demo focused on the new Control Center. This provides immediate access to everything you need on the system by simply pressing the PS button on your DualSense controller without having to leave the game you're currently playing.
ACTIVITIES
Cards will pop up that detail some of the activities of the game you're currently playing, so it makes sense that these cards are called "Activities." These cards will give you details on your current gameplay, whether it's more information on a level you're on or one that you previously passed.
These "Activities" will allow players to jump back into different points of the game. For example, a card could tell you a level you previously completed is only 30 percent complete. You can bring up the card for that level and jump right back into it to 100 percent it. Players can also pin the card to the screen while you play.
Other information like how much time it'll take to complete a portion of the game or even hints to completing certain tasks (exclusive for PS+ subscribers) can be viewed on these cards. You can also pin and shift where the card is on your screen as you play.
SOCIAL/VOICE CHAT
While playing a game, a friend can invite you to voice chat. A notification will appear in the top right corner and you can accept using the DualSense controller. There's a mic built-in to the PS5's controller so you can start talking right away.
If you're part of a Party, and a member decides to screen share you can join them and watch what they are playing. You can even customize it so you can have picture-in-picture so you can play and watch your friend play their game at the same time.
Screenshots and recorded gameplay can also be accessed through the PS button. Players can share these screenshots through supported social media apps such as Twitter. You can also share a clip or screenshot to a friend or party. However, if a developer feels a certain screenshot or footage will spoil a game a warning will be sent before they open it.
If a friend is playing a game online, you can jump into the same game, if you own it too of course, through the "Activities" cards.
USER INTERFACE
The UI of the PS5 is noticeably cleaner. There are two spaces, one for games the other for media, that separates the two. As the demo only showed games, this tab allows for players to enter the PS Store, open up a game and much more.
Each icon on the homescreen will have its own hub, allowing for players to scroll down to get the latest news and updates on certain games.
The "Explore" tab will keep gamers in the loop on the latest news on PlayStation and its titles, even ones that they don't own. This will be tested in the US on Day 1 of launch, so not everyone in the world will have this feature, but that's the direction Sony wants to go with "Explore."
The PS5 is scheduled to release on November 12.
What do you think of the first look at the PS5 UI and UX? Let us know in the comments section.