Psaki Evokes Ted Cruz's Comments on Justice Barrett as He Criticizes Biden's SCOTUS Picks
The White House is calling out Senator Ted Cruz over his recent comments criticizing President Joe Biden's pledge to nominate a Black woman to the Supreme Court.
The Texas Republican has made headlines for calling it insulting that Biden has decided to nominate a Black woman to serve on the bench—a first in the court's 232-year history. Press secretary Jen Psaki fired back at Cruz on Tuesday, noting he and other Republicans had no complaints when former President Donald Trump similarly vowed to nominate a woman to replace late Justice Ruth Bader Ginsburg in 2020.
Trump's nominee, Amy Coney Barrett, was confirmed by the U.S. Senate along party lines.
"The fact that he's willing to make a promise at the outset, that it must be a Black woman, I gotta say that's offensive," Cruz said during an episode of his podcast. "You know Black women are what, 6 percent of the U.S. population? He's saying to 94 percent of Americans, 'I don't give a damn about you, you are ineligible.'"
"So take Senator Cruz himself," Psaki told reporters. "He had no objection to Donald Trump promising he'd nominate a woman in 2020. Repeat no objection at all. In fact, he praised her on these grounds...During her confirmation hearing, Senator Cruz said, 'I think you're an amazing role model for little girls. What advice would you give little girls?'"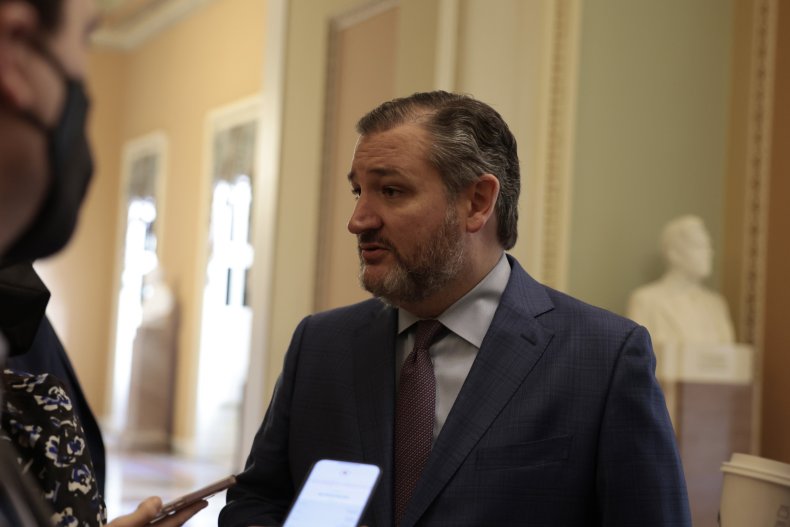 Newsweek reached out to Cruz's office for comment.
Justice Stephen Breyer announced last week he will be stepping down from the court at the end of this term. The 83-year-old associate justice faced calls to retire after Democrats took over control of Congress in the 2020 election cycle.
Biden met with senators Dick Durbin and Chuck Grassley on Tuesday to deliberate on a court pick. Psaki said that the president is focused on selecting an "eminently qualified" woman to serve on the bench, and is not interested in any legislative game-play of which candidate may be able to get support from both sides of the aisle.
Women considered likely to be on Biden's shortlist include Judge Ketanji Brown Jackson, Judge J. Michelle Childs, Judge Candace Jackson-Akiwumi and California Supreme Court Justice Leondra Kruger.
Republican Mitch McConnell, the Senate's minority leader, said he will give Biden's nominee a fair shake. McConnell blocked former President Barack Obama's nomination of Merrick Garland to serve on the Supreme Court in 2016.
"Look, I'm going to give the president's nominee—whoever that may be—a fair look," McConnell told reporters last week. "And not predict today, when we don't even know who the nominee is, how I might vote."
Update 02/1/22, 4:00 p.m. ET: This story was updated with additional information and background.