'Julius Caesar' Theater Defends Trump-Like Depiction After Delta Air Lines, Bank of America Pull Support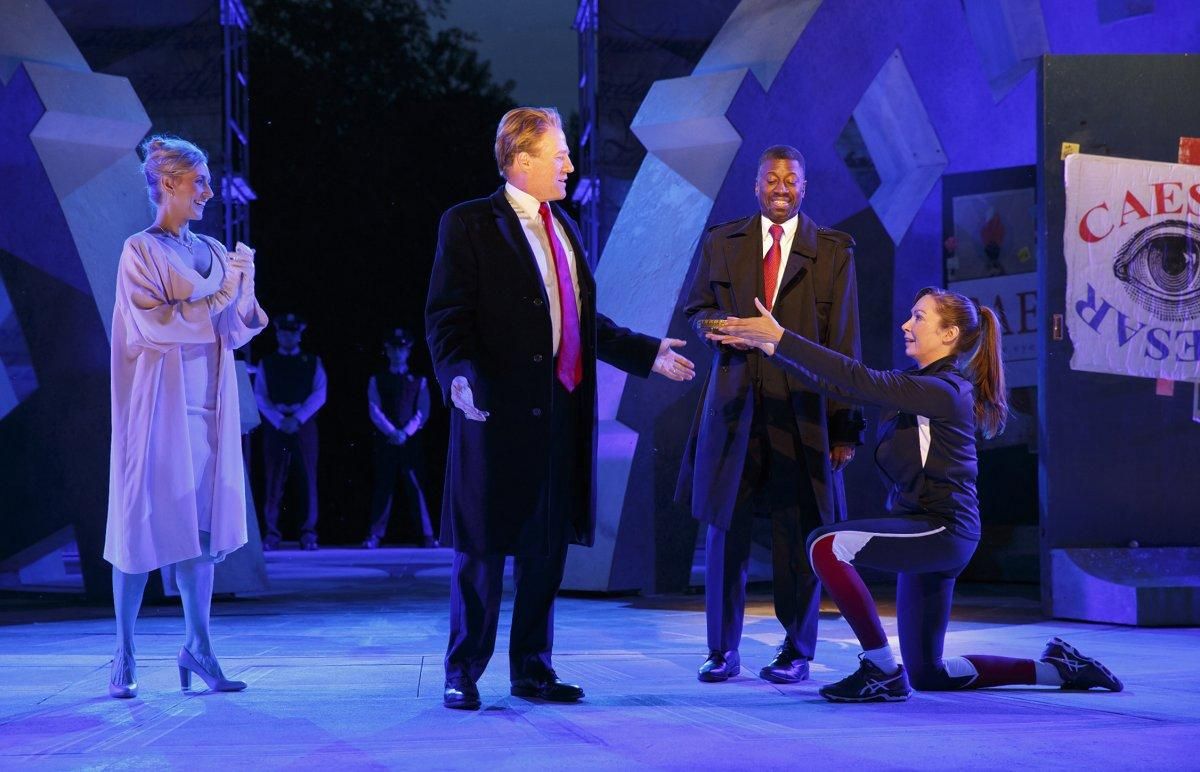 New York City's Public Theater has responded to the controversy surrounding its production of Shakespeare's Julius Caesar after two high-profile corporate sponsors—Delta Air Lines and Bank of America—retracted their support for the theater.
The full statement reads:
"We stand completely behind our production of 'Julius Caesar.' We recognize that our interpretation of the play has provoked heated discussion; audiences, sponsors and supporters have expressed varying viewpoints and opinions. Such discussion is exactly the goal of our civically-engaged theater; this discourse is the basis of a healthy democracy. Our production of 'Julius Caesar' in no way advocates violence towards anyone. Shakespeare's play, and our production, make the opposite point: those who attempt to defend democracy by undemocratic means pay a terrible price and destroy the very thing they are fighting to save. For over 400 years, Shakespeare's play has told this story and we are proud to be telling it again in Central Park."
On election night in November, the theater's art director, Oskar Eustis, chose to adapt the classic Shakespeare tragedy for the annual Shakespeare in the Park festival. He conceived the title character as a Trump-like figure, complete with wispy blond wig and oversize red tie. Like the real Julius Caesar, Shakespeare's fictional Roman emperor is betrayed and brutally stabbed by his right-hand man, Brutus, and two other senators.
Soon after previews for the play began on May 23, right-wing media outlets such as Breitbart News and some of Trump's family members started responding negatively to the production.
"I wonder how much of this 'art' is funded by taxpayers?" Donald Trump Jr. tweeted on Sunday in response to a Fox News report titled "NYC Play Appears to Depict Assassination of @POTUS." "Serious question, when does 'art' become political speech & does that change things?"
The National Endowment for the Arts released a statement later that day, saying "no NEA funds have been awarded to support this summer's Shakespeare in the Park production of Julius Caesar." That portion of the statement currently appears in a pop-up on the NEA's home page.
Breitbart compared the play to another controversial depiction of violence against the president: Kathy Griffin's now infamous photo of Trump's "beheading."
Delta first announced its decision to withdraw funds from Julius Caesar in response to pro-Trump supporters on Twitter, then as an official statement: "No matter what your political stance may be, the graphic staging of 'Julius Caesar' at this summer's Free Shakespeare in the Park does not reflect Delta Air Lines' values.... We have notified them of our decision to end our sponsorship as the official airline of The Public Theater effective immediately."
Bank of America pulled its sponsorship soon afterward. "The Public Theater chose to present Julius Caesar in a way that was intended to provoke and offend," the bank stated, according to Deadline. "Had this intention been made known to us, we would have decided not to sponsor it."
President Trump has yet to issue a statement on the production, although he has quoted Julius Caesar in tweets in 2012 and 2013.
Like all Shakespeare in the Park productions, Julius Caesar is open to the public and free of charge, relying on sponsorships and donations for funding. As of now, only two corporations have backed out of supporting the play or the Public Theater.