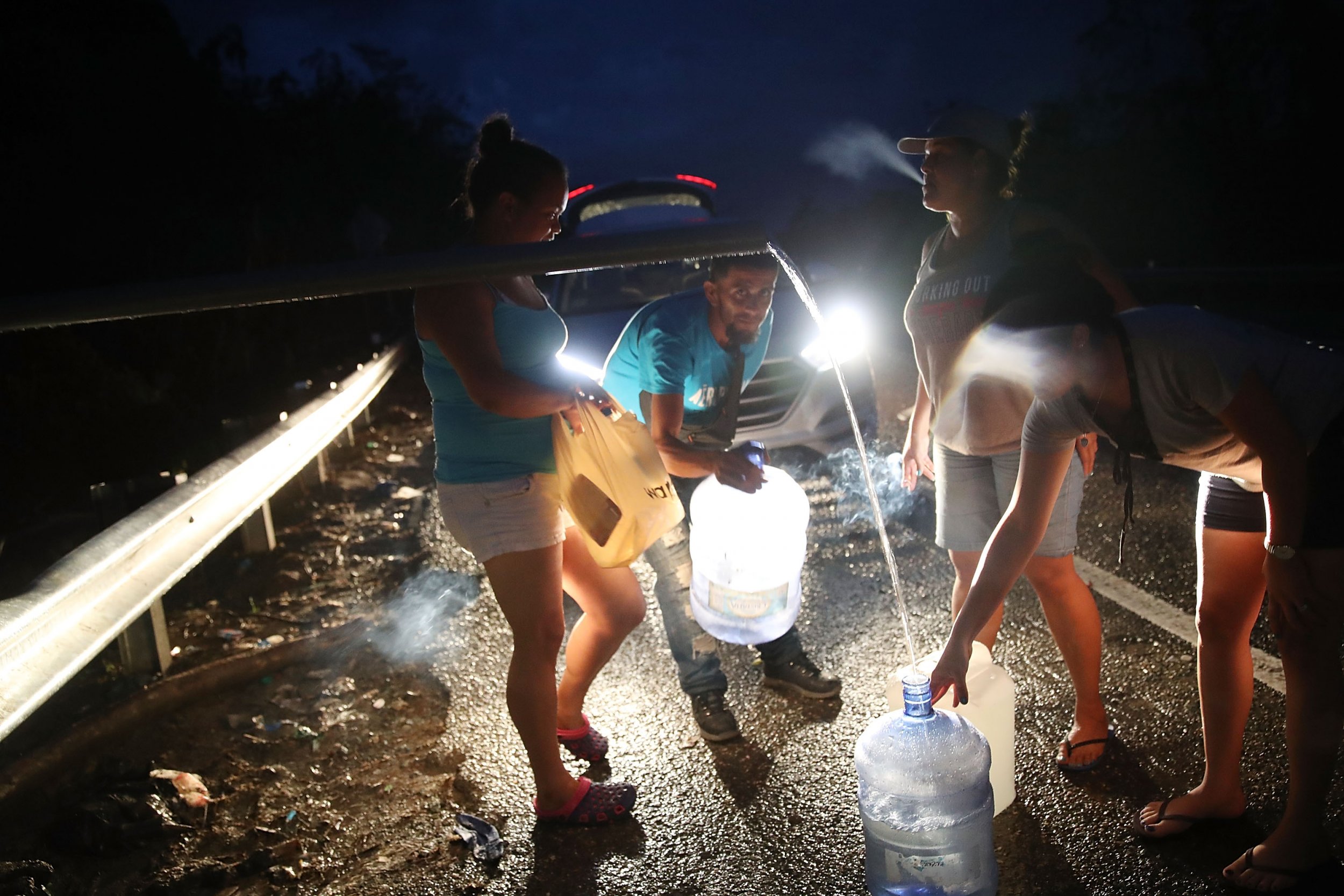 Almost all Puerto Ricans should have their electricity back by mid-December, according to government estimates—a full three months after Hurricane Maria plunged the island and its 3.4 million residents into darkness.
Governor Ricardo Rosselló announced this weekend that relief workers have developed tight deadlines for restoring electricity to the island after the storm took the power grid entirely offline, according to HuffPost. By the end of this month, they want 30 percent of Puerto Ricans to have power; by the middle of November, 50 percent; and by December 15, they aim to have 95 percent of residents back in business.
Those are ambitious goals: As of Tuesday morning, just 18 percent of customers had power, according to the state-run site Status.PR.
"This is an aggressive agenda, but we cannot be sort of passive in the face of Puerto Rico's challenges," Rosselló said Sunday, The Hill reported. "We are going to need all hands on deck."
Puerto Rico has been struggling ever since Maria made landfall on September 20, killing at least 48 people with its winds of 155 miles per hour and forcing the island to deal with the longest power outage it's had since 2000. Fixing the destroyed electrical grid is not only expensive—NPR reported the repairs could cost more than $5 billion—but urgent, as hospitals and schools have been knocked offline.
Continued bad weather and the wrecked infrastructure have prevented teams of linesmen from traveling to various parts of the island, according to CNN. In the meantime, generators pose their own problems, as they guzzle precious fuel and can cause carbon monoxide poisoning.
"Nothing can function without power," Domingo Cruz, an administrator at the San Jorge Children's Hospital, told The Washington Post recently. "Outside right now, we have a tank that holds 4,000 gallons of diesel. The hospital's two combined building use 1,500 gallons every day.... During November and December, it's going to get bad."
The dire situation in Puerto Rico has sparked widespread criticism of President Donald Trump, who has responded to Maria by attacking a local politician, saying the disaster wrecked the federal budget and suggesting residents "want everything to be done for them." On Monday, Trump told reporters at a news conference the military shouldn't have to distribute food and water to storm victims.
The public isn't happy with his reactions. A poll out Monday showed that 47 percent of respondents said they disapproved of Trump's performance in the wake of the hurricane. On Tuesday, Trump's rival Hillary Clinton tweeted a condemnation along with a CNN article about an inaccessible hospital ship waiting off the shore of Puerto Rico.
"This is a disgrace," she wrote. "American citizens need America's resources. Now."