Pug-Obsessed Little Girl Bursts Into Tears When She Receives Her Own Puppy in Adorable Video
This is a birthday one little girl will never forget.
Footage of a young girl crying tears of joy after receiving her dream pug puppy for her birthday has gone viral and warmed the hearts of viewers.
Pug-obsessed 7-year-old Sadie Marie Henson of Los Lunas, New Mexico, received the surprise of her life after her mom Sam brought home a pug puppy a few weeks before her eighth birthday.
In the video posted to Facebook on Friday, Sadie's sister Sophia opens the door to their mom's car, and Sadie looks up to find a pug sitting in the front seat. Her eyes go wide, and she falls to the ground in tears, overcome with joy at the sight of the pup.
"It's your birthday present ... look how cute he is!" Sam tells her overjoyed daughter. "You love him?"
"Oh my God!" Sadie exclaims through tears.
The video ends as she picks up her new best friend, who wiggles his way into a hug.
According to Sam, Sadie's obsession began from an early age, after reading a pug book as a child with Sadie's great-grandmother.
"Sadie has been wanting a pug ever since my Mema gave her a Pig the Pug book a few years back," Sam explained on Facebook. "She is always googling pug pictures, or finding pug stuffed animals on Amazon."
Sam also told Newsweek that her grandmother was the driving force behind Sadie's love for pugs.
"My grandma bought her the [Pig the Pug] books, and they would always talk about pugs and getting one one day. My grandma used to have friends that had pugs, so she would always tell Sadie about them," she said.
Since the passing of Sadie's great-grandmother, Sam said on Facebook that Sadie "has been working on being more responsible, and trying to heal the hole in her little heart."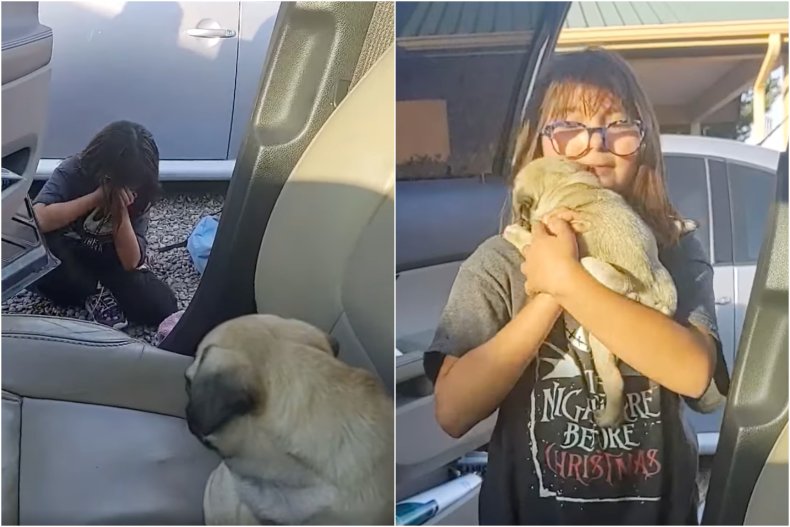 Sam told Newsweek that a plan fell into place to bring a pug into the family before Sadie's birthday on May 29, when she reached out to a local breeder and he was the last pup in his litter.
"[Pugs] don't seem to be very common out here in New Mexico, so I knew I needed to get him!" she said.
Sam noted that while members of her family were in the loop about the birthday surprise, no one expected her to burst into tears.
"We didn't think she would react that way! Her sister, Sophia, was in on the surprise and opened the door in the video and afterward they both were just playing but Sadie still cried for about 2 hours!" Sam told Newsweek.
Sam posted the video to Facebook with the hope of "[shedding] a little love." Viewers on Facebook found Sadie's reaction heartwarming.
"Her face when she first sees the pup. I definitely cried and rewatched like 5 times," one viewer shared.
"OMG that is the cutest thing ever! She will remember this birthday forever," another added.
Sam also told Newsweek that Sadie has named her pup Benny, and "he is doing absolutely great" settling into his forever home.
Benny isn't the only pup getting national attention for his heartwarming video appearance. Last week, an adorable video of puppies visiting the SEA LIFE Aquarium at the Mall of America also went viral.