A newly adopted dog's reaction to arriving at an airport after a long journey has left the internet in stitches.
Shared on Thursday, the video showed a rescue pug who had just landed in Vancouver, Canada, after 24 hours in a crate.
In the video, the confused pup is carried with a hilarious facial expression while the text overlay reads: "POV: You're a rescue pug who just landed in Canada after 24 hours in a crate and have no idea what's going on."
The pug, named Molly, was rescued by The Pug Queen. Run by Izabella St. James from Los Angeles, California, the non-profit foundation rescues pugs and pug mix dogs from around the world.
St. James told Newsweek: "Molly was rescued from China in January. We rescued 32 pugs, French Bulldogs, an English Bulldog, and a Pekingese from a backyard dog meat butcher operation and a puppy mill in China.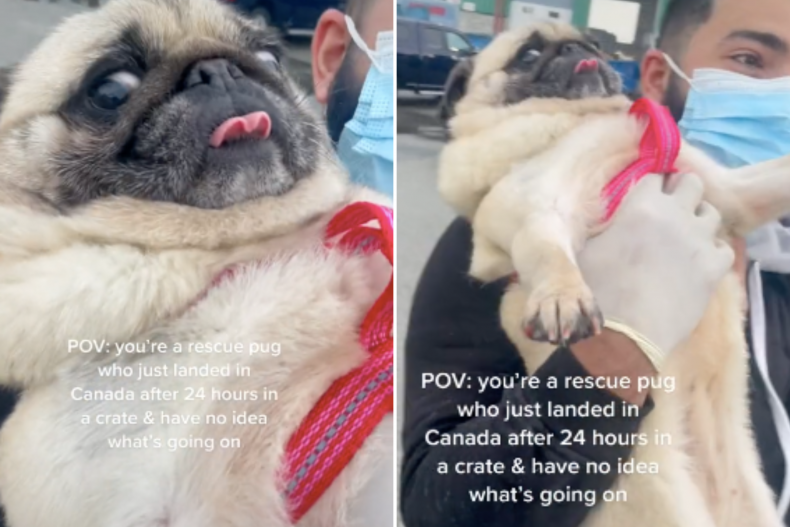 "Dogs that are of no more use in breeding puppy factory operations in China are sold to the illegal yet existing dog meat trade. We intervene and save their lives."
There is no ban on the consumption of dog meat in China, but in a public statement in 2020 the country's ministry of agriculture stated that dogs and cats are not included in the livestock list as they are considered companion animals.
Despite the existence of dog and cat slaughterhouses breaking the law, the trade is still rife in the country. On June 21 the annual Lychee and Dog Meat Festival in Yulin began.
Peter Li, the Humane Society International's China policy expert, told Newsweek this week: "Unlike South Korea, there are no dedicated dog meat farms in China," Li said. "The majority of dogs caught up in the trade are family or 'owned' pets and strays snatched from the streets."
St. James and her team work tirelessly to rescue dogs caught up in the illegal trade, and Molly is just one of those.
"Because of the CDC ban, which banned dogs going to the USA from 131 countries, I was forced to fly 80 of our rescued dogs from China to Vancouver, Canada instead," she explained. "I am a dual citizen of Canada and the USA, and the Canadian community has been wonderful in offering foster and forever homes to these babies."
Molly the pug has stolen thousands of hearts online after the video of her shortly after her journey left internet users in stitches.
"Umm, your pug is broken," joked one commenter. While another user said: "The dog was too stunned to speak."
"This is me being carried away from the all-inclusive buffet on holiday," said another.
"What a cute pup," said one TikTok user. While another added: "This made me lol."
Rescuing hundreds of dogs each year, The Pug Queen team never says no to a dog in need. "It is hard in this economy with adoptions down and donations down," said St. James.
Molly the pug is now doing well, adjusting to life out of a cage with her foster home in Vancouver. "She does not have a home lined up yet," St. James said: "But we hope she will soon. She deserves to be loved and cared for, she has waited a long time for this happy ending."
Do you have funny and adorable videos or pictures of your pet you want to share? We want to see the best ones! Send them in to life@newsweek.com and they could appear on our site.