Woman Teaches Puppies To Pray With Her Before Meals in Adorable Video
We don't deserve dogs. Not only are they loyal and loving companions, but you can also train them to do all manner of things.
One woman in India has taken this to a new level by teaching her pups to pray alongside her before eating a meal.
In the adorable footage posted to Twitter, the woman can be seen praying with her hands clasped, while flanked by two golden Labrador puppies.
The sweet pooches wait patiently while she says the prayer, then after she has finished she gestures for the two to head forward and enjoy their meals from the metal bowls.
The clip was shared to the social media site by Vaishali Mathur, who knows the lady featured.
She captioned the post, writing: "Sharing this heart-warming video of my friend teaching her pups to say their prayers before food.
"Me thinks both are good boys," followed by a heart-eyed emoji.
Many were quick to the replies section to share their views on the heart-warming video.
One person, @Navneet09344620, commented: "Everything is about discipline my friend... some dogs dont evn care about the gestures..."
"theres no doubt they dont understand the prayer she sings... but the devotion tells it all.... [sic]"
Another Twitter user, @WinayakGujjar, added: "Ethics and Discipline is always appreciated whichever animal it may be.
"People who treat all the life as one among them can understand, its not everybody's cup of tea."
A third, @shrinivasaraob, wrote: "This not about prayers, definitely they will not understand but it is more about discipline.
"These animals have more discipline than humans. Hope people start learning few things from these puppies. We roam without mask even when told not to."
A fourth, @prateeksvoice, remarked: "So soo beautiful. This is the bond, respect, love between humans & animals!
"Animals have got feelings just as the humans do and they deserve to be treated gently by Humans !!"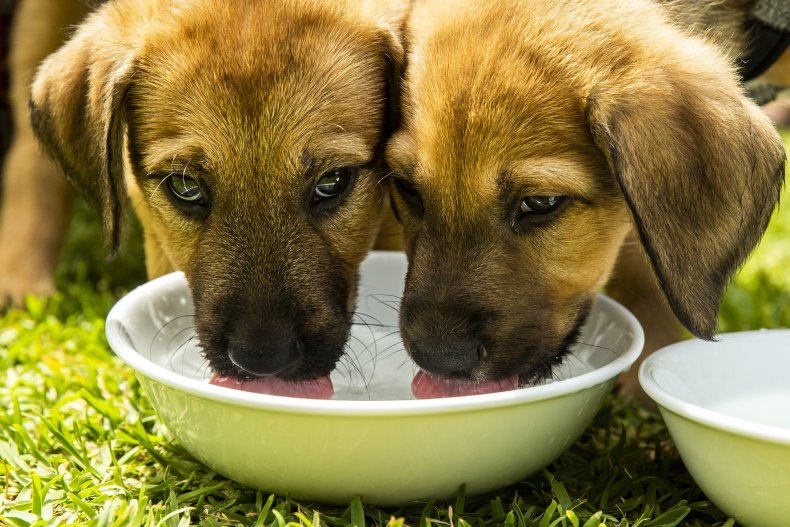 While a fifth social media user, @ChetnaWathoo, wrote: "Absolutely amazing. My dogs follow my fingers lol but they don't have this amazing control. Great job!!"
And if videos of pets doing anthropomorphic activities is what you find cheering, you may also like this recent viral video of a cat appearing to do sit-ups.
In footage posted to Twitter, the white fluffy feline can be seen on their back, raising their head forward and backward in a motion that mimics abdominal crunches while on a street sidewalk.
The funny clip was posted to the social media site by @AnimalsWorld with the caption: "Working on that summer body."