Puppy Learns How to Swim While Mom 'Shows Off' Skills in Cute Clip
An adorable video that shows a puppy named Rosie learning how to swim while her mom "shows off" in the background has gone viral.
The video was shared in Reddit's "Aww" forum on Wednesday by u/maddas782, Rosie's owner. The post has garnered more than 31,000 views and over 300 comments while demonstrating an expert-approved method for teaching dogs how to swim.
In the video, u/maddas782 stands in a North Yorkshire river with a handful of treats, which he uses to lead Rosie into the water.
"Good girl," he told Rosie as she waded into the water to accept her first treat.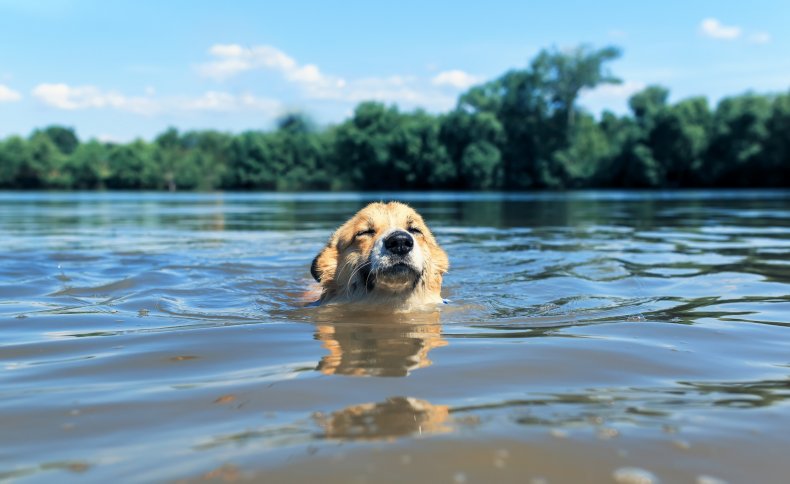 Once Rosie is standing in the river, u/maddas782 backs up a bit and offers her another treat.
"Come on, it's okay," u/maddas782 told Rosie. After a moment's hesitation, the cocker spaniel puppy follows her owner farther into the water. When she reaches u/maddas782, he gives her a treat, pets her and tells her and offers words of encouragement.
Meanwhile, Rosie's mother can be seen tearing through the water in the background.
"Mom has a propeller for a tail," joked one commenter.
"Funny," added another. "Mom looks like a motorboat."
Rosie, however, keeps her attention on u/maddas782, who, at this point, has waded even farther into the water.
"Good girl," u/maddas782 said again as Rosie began to swim toward him. "You can swim."
Commenters loved the video, and many said they were impressed by u/maddas782's teaching methods.
"Had to stop by and compliment you on having those treats ready to make this a positive experience for your pupper! Positive reinforcement is the best (and should be the only) way to train your dogs," wrote a purported vet nurse. "Great job! Take notes, everyone!"
"He's so patient with her," said u/uminchu about u/maddas782. "I wish every puppy had a special dad like that."
Redditor u/OmsFar added: "Now this is how you teach a puppy!! You seem like a great dog parent!"
Speaking to the American Kennel Club (AKC), certified professional dog trainer Michele Godlevski recommended that owners teach their dogs how to swim in ponds or lakes, as they seem "more natural" to the dog and have a "gradual slope into the water," which can be helpful for the process.
"If possible, start in shallow water and be close to your dog. Let your dog get used to simply having wet feet. Don't move out of the shallows until your dog seems happy where he is," AKC advised. "Encourage gradual movement into deeper water, and use lots of praise and positive reinforcement—if you reward your dog for being in the water, your dog wants to go in the water again."
In the comments section of his post, u/maddas782 described the process as "just gentle encouragement with treats."
Newsweek has reached out to u/maddas782 for additional comment.
Of course, u/maddas782's video isn't the first post from "Aww" to go viral in recent weeks. On Wednesday, a hilarious photo of a cat failing to hide behind a curtain received more than 13,000 upvotes. Last week, a video of a dog's reaction to her owner dropping her leash went viral with over 35,000 upvotes.
And in April, a picture of two cats "trick or treating" at their neighbor's house amassed over 31,000 upvotes.