Puppy's Reaction to Owner's Huge St. Bernard Has People Tearing Up: 'Home'
A puppy's reaction to her owner's huge St. Bernard has the internet bawling, with the tiny dog thinking the fellow canine is her mom.
Their owner, Laura, shared the moving clip to their TikTok account, @bearsdayz, which shows the much bigger dog, named Bear, meeting the cocker spaniel, thought to be named Lolly.
The pair touch noses before nuzzling, while the clip then cuts to a snap of the smaller dog curled up against 1-year-old Bear, while they snuggle in another photo.
"My humans brought me a sister but she thinks I'm her mummy," the on-screen caption says.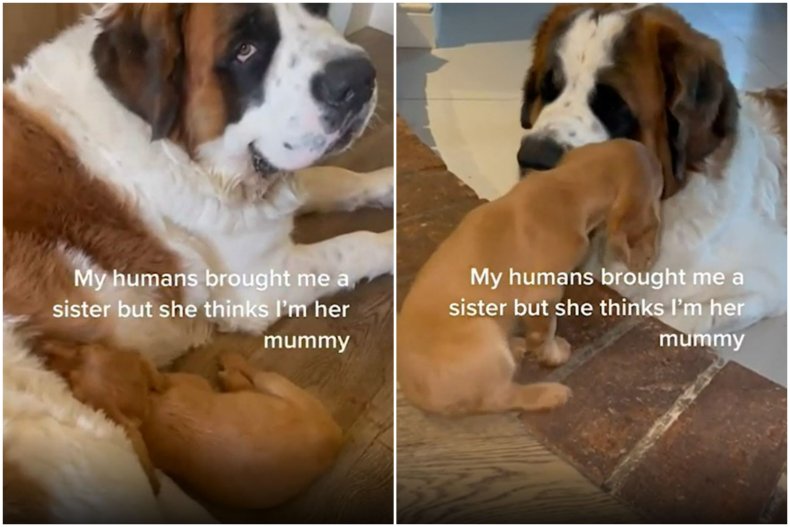 The clip, which can be seen here, amassed more than 3 million views since being uploaded earlier this month.
In the comments, the owner shared more touching details about the pair's bond, saying: "The big one is a boy so he's doing super well but yes like nana...
"No he's really good and accepts her cuddling up to him."
Speaking to Newsweek, Laura, based in the U.K., confirmed Bear was currently at 154 pounds - and still hasn't finished growing.
She said: "Bear is the kindest sweetest soul who is going to train to be a therapy dog for children with learning difficulties.
"From the moment Lolly walked in he has just said yes to looking after her and comforting her, there isn't a moment she isn't snuggled up to him.
"We have cats also that just snuggle up to Bear and he just accepts it and gives them love. It has been loving sharing him with the world."
Numerous people gushed over the heartwarming sight, as Kadence raved: "This is the cutest thing ever."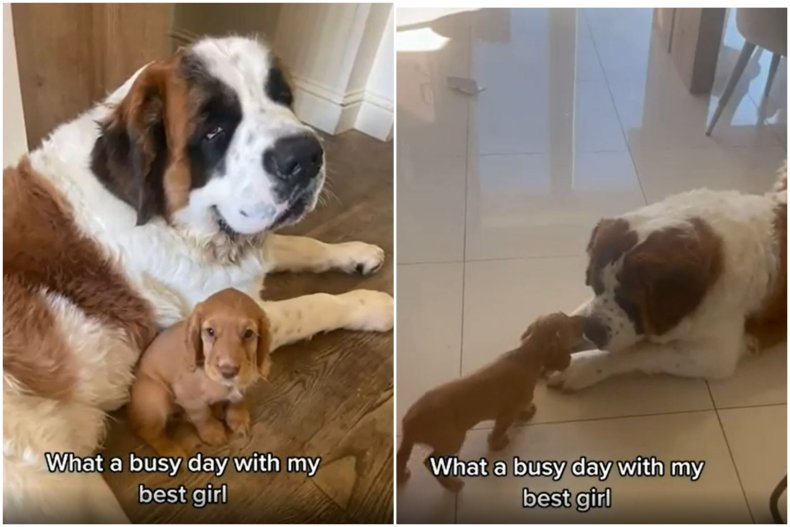 Cindy Foresman109 wrote: "They are so precious and adorable! I would want to snuggle with Bear too!"
Tindall.Bostens AT commented: "That's so freaking sweet. I'm a little emotional this week sorry."
Gracie admitted: "Not me crying. Not me."
"No because I'm literally sobbing," Glenda added.
Myramoore145 remarked: "Aww bless well that pup knows you are gental [gentle] and loving," while Tok.alina.tik.otter pointed out: "Some siblings take on the parenting role."
Cluedo replied: "Sooo cute, it so sad but she definitely has a good home."
Sarah Tobin simply replied: "No words."
After the original clip blew up, the proud owner shared another one, showing Lolly following Bear around.
"Will someone please tell her I'm not her mum," the on-screen text said, narrating Bear's thoughts.
Viewers were treated to more adorable snapshots from their life, showing the puppy playing with Bear's tail, the duo taking a nap, and playing with a hose.
A third clip showed Bear dressed in human clothes, with the caption saying: "I'm taking my role as mummy very seriously," while another clip says: "Happy father's day to the best adopted daddy."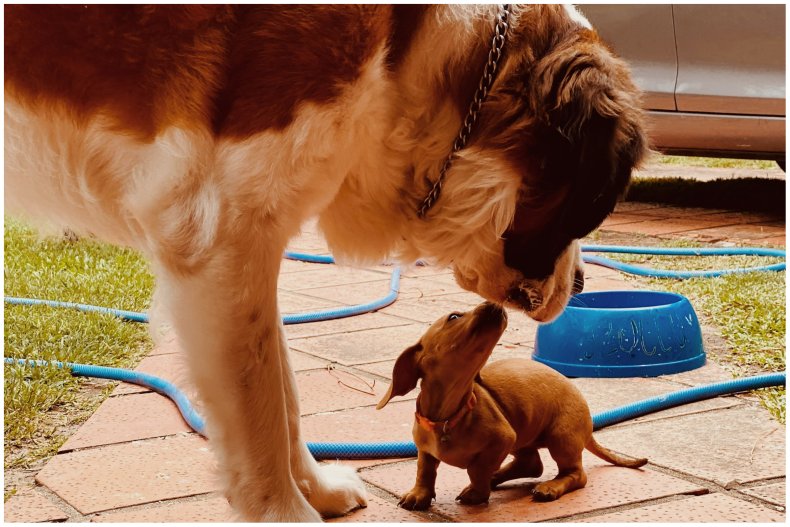 Dog food company Cesar shared some tips for pet owners introducing their new puppy to their existing dog.
It warned while canines are social, they don't always get on with other dogs, and they stressed first impressions are "very important," particularly if your existing pet is the only one in the house.
It said: "Prior to bringing your new dog or puppy home, place anything your resident dog might guard in one area. This may include food bowls, bones, beds and toys. Make sure the new dog has a separate area for all of their items."
For the first meet, try a neutral environment with one person holding the leash of each dog, and allow the dogs to "sniff, circle, play, urinate or simply ignore each other.
"Let them do what they want to establish a relationship—with as little mediation from the owner as possible."
Only intervene if they fight, and keep the initial meeting brief before progressing to the next stage of a walk together.
The chart below, provided by Statista, shows the most popular dog breeds in the U.S.