Puppy's Unusual Sleeping Position Has Internet in Stitches: 'Teefs Out'
A puppy who sleeps hilarious with her "teefs out" has delighted the internet.
Sandi Rob from Pennsylvania shared a picture of her dog Mabel on the Facebook page "Dogspotting Society" where she shared how her adorable pup often sleeps with her mouth wide open.
"We got Mabel from a shelter that brought her up from a high-kill shelter in Alabama," Rob told Newsweek. "Her mom was a pregnant stray when they found her. She had the puppies in the shelter."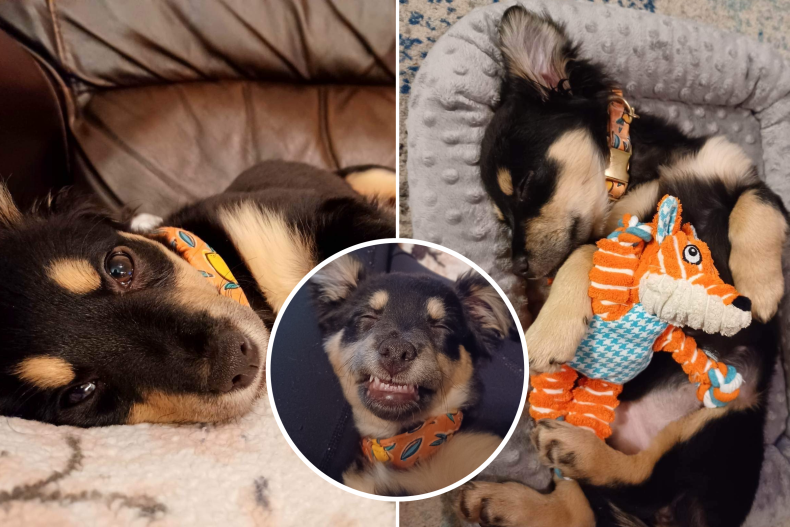 At almost 4 months old, Mabel went to her new home just two weeks ago and can often be found sleeping peacefully with her teeth on show.
"She just seems so thankful to be in a home that she sleeps this relaxed every day," said Rob.
In the U.S, an estimated 6.3 million animals enter shelters every year. Approximately 4.1 million shelter animals are adopted each year, and there are an estimated 78 million dogs and 85.8 million cats owned across the U.S.
Mabel isn't the only dog to take the internet by storm thanks to an adorable sleeping habit. A viral video of a dog sleeping in an embarrassing position left viewers in stitches on Instagram earlier this year, while another rescue dog melted hearts by always sleeping with his toy ball nearby.
Rob couldn't resist sharing the adorable sleeping pictures of new puppy Mabel and explained how she became "instant paparazzi." "I have to take pictures. She's too cute," she said.
In a post on Facebook that has received more than 3,600 reactions, Rob shared the pictures and wrote: "I thought you'd like to know that our Mabel Pines sleeps with her teefs out."The pictures of the adorable Mabel prompted lots of comments from other Facebook users.
"Ahhhh, look at those chomps!!!" said one commenter, while another wrote: "I couldn't love a picture more than this!"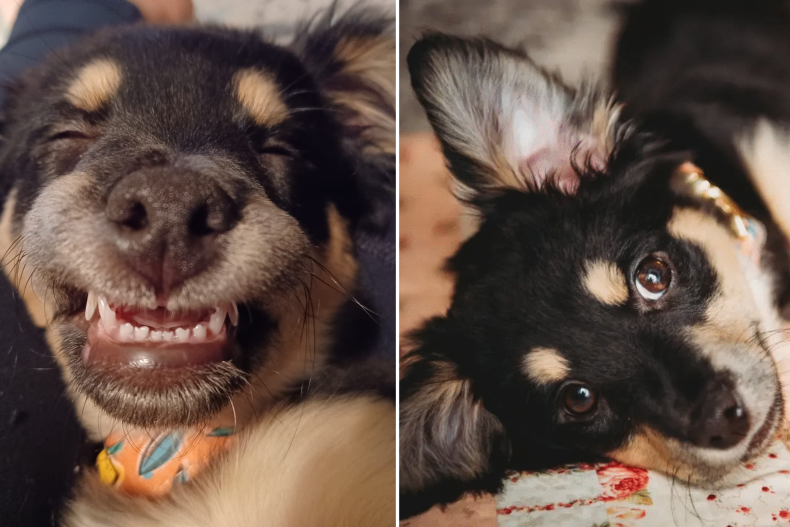 How Much Do Puppies Sleep?
At nearly 4 months old, it's no surprise that Mabel is fond of a good nap.
Dr. Jerry Klein, chief veterinary officer at the American Kennel Club (AKC) previously told Newsweek: "Puppies usually sleep 18 to 20 hours a day. Generally, the younger the puppy, the more time sleeping it needs and does."
Puppies often sleep for long periods of time, but also take frequent naps.
No two puppies are alike, so guessing what their sleep schedule will be like is impossible. But experts agree that it is a good idea to start building their routine around your own as early as possible.
A clear schedule will help your puppy learn when to control their bladder better, making the house training process much easier.
Mabel is still settling into her new home but already has plenty of favorite things.
"She loves chewing and hiding bones and toys, and eating snow," owner Rob said. She also loves spending time with her human brothers and warm sunny spots on the rug.
"She spunky, but sweet," said the owner who was delighted with how many people enjoyed her adorable puppy pictures.
Do you have funny and adorable videos or pictures of your pet you want to share? Send them to life@newsweek.com with some details about your best friend and they could appear in our Pet of the Week lineup.