Putin Able to Declare Victory in Ukraine Anytime: Former Russian Commander
Former Russian commander Igor Girkin said this week that Russian President Vladimir Putin can decide at any point to declare Russia victorious in its war with Ukraine.
Girkin, who is also known by the alias Igor Strelkov, said Putin would be able to end the war in this way because the goals for the conflict were never clearly stated.
The army veteran, who was reportedly instrumental in Russia's 2014 annexation of Crimea and commanded Russian militants in Ukraine's Donbas region, is a popular military blogger in Russia and is well known for promoting pro-Kremlin propaganda. His speculation about Putin and a potential end to the war was made during a Wednesday interview with the Russian media group Ordinary Tsarism.
On Friday, Anton Gerashchenko, an adviser to Ukraine's minister of internal affairs, shared a clip of Girkin's interview on Twitter, with an English translation.
"Officially, we don't have a war, do we?" Girkin said. "Officially, we have not formulated the goals of a special military operation, so that it would be convenient to say at any moment that we achieved them and to end the war."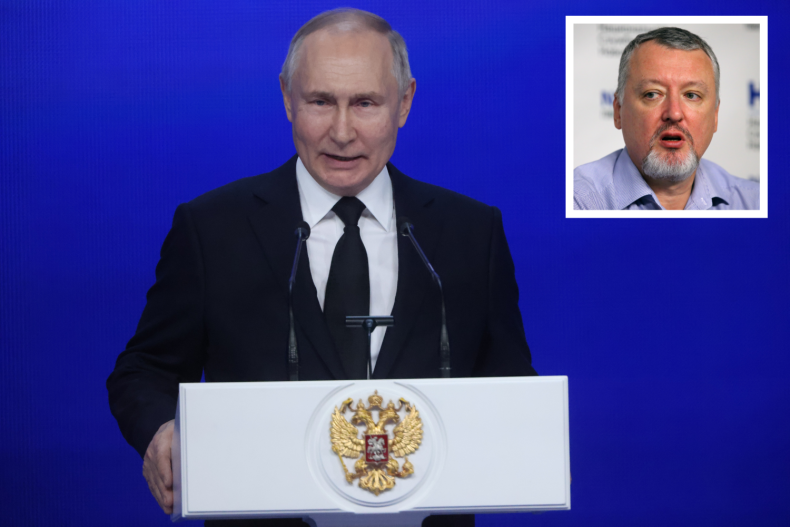 Gerashchenko wrote in the caption of his Twitter post: "Terrorist Girkin-Strelkov says the goals of the 'special military operation' were deliberately left vague so it can be declared victorious at any moment."
During the interview with Ordinary Tsarism, Girkin was asked what Russia was fighting for. "The protection of Russia and the Russian people," he answered.
Girkin went on to describe what a defeat would mean for Russia.
"If we lose this war, there will be colossal damage to Russia and the Russian people," he said. "How many times do I have to tell you, you know, it will be a disaster? Just a catastrophe, after which we will be finished off."
Though he's known for espousing pro-Kremlin views, Girkin has been openly critical of Putin's military commanders. Last week, he expressed concern about recent military setbacks that Russia has experienced on battlefields in Ukraine and laid the blame on poor leadership.
Writing on his Telegram channel on February 10, he discussed the reported failure of a Russian assault on the eastern Ukrainian city of Vuhledar.
"It seems that all the events of the past year passed by our generals," he wrote. "However, since some of them are [at least from the moment they entered military schools] complete cretins, all the mistakes that were made before were exemplarily repeated."
Newsweek reached out to Gerashchenko and the Russian Ministry of Foreign Affairs for comment.