A high-ranking Russian official and Vladimir Putin ally suggested Wednesday that the country of Ukraine won't exist two years from now.
"Just a question," Dmitry Medvedev wrote on his Telegram channel. "Who said that in two years Ukraine will even exist on the world map?"
Medvedev, Russian Security County Deputy Chairman, made the alarming comments in reference to reports that the United States may consider supplying Ukraine with liquefied natural gas (LNG) under a "lend-lease" program ahead of the autumn and winter months amid Putin's war.
"I saw a message that Ukraine wants to receive LNG from its overseas owners with payment for delivery in 2 years. Otherwise, the coming winter will simply freeze," Medvedev wrote, before he expressed doubts about Ukraine's existence in 2024.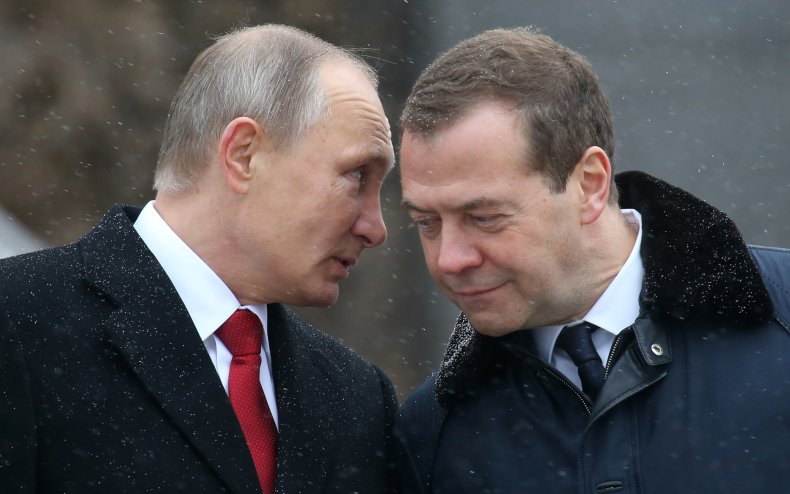 "The Americans don't care anymore," he added. "They have invested so much in the 'anti-Russia' project that everything else means nothing to them."
Days earlier, as Putin's war against Ukraine approached the 100-day mark, Medvedev issued a warning to the international community, saying that the Four Horsemen of the Apocalypse from the Book of Revelation in the Bible's New Testament are coming.
Russia's state-run news agency TASS cited Medvedev as saying during an interview with Al Jazeera TV that "one can believe that the horsemen of the Apocalypse are already on their way and all hope is in Almighty God."
Putin's longtime ally added that things have already been set in motion, "however, one can still try to tone down this international situation," Newsweek previously reported.
His latest remarks however signal that Moscow could again attempt to seize Ukraine's capital Kyiv—which it failed in doing in the early phases of the war.
More than 100 days since Putin's war began, Russia is now focusing on capturing Ukraine's eastern Luhansk and Donetsk regions in full. Clashes are intensifying in the strategic city of Severodonetsk, which could determine the fate of Ukraine's eastern Donbas region.
In an intelligence update on Wednesday, Britain's defense ministry said that after more than a month of heavy fighting, Russian forces now control the majority of Severodonetsk.
"Russia's urban warfare tactics, which are reliant on heavy use of artillery, have generated extensive collateral damage throughout the city," the defense ministry said.
Elements of the Ukrainian Armed Forces, along with several hundred civilians, are currently sheltering in underground bunkers in the Azot Chemical Plant, in the city's industrial zone, it said.
"Russian forces will likely be fixed in and around Azot whilst Ukrainian fighters can survive underground. This will likely temporarily prevent Russia from re-tasking these units for missions elsewhere," the ministry added.
Newsweek reached out to the Russian and Ukrainian foreign ministries for comment.