One of Russian President Vladimir Putin's top allies has stepped down from his position after publicly opposing the war against Ukraine.
Anatoly Chubais will no longer serve as one of the Kremlin's special envoys effective immediately, an anonymous source told Bloomberg. The sourcesaid that the reason for his departure is his opposition to the Russian invasion of Ukraine, although Kremlin officials have refused to publicly comment on the matter. He is the highest-profile member official to resign in the wake of the invasion.
The source also said that Chubais has already fled Russia with no intention of returning. While the source did not say where he went, Russian newspaper Kommersant said that he was last seen in Istanbul, Turkey, withdrawing money from an ATM machine.
While the explanation given for his resignation was his opposition to the war, not everyone is buying that narrative. A spokeswoman for Kremlin critic Alexei Navalny posted on Twitter that he "left Russia only out of fear for his own skin and his own money."
Chubais has a complicated legacy in Russia. While he has been partially responsible for the country's increased output of energy and oil, he is also widely known by citizens as the man who helped privatize businesses throughout the country. The privatizations led to the creation of oligarchs recently targeted by sanctions, many of whom, such as Chubais, have fled Russia in what Putin calls a necessary self-cleansing.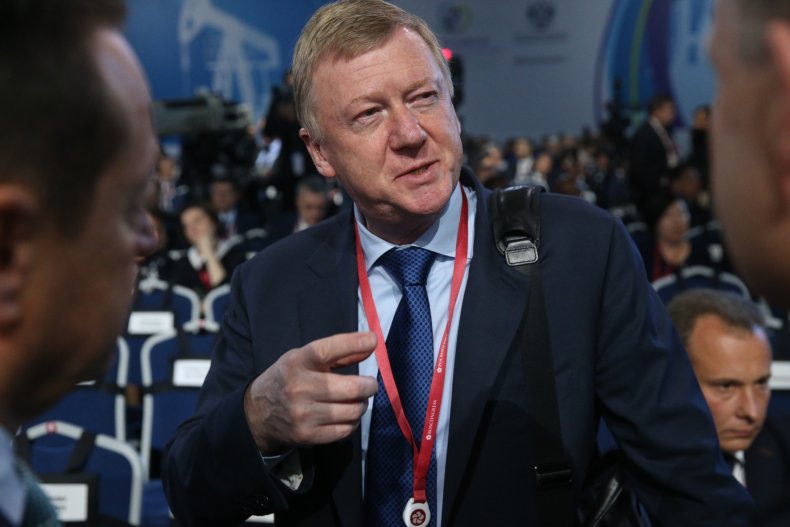 "Any people, and particularly the Russian people, will always be able to tell the patriots from the scum and traitors, and spit them out like a midge that accidentally flew into their mouths," Putin recently said regarding high-profile flees. "I am convinced that this natural and necessary self-cleansing of society will only strengthen our country, our solidarity, cohesion and readiness to meet any challenge."
Chubais is not the only Russian to have stepped down from a prominent state role due to the Ukrainian invasion. Last week, Arkady Dvorkovich, a former economic adviser to former Russian President Dmitry Medvedev, stepped down from his position as head of the Skolkovo technology fund, which is funded by the Russian government. In an interview with Mother Jones, he publicly condemned the war, saying that the act of war is one of the worst possible events that can be experienced by someone.
"Wars do not just kill priceless lives," Dvorkovich said. "Wars kill hopes and aspirations, freeze or destroy relationships and connections. My thoughts are with Ukrainian civilians."
Newsweek reached out to the Russian Foreign Ministry and Press Center for comment but has not received responses.
Update 3/23/22, 10:26 a.m. ET: This story has been updated with additional information regarding the whereabouts of Anatoly Chubais, as well as background information on Arkady Dvorkovich.