Vladimir Putin and Shinzo Abe Meet to Untangle 70-Year-Old Island Dispute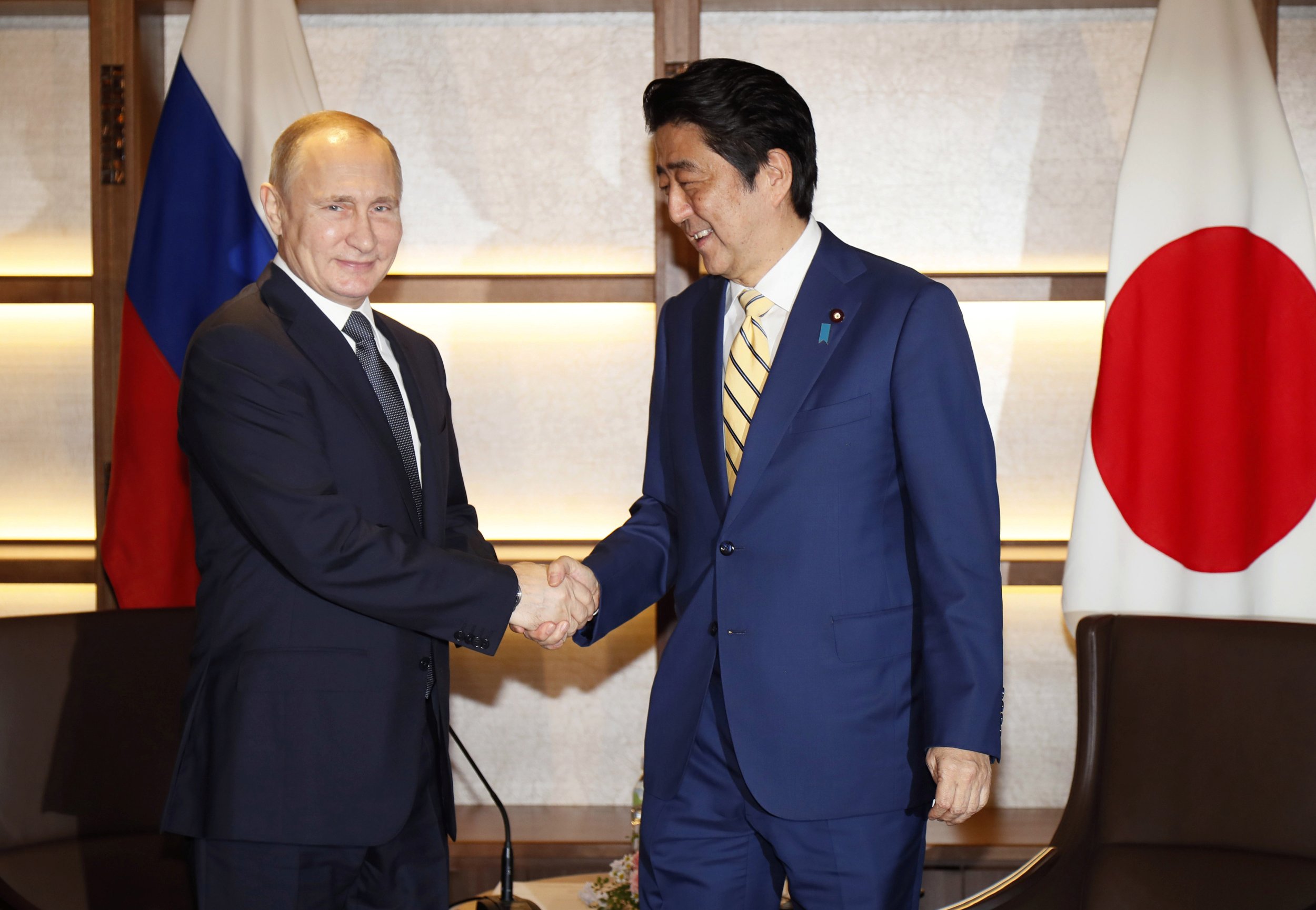 Russian President Vladimir Putin arrived in Japan on Thursday and sat down with Prime Minister Shinzo Abe for their 15th meeting since 2006. Putin's visit was his first presidential trip to Japan in 11 years and his first ever to Abe's home prefecture of Yamaguchi.
The tone, as the intimate surroundings suggest, was amicable both in the build-up and during the meeting itself—both smiled widely throughout and ended their talk with Abe inviting Putin to unwind at one of Yamaguchi's well-known hot springs.
The agenda was described in broad terms by Russia's Foreign Ministry as having focused on "fully uncovering the cooperation potential" of the two countries, but also emphasised harmony. The brief take away from their first meeting, as described by Kremlin aide Yury Ushakov, was setting a new agenda for joint economic cooperation that ministers can now use in tightening relations further.
Yet alongside the vestige of pleasantries that have characterized Putin and Abe's relationship lay a decades-old stumbling block to the foreign policy idyll that both envision for their bilateral ties. It comes in the shape of four small islands floating north off Japan's Hokkaido and south of Russia's Sakhalin regions.
The islands, known in Russia as the South Kurils and in Japan as the Northern Territories, have remained under Moscow's control since the Red Army occupied them in World War II, deporting Japanese residents south. For over 70 years, Russia and Japan have not managed to formally strike a peace accord ending the conflict, as neither side wants to renounce their claim of the islands.
For both countries, the islands represent a miniature El Dorado of resources, situated in an area rich in offshore hydrocarbon deposits, gold, silver, iron, titanium and providing Russia with its sole source of the rare metal rhenium, which has important uses in electronics. The waters around the islands are also a rich source for fish and seafood production, worth an estimated $4 billion a year, which Japan would undoubtedly be interested in, given it is a major exporter and consumer of fish.
Speaking to Newsweek ahead of Putin's visit, Kremlin spokesman Dmitry Peskov says that Moscow is "satisfied with the status of the Russian-Japanese relationship" at the moment, describing the territorial dispute as "the most complicated problem" between the two sides.
Indeed, despite over a dozen amicable meetings, neither side has shown much willingness to commit to a compromise in front of their people. Putin has vowed not to barter with what he holds to be Russian territory and has placed missiles on two of the four islands. The majority of Japanese people, however, still want the islands under their control, with only 14 percent content with regaining only part of the four islets.
Northern officials, descendants of island locals and the governor of Japan's Hokkaido region Harumi Takahashi, who is from one of the islands, held a public demonstration in Tokyo earlier this month, calling on Abe to return the islands. Whether effectively splitting administration of the four islands between the two countries or joint administration of all four, the preferred way forward is unclear.
"At the moment, there is no definite formula but the dialog is ongoing," Peskov says, when asked which proposal is currently on the table.
Sheila A. Smith, Japanese politics and foreign policy expert at the Council on Foreign Relations, says that a much more complicated solution than simply dividing who governs which island is likely being discussed.
"What I understand to be on the table is a basic premise that guided Japan and Soviet relations," she says. "Japan claims all four and Russia controls all four. The region is rich in resources, particularly for fishing. The two countries have never signed a peace treaty but their relationship is a normal diplomatic one."
"But there is not really a strong constituency in Japan that demands a solution with four islands or nothing," she adds. The problem, as Smith describes it, is that both Putin and Abe do not want to set a precedent for seceding territory, as both countries have territorial disputes with other countries.
"In Japan, fishermen are the immediate interest group, who want access to the islands' waters but they want maritime resource understanding and sharing," Smith says. "This could be achieved without sovereign control. There is another sensitivity to the issue from Japan, concerned that relinquishing claims over the islands without much in return could set a precedent for the Senkaku islands.
"The Japanese government does not want to do anything that South Korea or China can use in debates about the Senkakus. Abe needs to negotiate enough in return for formally renouncing claims for total control of the islands, in order to show it as a win. And both leaders have that limit because I believe Putin will also not be willing to set a precedent on relinquishing control of territories, however small."
According to Smith, both leaders must bind the decision of which government operates as sovereign on each island, in collaborative trade and resource sharing deals, in order to dilute the inference that they have made any concessions that their predecessors for decades did not.
"This puts the leaders in a creative joint initiative that seeks to show the negotiated solution can be defined by economy, not sovereignty of the islands," Smith says. "So this island deal has to include a grand bargain. The larger initiative will probably include a package on sharing of fisheries, tourism, maybe introducing a free trade zone, maybe a special investment zone that wraps the Kuril islands in it, probably with freedom of movement on both sides. They need to sidestep sovereignty."
The Kremlin announced that the full details of the agreement between the two leaders will be published Friday, although Ushakov has confirmed it does involve fisheries around the four islands, mariculture, tourism, medicine, ecology and others issues.