Putin Assures Win in Ukraine in Front of 'For a World Without Nazism' Sign
Russian President Vladimir Putin held a rally in Moscow on Friday, reiterating his public stance for why his country invaded Ukraine and promising a victory in the conflict.
Standing in front of a sign that read "For a world without Nazism," Putin spoke to thousands of Russians in the Luzhniki Stadium about how Ukraine was enacting "genocide" against Russian speakers in the country, Reuters reported.
"We know what we need to do, how to do it and at what cost," said Putin, "and we will absolutely accomplish all of our plans."
Putin has previously used "denazification" as a reason for Russia's invasion in Ukraine, claiming that Ukrainian leadership is dominated by Nazis. This stance has been criticized by Ukraine, whose U.N. ambassador said on Thursday that Russia was participating in "Nazi cosplay," a term meaning "costume play." Earlier this month, Maria Baronova, the former editor-in-chief of Russia Today—the state-run outlet also known as RT—said many Russians are "brainwashed," with some believing Russia is fighting Adolf Hitler in Ukraine.
At Friday's rally, Putin took time to praise Russian soldiers and their allies in the fight, saying that they were united more than ever before.
"Shoulder to shoulder, they help each other, support each other and when needed they shield each other from bullets with their bodies like brothers," Putin was quoted by Reuters. "Such unity we have not had for a long time."
The rally marked the eighth anniversary of the Crimean peninsula's annexation by Russian forces. More than 200,000 were in attendance at the rally, according to Moscow police. However, the Associated Press reported that thousands of rally attendants were allegedly ordered to attend, although these claims cannot be independently verified.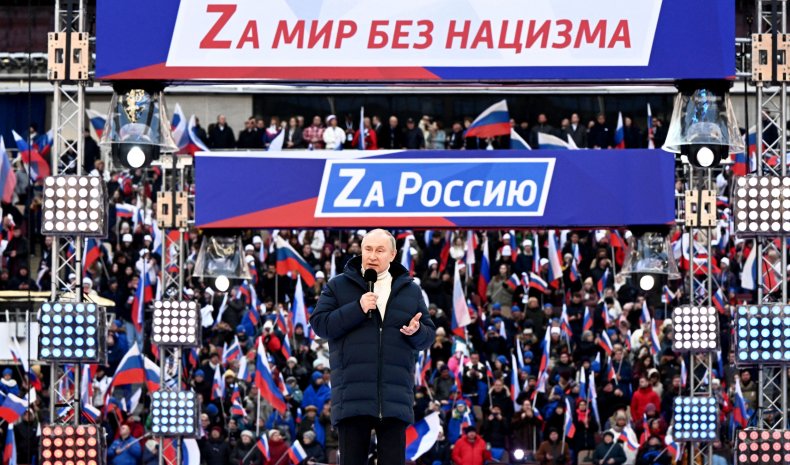 Putin's claim of "denazification" as a driving force of the Ukrainian invasion is a complex one. Ukrainian forces have faced criticism in recent weeks for the involvement the Azov Battalion, a paramilitary unit with alleged extremist ties that fought against separatists in Donetsk. According to Germany's Deutsche Welle news site, the Azov Battalion is the primary force defending the city of Mariupol from Russian forces, although accurate reports from the area cannot be independently verified.
Russia itself has yet to eradicate white nationalist ideology. According to the nongovernment entity SOVA Center, nine organizations across the country were labeled as extremist in 2021, some of which were tied to neo-Nazism. The number of convictions against those charged with hate crimes or statements also increased in 2021.
While Russia cracks down more heavily on extremist groups, some of those groups are finding support with accused nationalists in the West. Harvard International Review wrote in 2021 that the Russian Imperial Movement, a white nationalist organization in the country, claims that it has established contacts with similar groups in other countries. This networking supposedly aims "to establish contacts with right-wing, traditionalist and conservative organizations around the world to create a 'Right-wing International.'"
As Russia continues to use Nazism as a reason for the invasion into Ukraine, the country also continues to clamp down on opposition. Social media networks such as Facebook have been restricted in the country and thousands participating in anti-war protests have been arrested.
Follow Newsweek's live blog for updates on the Russia-Ukraine conflict.
Update at 3/18/22. 12:30 p.m. ET: This story has been updated to include additional information.