Russian Journalist Says Some Believe Country Fighting Hitler in Ukraine
A Russian journalist said some people believe that Russia is fighting with Hitler collaborators in Ukraine even though the Nazi leader died 80 years ago.
Maria Baronova, the former editor-in-chief of Russia Today—the state-run outlet also known as RT—said many Russians are "brainwashed," with some believing Russia is fighting Adolf Hitler in Ukraine after President Vladimir Putin said the invasion was to "denazify" the country.
Putin announced his "special military operation" in Ukraine 12 days ago and made unfounded accusations that the Ukrainian government was being run by Nazis. Russia's Foreign Ministry posted on Twitter adding the Western countries turned a blind eye to "war crimes" in Ukraine and their silence had "encouraged the onset of neo-Nazism and Russophobia."
Baronova told Fox News Digital that with this era of technology and the internet, she doesn't understand how Russians can be brainwashed because you can't hide information. However, people are still having conversations that Russia is fighting with Hitler's collaborators in Ukraine.
"I try to talk with people on the streets...they even had arguments like, 'We are fighting with Hitler,' but look, I've got some news. Hitler died 80 years ago," she said. "It seems like they're really brainwashed."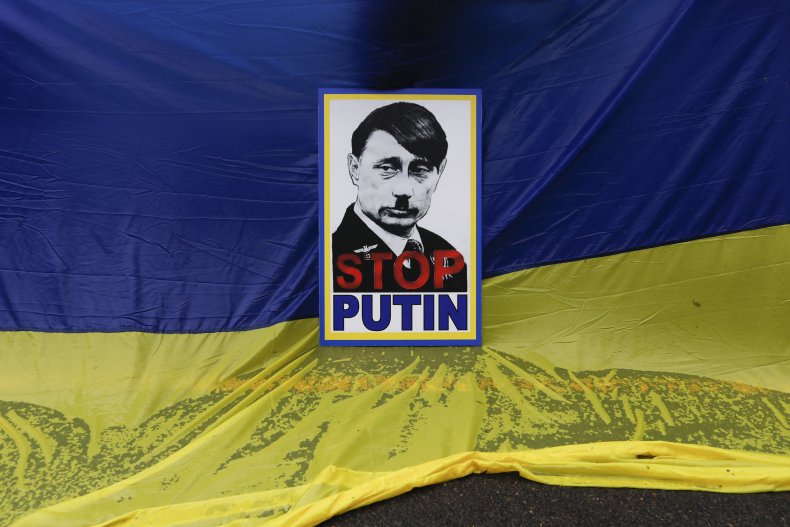 Putin has cracked down on non-state news in attempts to control information being spread about the war. Some social media platforms and independent news organizations have shut down operations in Russia while others monitor posts to prevent potential propaganda.
On Friday, Russia's parliament passed a law saying those who intentionally spread "fake news" about the military could face up to 15 years in prison. Baronova warned that if people speak out against the Kremlin they could be in danger. The government doesn't send threats, "they just kill," she told Fox News Digital.
Meanwhile, Ukrainian citizens have compared Putin to Hitler. On Monday, a man at a Kyiv train station told CNN that Putin, like Hitler, would not be satisfied with the invasion of just one country.
"He is much worse [than Hitler]. Because Hitler was an idiot. [But] he did it, in his mind, for German people, Putin [does] it only for himself, for power," the man said.
Ukrainian President Volodymyr Zelensky previously compared Putin's Russia to Nazi Germany and said after the attack at Babyn Yar, the memorial site for the largest Holocaust mass grave in Europe, Russia was repeating history.
"To the world: what is the point of saying "never again" for 80 years, if the world stays silent when a bomb drops on the same site of Babyn Yar? At least 5 killed. History repeating," Zelensky tweeted after the attack.
Update 03/08/22, 3:18 p.m. ET: This article was updated with additional information and background.
Update 03/08/22, 2:55 p.m. ET: This article was updated with additional information and quotes from Maria Baronova.